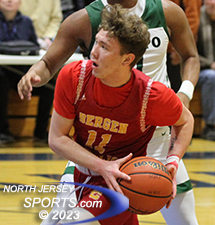 In just his third game as a starter, sophomore Tyler McQuaid scored 15 points for third-seeded Bergen Catholic, which made it back to the Jambo final with a 71-57 win over No. 2 Ramapo.
HACKENSACK – There is competition for every roster slot on every level of the Bergen Catholic basketball program. The only way to solidify a spot and move up the pecking order is the way Tyler McQuaid has done it.
"He shows up for practice every single day and gets after it regardless if he is playing two minutes, five minutes or zero minutes," said Bergen Catholic head coach Billy Armstrong. "He plays with joy. He is the kind of kid that coaches love to coach. He is all over the place and he accepts every challenge."
McQuaid's playing time has been earned, not given and it has steadily increased, so much so that he was in the starting lineup earlier this week against rival Don Bosco Prep and again on Saturday. This time it was in the semifinals of the Bergen County Jamboree against a Ramapo team that handled the Crusaders in their regular season matchup back in early January.
It's going to be hard to get McQuaid out of the starting lineup now. The sophomore from Maywood did nothing fancy but everything well in a solid performance at the point guard position. He set the tone with his defensive pressure on the ball, got all of his teammates involved on the offensive end and scored 15 points of his own as Bergen Catholic, the defending champion and No. 3 seed, powered its way back to the Bergen County championship game with a 71-57 victory at Hackensack High School.
"Growing up watching the Jamboree, it's kind of cool that I get to play in it. Getting into the Final 4 is hard and we knew we had a tough game here today, too. We had to earn it," said McQuaid, drew the defensive assignment of guarding Peyton Seals, Ramapo's talented junior point guard. "I found out today during shoot around that I was going to be guarding him and I just wanted to come out give it my all."
Seals led all scorers with 19 points, but Ramapo had to work for every bucket against a no-frills Bergen Catholic approach on the defensive end. Where the Crusaders tried to press Ramapo the first time around and switch on a lot of screens, this time they basically manned-up in a series of five one-on-one matchups.
Ramapo junior Peyton Seals finished with a game-high 19 points.
"We kind of made that change midway through the season. We were a switching team, but we were young and we were still trying to develop the right habits defensively," said Armstrong. "We decided to simplify stuff. What we said was that we just want accountability. You are going to guard your guy and there will be help built in, but we are not going to switch screens and that made for less decisions for our guys to make on the perimeter."
While Bergen Catholic is young in the backcourt, its experience lies up front with juniors Brandon Benjamin and Terry Copeland. Benjamin scored inside to open the scoring and Copeland scored both of his field goals on back-to-back possessions during a game-opening 8-2 run that put the Crusaders in the driver's seat. They lead for all but the 26 seconds that the game was tied at 2 and the 20 seconds when it was tied at 8.
McQuaid's driving layup gave Bergen Catholic (18-7) the lead for good and it was up 15-11 after the opening quarter. An 8-0 spurt that consisted of an Austin Spencer conventional 3-point play, a David Munro hoop from the baseline and 3-pointer from the corner by Jaylen Robinson made it a 14-point spread, 29-15, to 2:05 to go in the second quarter and BC was up 31-20 at the break.
Ramapo (23-3) crept back to within 37-29 on a Zach Schnorbusch 3 from the corner, trailed by 10, 41-31, after an ankle-breaking crossover and foul line jumper by Seals and was within 9, 45-36, after two Nehemiah Burleson free throws closed the third quarter, but that was the high-water mark for the Green Raiders. Benjamin and Munro each made field goals to start the fourth quarter and Bergen Catholic never let Ramapo get back inside double digits.
Brandon Benjamin scored 15 of his 17 points in the second half for Bergen Catholic, whcih will play Don Bosco Prep in the Jambo final on Friday at FDU.
If there was one glaring discrepancy it was in the bench scoring. Ramapo got all but three of its points from its starting five. Seals (19 points) and the Burleson brothers, Nehemiah (11 points) and Nate (10) all finished in double figures and Wyatt Eglinton Manner (9 points) probably would have, too, but was slowed in the second half by a sprained ankle. Chris Cervino scored all five of his points in the third quarter while Schnorbusch's third quarter 3-pointer was the sum of Ramapo's bench scoring. Bergen Catholic got 17 from Benjamin (15 in the second half) and 15 from McQuaid.
Copeland finished with 8, Naiim Parrish added 4 and Mikai Klintman had a first quarter field goal to give the Crusaders' starters a total of 44 points. Spencer (9 points) and Robinson and Munro, who each scored 8 points, gave BC a 25-3 advantage in bench scoring in a game that was decided by 24 points.
"Jaylen Robinson came in and did great. Austin Spencer did a great job and so did David Munro. We are a deep team," said Armstrong. "We have an opportunity to get guys in there that can really give us a lift and they did that today."
The Crusaders will need all that and more next weekend when they take on Don Bosco Prep for the third time this season, this time with the Jambo title on the line. Bosco, the top-seed, had not been tested at all in the Jambo until the semifinals when 5th-seeded St. Joseph gave the Ironmen a run.
Montique Nedd hit a buzzer-beater at the second period horn to give SJR (15-9) a 31-27 halftime lead, but Bosco was unruffled. The Ironmen outscored Joe's 18-3 in the third quarter and pulled away late in a 60-43 victory. Junior Dylan Harper, one of the most highly recruited players in the Class of 2024, led all scorers with 21 points, while Noah Barnett and Isaiah Brown each scored 13 to make it three Ironmen double figures. Nedd led SJR with 11 points.
So now it is on to the Jambo final, a rematch of last season's championship game won by Bergen Catholic. Bosco (23-2) swept the regular season series this year, including Tuesday's 12-point win in Ramsey. That game is scheduled for Friday, February 17 on the campus of Fairleigh Dickinson University with a 7:00 p.m. tip.
FOR MORE PHOTOS FROM THIS EVENT CLICK HERE. TO BUY A COLLECTOR'S PRINT OF THIS STORY PLEASE VISIT 4-FeetGrafix.com.