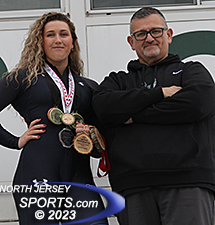 Lauren Brzozowski (left) paid a visit to Ramapo High School and Track & Field head coach Bill Manzo last week before taking off for Germany to pursue her Olympic bobsledding dream.
FRANKLIN LAKES -- When we last left Lauren Brzozowski, she was just getting started on her newest athletic endeavor. The 2015 Ramapo High School graduate and track & field standout, who ran at Elon University moved on to Loughborough University in England where COVID crushed her dreams of using that postgraduate year to experience, literally, running around in Europe. Not ready to put sports away, she decided to give this bobsled thing a try.
The last time we talked to her was a phone interview in November of 2020 from the US Olympic Training Center in Lake Placid, NY. A lot has happened since then. She has taken a crash course, sometimes literally, in the ways of elite level bobsledding. From trying to master the disciplines of monobob (1 person sled) and two-person teams where she is making the transition from rookie brakeman to seasoned pilot all while figuring out the business side of self-funding her dreams and chronicling it all on her well-attended Tik Tok (bobsled_broz).
"It's been a ride-and-a-half to say the least," said Brzozowski, this time in an in-person interview back at her high school alma mater a few days before heading off to Germany to continue her pursuit of fast times down tracks of ice. "There is a very short window to prove yourself. They don't really have the resources to put into you. They literally can't afford to keep investing in you. For the athlete it is are you willing to put in the money, the time and the sacrifice? Unfortunately, not everyone can do it."
The line that really stood out during the 20-plus minutes that Brzozowski spoke into the recorder was "America does not send athletes to the Olympics, Americans do." The Olympic Games and their beautiful aesthetics are a TV show carefully crafted for a worldwide audience. The process of becoming a cast member in the drama differs wildly by sport. Basketball players will fly in first class, bobsledders will arrive having held the kettle to self-fund their own dreams.
It takes a village and a huge social media presence to get anywhere close to the big stage. Who much you can bring to the table is almost as important as how fast you can get to the bottom of the track. Brzozowski is getting a hand from the community that raised her. She just picked up a sponsorship from Worldwide IP Solutions, a Wyckoff based firm that specializes in safeguarding intellectual property rights.
"I do a lot fundraising. I mostly use my social media not only tell the world about bobsledding and my journey in it, but I also use it to inspire people to get involved in the sport and to donate or sponsor athletes in the sport," said Brzozowski. "Obviously I have to prioritize myself first because I am working hard to be here and I want to be sliding, that's why I am so thankful for this awesome sponsor in town. John Underfer has been awesome, He is my biggest sponsor going into this season and I am super excited to represent his company at Junior Worlds in Germany in a couple of days."
Brzozowski's pursuit of the top tier has taken her all over the United States and the world with many more stops on the horizon. Lake Placid, Park City (UT), Canada, Austria and Germany are just some of the places that the sled has taken her so far. She comes from the right place to try to make this happen as the FLOW (Franklin Lakes, Oakland, Wyckoff) community and Ramapo High School have nurtured many athletes with big dreams in not only the front line sports, but also those less heralded on the high school level. For every Chris Simms, there was a Morgan Hoffman (golf), Whitney White (fencing) and so many more.
"Lauren is one of those kids that worked her butt off every day and did more than any coach could have asked of her. She just willed herself to get better and it was just amazing to watch her compete when she was here. Now that she is chasing this Olympic dream it is awesome to see all of her hard work paying off," said Mike Nangle, currently an assistant Track & Field coach and the head X-Country coach who has been around the Ramapo track in one coaching capacity or another since 2003. "This high school has produced so many athletes that probably have not gotten the recognition they deserved. We have had fencers, swimmers, tennis players that have come through here that have gone on to do great things. Lauren is another one in a long line of those."
Brzozowski is sporting an impressive medal collection nowadays. She has a nice haul from a meet in Park City, a couple of laser-etched tree slices that serve as the mementos from Lake Placed, another from Whistler in British Columbia and a clear crystal one from the Push World Championships, which has only encouraged her to push on.
"That one [from the Push World Championships] is a funny story because there were only four competitors and I did get fourth place, but I did not get fourth place by much and the people I was competing against are, you could say, the best bobsledders in the world right now," said Brzozowski. "We had a gold medalist from the Olympics, we had one of the best pilot/push athletes on the circuit there and then there was me and I not only get to say that I got to compete against these women, but also I wasn't too far off of their times. That event showed me that, even though I didn't win, I have every right to think I can play with these girls."
Brzozowski has the athletic ability, she has the mindset and she is working on the backing. She has covered a lot of ground between Wyckoff and Germany. She is easy to root for and impossible to bet against. There are so many variables that go into a bid to make the Olympics in a niche sport. Health, timing and the state of competition are all factors that are impossible to control, but if Brzozowski does not make the Olympics in 2024 in Milan, Italy, it will not be because she did not put in the hours. She is all in.
"I am not surprised. Lauren has had a great work ethic for a very long time and she is also very coachable. We talked about it way back in high school about what it takes to become successful and she did it. She worked her way up to be No. 2 all time in Bergen County in the 400 meters," said Bill Manzo, the head Track & Field coach at Ramapo. "That translated to her opportunity at Elon, which translated into her opportunity at Loughborough and now, once that got to know Lauren, they know that she has the ability to make something happen. She has put herself out there; she has helped put USA Bobsled higher up the food chain in social media. She is not only a great athlete, but she is also a great face for the sport."
TO BUY A COLLECTOR'S PRINT OF THIS STORY PLEASE VISIT 4-FeetGrafix.com.