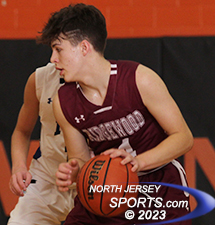 Johnny Jackson came off the bench to score 19 points for Ridgewood, which topped NV/Demarest 63-48 to just about clinch a spot in the Bergen County Jamboree.
FORT LEE – Sophomore standout Johnny Jackson was not in Ridgewood's starting lineup on Sunday in a game that the Maroons might very well have needed to ensure their spot in the Bergen County Jamboree. Situations like that are often treated with a wink and a nod, an off-the-record comment and there is no reason to follow up from a journalistic standpoint. It's high school sports; not everything has to be reported.
That is not the way Jackson wanted to handle this, though. He came clean without much prodding.
"You want me to tell you? I wasn't feeling great the other day, I went to sleep early and ended up sleeping through my alarm. I was late for practice, it was a mistake and I apologized," said Jackson. "And I did not let it affect today."
No he didn't. Jackson took the grown up route, accepted his temporary demotion with humility and then became the best sixth man in North Jersey. He hit a 3-pointer shortly after entering Sunday's matchup against Northern Valley/Demarest at the Bergen County Showcase and then was right in the middle of the game's turning point late in the third quarter.
Jackson stole an outlet pass and made a jumper from the corner and got involved on the offensive glass with a putback as part of a third-period-ending 6-0 run that broke open a close game.
"I was proud of the way [Jackson] came into the game and made an immediate impact," said Ridgewood head coach Mike Troy. "He nailed a 3 right away and as the game went on he got more and more in the flow. We go as Johnny goes."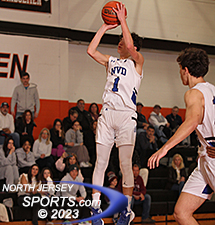 Sophomore Zach Schweid led Demarest with 21 points.
Ridgewood also scored the first six points of the fourth quarter capped by Evan O'Reilly's fastbreak dunk on the way to 63-48 victory that almost certainly locked up the Maroons spot in the Bergen County Jamboree.
Ridgewood has now won three straight games to get to 8-6 on the season, has multiple wins over quality opponents and no bad losses as it breaks in four new starters, five if you count Jackson's brief hiatus on Sunday.
"We graduated 12 seniors, we have a young team and most of these guys weren't on the floor in those crunch times. I said before the season that we might have to lose a couple to learn how to win," said Troy, whose team started the season 2-5. "I didn't think that was going to mean five [losses], but they have grown up quickly from New Year's on. Their poise and their unity has really taken a step forward."
On the other side, Demarest open its season with six straight wins, which might have accelerated expectations for a team that starts four sophomores and one junior and which does not have a single senior on the roster. The Norsemen have a bunch of quality wins, three losses by two points and an 8-5 record that places them squarely on the Jambo bubble heading into Monday night's seeding meeting.
The Norsemen have had the ups and downs associated with a young team and not just within the overall context of , but also within particular games. Demarest was down 12-4 to start, rallied to tie the game late in the second quarter, trailed 24-21 at the break and then came ripping out of the locker room. Sophomore Zach Schweid scored five straight points to open the third period and Nick Gornstein added a 3-pointer from the corner in an 8-0 run that gave Demarest its largest lead of the game, 29-24, and forced a Ridgewood timeout.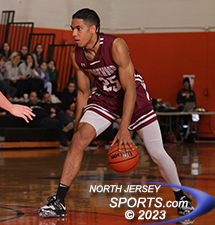 Ridgewood's Jordan Rodgers showed off his inside/outside game and finished with 14 points.
The Maroons then showed the kind of poise that had eluded them earlier in the season. Jackson got to the basket for a layup that got momentum going in the other direction. Ridgewood responded to Demarest's 8-0 run with an 11-0 run in the other direction to take back control.
There was some back-and-forth late in the third period and Demarest trailed by just three with 1:19 left in the period, but then Ridgewood scored those six quick points in just 32 seconds to take a 46-37 in to the fourth quarter. O'Reilly's dunk made the score 52-37 with just over six minutes to go and that was that.
"We just dialed up our defense. We started with the half-court traps and that worked. That led to transition and we did well with that," said O'Reilly, a sneaky good athlete who likes to attack the rim. "We are getting better every day. We are young this year, so we have just been learning and getting better. Those [wins over St. Joseph Regional and Teaneck] just show our potential. Those are both good teams and we handled them, so it shows us how good we can be."
The three-pronged attack of O'Reilly (23 points), Jackson (19 points) and Jordan Rodgers (14 points) were good against Demarest. Jackson is a small guard who can finish around the basket, Rodgers is a baseline force who can step out and make 3s and O'Reilly has hops and a good midrange game. JT Luther played well on the offensive end in support and he accounted for the rest of Ridgewood's 7 points. The Maroons, should they get into the Jambo (and they should get into the Jambo), will be a tough out.
Schweid (21 points) and junior Brandon Srebnik (12 points) each finished in double figures for Demarest, which has a Jambo resume worth of inspection.
"I think we have done enough [to get in]. There are a couple of teams that got in with automatic bids that we have beaten like Rutherford and there are others like Indian Hills, Northern Highlands, Pascack Hills, we've beaten all of those schools. Those are good teams," said Demarest head coach Pat Gabriele. "We have three losses by two points, this was our worst loss this year and we start four sophomores and a junior. I think 8-5 is enough, I hope 8-5 is enough, but with the amount of NJIC schools [that have automatically qualified], I would understand, but there is nothing like playing in the Jambo and we will see what the committee says tomorrow."  
FOR MORE PHOTOS FROM THIS EVENT CLICK HERE. TO BUY A COLLECTOR'S PRINT OF THIS STORY PLEASE VISIT 4-FeetGrafix.com.