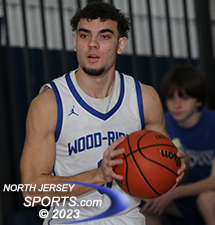 Senior Ryan LaGrasta went off for 36 points for Wood-Ridge, which picked up its fifth straight win, 69-57, over Ridgefield on Tuesday night.
WOOD-RIDGE - After an 0-5 start that was hardly any better at 1-7, there was little reason to think that there would be much left to talk, at least positively, about Wood-Ridge boys basketball now about two weeks before the end of the regular season. Instead of limping to the finish, however, the Blue Devils are just hitting their stride.
With a wire-to-wire 69-57 win over Ridgefield on Tuesday night, Wood-Ridge won for the fifth straight time and upped its record to 9-12 on the season. With three games left, it is conceivable that the Blue Devils could finish at .500 before hosting a first round game in the upcoming North 2, Group 1 state sectional tournament.
It has been quite a turnaround.
"After starting 0-5, 1-7 and then 4-12 I don't we could ask for more than the position that we are in now," said Wood-Ridge head coach Jimmy Maher, whose team finishes the regular season with home games against Emerson, Saddle Brook and Kearny. "Coming into tonight I think we were sixth [in power points]. With this win and if we can get Emerson on Thursday, we could maybe move up to fifth. If we wind up with the No. 5 or 6 [seed] and get a home game with the way we started, we would take it and be happy about it."
There have been numerous factors in Wood-Ridge's resurgence. Senior guard Eric Barton is back healthy and up to speed, Christian Nario has ascended from the freshman level to becoming a frontcourt contributor off the bench and senior Ryan LaGrasta has nights where he just goes off like he did against Ridgefield.

LaGrasta scored the first five points of the game to put Wood-Ridge in front for good and he never let up. The senior guard made five 3-pointers, 6 two-point field goal and 9 free throws in showing off his full arsenal on the offensive end on his way to a game-high 36 points. He also added 10 rebounds in a dominant double-double.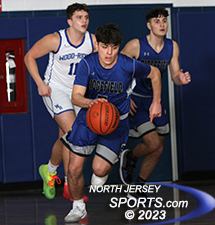 Chris Pallotta finished with 14 points for Ridgefield, which is now 10-12 on the season.
"Once we got Eric [Barton] back we started to get going and we started to win some games. We started rebounding, getting the ball out in transition and turning it into points," said LaGrasta. "Tonight we were able to knock down some shots early and that got us going."
Wood-Ridge flew out to a 22-6 lead after the first quarter and was ahead 32-19 after Nario put back his own missed shot with 2:07 left in the first half, but Ridgefield closed the period with a 6-0 spurt to get back to within single digits. Jason Marasciulo's steal and layup left the Royals trailing 32-25 at the break, but they had the momentum.
Ridgefield got as close as 35-32 two minutes into the third quarter, but LaGrasta heated up again. He hit back-to-back 3-pointers on consecutive possessions to push the Blue Devils lead back up to 9 points and they led 51-41 after three quarters on the way to closing out their fifth straight victory.
LaGrasta's 36 points led all scorers and Barton (8 points) and Owen Caprio (7 points) combined for 15 points meaning that Wood-Ridge's all-senior backcourt accounted for 51 of its 69 points. Ryan George made a pair of free throws and the other 16 points were scored by Nario, who made two 3-pointers and added 5 rebounds.
Nario played out the freshman schedule with his classmates before he was brought up to the varsity where he has become a reliable contributor and an obvious bright spot for the future of the program.
"It feels good to be up on the varsity and it is definitely different playing against better comp[etition]. I am starting to get more confidence the more I play up," said Nario. "It was great playing with the freshman team and helping lead them. We had a good year and we were the No. 17 [seed in the Junior Jambo]. I just tried to bring the same mentality to the varsity and be the same player."
Marasciulo (20 points), Chris Pallotta (14 points) and Elijah Espinal (12 points) all finished in double figures for Ridgefield, while Sebastien Botero (6 points) and Nick Pallotta (5 points) rounded out the scoring for the Royals, who fell to 10-12 on the season.
FOR MORE PHOTOS FROM THIS EVENT CLICK HERE. TO BUY A COLLECTOR'S PRINT OF THIS STORY PLEASE VISIT 4-FeetGrafix.com.