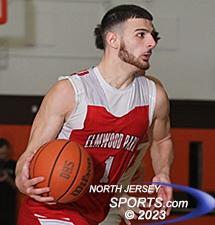 Essam Asaaf scored a team-high 14 points for Elmwood Park, which won its first Jambo game since 2013 with a 46-42 victory on the road at Dumont.
DUMONT – In either of the last two high school basketball seasons Elian Tavarez was not involved. He did not go through the Elmwood Park public system in elementary and middle school, so Tavarez was a relative unknown to the players within the high school program. No he is another example in how high school sports can forge friendships and experiences that can last a lifetime.
"He was a transfer actually. He went to TPS [The Patrick School] for middle school. When we saw him in the park we knew we had to get him playing," said senior Essam Asaaf. "We saw him at the park and we had to pick him up. He started training and now here he is, a junior making a big difference for us."
From nowhere near a high school basketball court to in the thick of the drama in the opening round of the Bergen County Jamboree on Thursday, Tavarez hit one of the biggest shots of the night. With the game tied and less than four minutes left in regulation, Tavarez swooped in for a backside rebound, made the layup and put the Crusaders in front for good.
Tavarez's hoop kicked off a crucial 9-2 run, the one that gave 19th-seeded Elmwood Park a 46-42 victory on the road at No. 14 Dumont and its first win in the Jambo since 2013, a full decade ago. Before that, the last time EP tasted Jambo success was in 2006 when current head coach Steve Herget was a player.
"I am elated right now. This is my alma mater, I was a part of a team that won a Jambo game in 2006 and I know what it can mean for the kids and school," said Herget. "It's always been a dream of mine to come back and do it as a coach."
Mission accomplished, but not without a fight from Dumont, a team that has also gone a long time between sips in the county tournament. The Huskies had the home court advantage, they had a rowdy student section behind them and they had the lead for large stretches of the game, including the entire first quarter. Even so it was apparent that neither team was going to be able to pull away.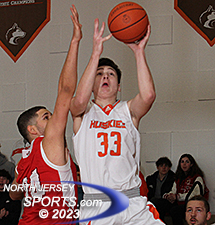 Freddie Herbst made 4 3-pointers and scored half of Dumont's 41 points.
Dumont led 10-9 after the first quarter, David Forzani gave Elmwood Park its first lead with a bucket off a turnover to start the second period and the Crusaders took their largest lead of the first half, 22-17, on back-to-back baskets by Tavarez and Dawanye Carter before Dumont pulled to with 22-20 at the half on a 3-pointer by Nick Giangregorio.
There were three lead changes and two ties in the third quarter, including what looked like it might be a decisive shot. Freddie Herbst, who had four of Dumont's five 3-point makes, hit one from the corner and was knocked into the foot of the stands on the release. He was picked up by the pumped up student section and made the accompanying free throw for a four-point play took Dumont from down two to up 28-26 with 3:59 left in the third quarter. It also kicked off a 9-2 run that gave the Huskies their largest lead of the game, 34-28, before Carter's take got EP back to within four points heading into the final period.
Herbst, the tallest player on the floor, scored a game-high 21 points, exactly half of Dumont's total, while Elmwood Park and its four-guard set up did not make a single 3-pointer in the game. The Crusaders were all drive-and-kick in the halfcourt while looking for every opportunity to get out in transition.
"We just gave up way too many easy opportunities, second opportunities and third opportunities. Stuff that we pride ourselves on not allowing, tonight we struggled a little bit," said Dumont head coach Kenny Martoral. "We didn't give up anything from 3, but they did their damage in the paint."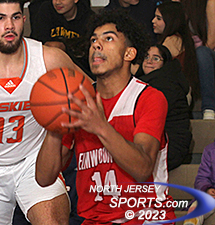 David Forzani scored 13 points for Elmwood Park, which will play defending champion Bergen Catholic in the Round of 16..
Elmwood Park held its own in the rebounding department with its lone true post player, Ivan Corcino-Mejia, battling to change shots on the defensive end and keeping balls alive on the offensive glass. Asaaf hit the boards as well and his putback of a missed free throw with 6:16 left in the game to get EP within a point, and he scored inside off a Corcino-Mejia dime to put the Crusaders up 35-34 before a Jackson Angeles free throw tied it for the last time with 4:15 left.
Enter Tavarez, who came in from the backside to put Elmwood Park in front for good.
"I saw it come off and I knew I just had to get there, get that rebound and put it in," said Tavarez. "It's crazy. My boys convinced me to play and now this…great feeling."
Asaaf led Elmwood Park with 14 points and Forzani added 13, including four important free throws in one-and-one situations in the final 1:33. Carter (8 points), Tavarez (7) and Corcino-Mejia (4) rounded out the scoring for the Crusaders, who advance to play defending champion and third-seeded Bergen Catholic in the Round of 16 on Saturday.
"The chance to play [Bergen Catholic] means everything to me. They are ranked in the state and it is a great opportunity," said Asaaf. "We are going to give it our all. They are going to give us some rough treatment, we know that and they might get out to a big lead, but you never know. Anything is possible."
Whatever happens on Saturday, nights like Thursday don't come around that often for NJIC schools on the road in the Jambo. There are ups and downs in the grind of a season for every team, but Herget seems to have his boys all on the same page.
"The way that we have played the last two games I feel like we are coming together at a pivotal time," said Herget, whose team knocked off Paterson Charter, the No. 2 seed in the Passaic County Tournament, earlier this week after a little bit of soul-searching. "We got spanked by Ramsey on Sunday, we had some chemistry issues, some selfish issues and then we had a really good team meeting on Monday and a really good practice. We held kids accountable and I think they are coming together as a family."
The loss was a tough one for Dumont, but there is a silver lining. There are no seniors in the Huskies starting lineup, so they will all be back to take another swing at the Jambo next season. The Huskies are two games up in the race for a league title and can make some noise in the state tournament.
"We are 5-0 in the league. We are three games up on Fort Lee, two on Dwight Morrow, so we are looking pretty good there and, coming into tonight, we were the second seed in our state sectional. That might change a little bit, but we are doing OK," said Martoral. "We have a bunch of juniors, no seniors and there are going to be peaks and valleys. We will go home, regroup and get right back at it tomorrow.
FOR MORE PHOTOS FROM THIS EVENT CLICK HERE. TO BUY A COLLECTOR'S PRINT OF THIS STORY PLEASE VISIT 4-FeetGrafix.com.