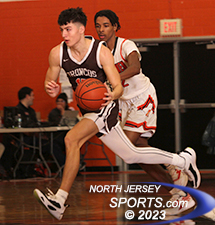 David Weidmuller scored a game-high 27 points for Pascack Hills, which got back to .500 on the season at 6-6 with a 61-55 win over host Fort Lee at the Bergen County Showcase on Sunday.
FORT LEE -- Other than the brown and orange, the 2022-23 version of the Pascack Hills basketball team bears little resemblance to last year's, which had 12 seniors that sucked up just about all of the varsity minutes. There was some lag time as the new crew got assembled and acclimated, but the Broncos have made a late push to be included in the Bergen County Jamboree.
Pascack Hills has now won three of its last four games, the latest a 61-55 victory over host Fort Lee at the Bergen County Showcase on Sunday afternoon. Back even at 6-6 on the season, Pascack Hills at least made itself eligible when the selection committee convenes on Monday night.
"We've beaten some good teams, we have some good wins and I think we have to be in the conversation. It's a whole new team, just about. We've had some injuries and one of our guys did not even play high school basketball at all last season" said Pascack Hills head coach Paul D'Errico. "They are coming along. It's hard to teach poise and, like Kramer said to Miss Rhode Island on Seinfeld, 'Poise counts.' That applies here. We have had to learn how to win in fourth quarters and do it without our point guard [Sam Cooper], who has been hurt."
The Broncos' progress was on display in the fourth quarter as Fort Lee pressed itself back into a game that it trailed in by double digits with just over two minutes to play. The Bridgemen, who are already safely in the Jambo with the required .650 winning percentage, were down 55-43 after Pascack Hills' John Stewart found a cutting Justin Ohnikian for an easy bucket with 2:03 remaining, then turned up the heat.
Having switched defenses all game long between a couple of different zone looks and some man-to-man, Fort Lee was forced to start trapping all over the court and forced turnovers on three straight possessions that all led directly to 3-pointers. Isiah hit one from the wing before Devin Jang hit two in a row, one from the corner and one just offset from the top of the key to get Fort Lee right back in it. Jang made six 3-pointers in the game, the last of which had the Bridgemen down just 55-52 with 55 seconds remaining and then Pascack Hills missed the front end of its first one-and-one opportunity with 23 seconds to play.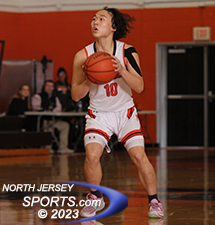 Devin Jang made 6 3-pointers and finished with a team-high 22 points for Fort Lee.
It was time to take care of the basketball and that is the responsibility of junior Cole Pisciotti, who has taken over at the point. He has been learning on the job.
"Fort Lee made it tough with all of their defensive looks, but Coach D'Errico has great adjustments for us and we relied on each other to get the ball up the court," said Pisciotti." I have to step up. Sam did a great job before he got injured, but know it is on me to get guys the ball in places where they can score, especially late in games when we are trying to close it out."
That meant putting the ball in the hands of senior Justin Ohnikian, at least in the final 30 seconds where he went 4-for-4 from the line on two different one-and-one trips to keep the Bridgemen at bay. Before that, it was Dave Weidmuller that was mainly responsible for Pascack Hills' playing from in front just about the entire way. Except for ties at 0, 5, and 7 that lasted for a cumulative total of 1:46, the Broncos were in the lead.
Weidmuller, a wing with good size and athleticism, made at least two field goals in every quarter, nailed a couple of 3-pointers, made his only free throw attempt, and scored 16 of his game-high 27 points in the first half. Pascack Hills led 15-9 after the first quarter and 28-24 at the intermission.
"We came in here knowing we had to win this game. We were probably the underdogs, but we know we can compete with every team we play," said Weidmuller. "I didn't come out thinking that I had a bunch of points or shoot as much as possible, but that is what the game dictated and I just wanted to do whatever I could to help my team and it worked out."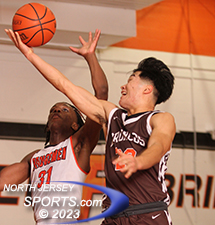 Senior Tyler Sanders, a senior transfer from Bergen Catholic, scored 10 points for Pascack Hills.
Pascack Hills led by as many as 10 in the third quarter and was up 45-38 heading into the fourth before Fort Lee made it an all-out scramble and then started hitting just about everything it threw up from behind the arc. Twenty one of its 31 second half points came from 3-point territory and Isiah Stang and Jang combined to make five in the fourth quarter, all but one of them inside the final 1:52 of the game. The other 3-point make was by Stang early in the final period and that turned into a 4-point play when he was fouled on his way down.
Jang (22 points) and Stang combined for 42 of Fort Lee's 55 points. Bemiwoo Ogedegbe scored all 8 of his points in the first half, Kymani Clarke added three points and Isaiah Valdez had the other field goal for Fort Lee, which now stands at 10-5 in the season.
Pascack Hills got all of its points from its starting 5 as Tyler Sanders finished with 10, Stewart added 9, Ohnikian scored 6 of his 8 in the second half and Pisciotti had five in support of Weidmuller, who also added 7 rebounds, 3 assists and a couple of blocked shots.
The Broncos may or may not have played their way into the Jambo with Sunday's win, but they are together and they are enjoying the journey. Sanders is the aforementioned 'guy who didn't even play high school basketball last year. Sanders transferred back to Pascack Hills for his senior season after three years away.
"I went to Bergen Catholic High School and stuff did not go as planned. I was on the JV team my sophomore year and then junior year I got cut because of some stuff I don't want to talk about," said Sanders. "I am trying to make this like a comeback year and that is why this win today was some important to me. We are .500 now, we at least have a shot to make [the Jambo]. It's taken us some time to all come together as a team and as the season as gone one we are all trusting each other more. We make the extra pass, we move the ball around and we are getting open shots. We are playing better defense, too, and we all just want to make this season the best that we can."
FOR MORE PHOTOS FROM THIS EVENT CLICK HERE. TO BUY A COLLECTOR'S PRINT OF THIS STORY PLEASE VISIT 4-FeetGrafix.com.