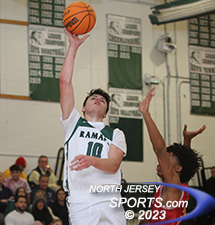 Junior point guard Peyton Seals went off for 29 points as Ramapo improved to 8-0 with a 75-62 win over Bergen Catholic on Tuesday night in Franklin Lakes.
FRANKLIN LAKES – Bergen Catholic won the opening tip unopposed. On its opening possession it pounded the ball inside to 6-foot-9 junior Terry Copeland, who missed his first shot, grabbed the offensive rebound and went back up strong, really strong, for the game's first two points. Then the Crusaders picked up full-court man-to-man and immediately applied pressure to the ball.
In essence, Bergen Catholic, the defending Bergen County Jamboree champion, was poking Ramapo in the chest to see if the public school, playing in its jam-packed home gym, would choose fight or flight.
"That first sequence was a little shaky. Maybe we were a little nervous, but we took the early punches and handled the adversity," said Ramapo junior Wyatt Eglinton Manner. "The two games we played before this we were down at half, so we know how to respond and we have the confidence that we can handle any situation."
Ramapo fell behind 8-2, but it never backed down. The Green Raiders got even by the end of the first quarter in spectacular fashion as Nate Burleson's dunk over all of the heavy traffic gathered in the lane tied the game at 19. Brandon Benjamin gave Bergen Catholic scored on the interior to open the second quarter, but a Peyton Seals 3-point play the next time down the court put Ramapo in front with 7:26 left in the first half and the Raiders never trailed again.
Ramapo continued its unprecedented early season success against statewide Non-Public school powerhouses as it added a 75-62 win over Bergen Catholic (4-3) to victories over Gil St. Bernards and Immaculate Conception at the Jingle Bells Jubilee and then Hudson Catholic on Monday. The Raiders are now 8-0 on the season and there is no reason to put any kind of limits on expectations for the season.
"I give all the credit in the world to our kids. They came ready to play tonight. We were not sped up by their size and speed and I thought we played with a ton of composure," said Ramapo head coach Nick Veir. "We had exceptional playmaking from all five positions all night and that was the difference. It was a total team effort and everyone made contributions."
Jaylen Robinson scored 7 points off the bench for Bergen Catholic.
Ramapo is not one of the best public school teams in New Jersey; it is one of New Jersey's best teams with no glaring weaknesses. Eglinton Manner and Chris Cervino on the wings are capable of knocking down 3s and getting to the basket. Nehemiah Burleson and Charlie Wingfield are physical on the interior and can score in the post if that is where the mismatch exists, Zack Schnorbusch is a capable defender and master of hustle plays and Nate Burleson, who will play football at the University of Nevada next year, is one of New Jersey's top athletes. He prowls the baseline looking to dunk anything he can get his hands on.
And Seals, the junior point guard, is the Maestro who weaves it all together. He does not pass to open teammates. Instead, he passes teammates open, putting them in positions to finish plays. Put a small guard on him and he will take him right to the post. Try to guard him with a big and he will blow right by or step back. Seals rarely turns the ball over, he has a strong midrange game, hits the 3 and does all of it with a smile.
Consider the second quarter when Seals scored 12 of his game-high 29 points. His traditional 3-point play on which he finished through contact gave Ramapo the lead for good. Seals used an old-school up-and-under move to make it 28-25, nailed  3 to put the Raiders up 32-27, and scored four straight points on a free throw and a trey from the top of the key on which he was fouled but did not get the call to make it 39-30 right before Eglinton Manner got all the way to the basket to give Ramapo a 41-30 lead at the break.
Ramapo doubled up BC, 22-11, in that second quarter as the Crusaders struggled to get stops. They even switched to a zone for one possession, but Cervino's 3 from the win put an end to that adjustment.
"We knew they were super athletic. We watched film. We knew that they were going to press us, be super aggressive and they made some plays. They punched us in the mouth to start, but we stuck to our game plan and we were able to come out with the win," said Seals. "We always have a chip on our shoulder as a public school. The private schools are always looked at as the better team, so we kind of always have that underdog mentality. It feels great to get a win against a great team like Bergen Catholic."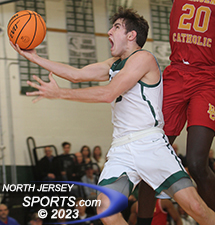 Wyatt Eglinton Manner had 8 points for Ramapo, which has won four straight games against traditional Non-Public school powers.
The second half was about waiting for the Bergen Catholic spurt, but it really never materialized. The Crusaders got as close as 45-38 in the third quarter after a step-out 3 by Copeland, but Ramapo responded with a 9-2 run and was up 59-47 after three quarters. BC scored the first four points of the fourth quarter to get within eight points, but the Burleson brothers came up with back-to-back baskets to make it 63-51 with 5:40 to go. The Raiders made 8 of 10 free throws in the final 2:07 to maintain the spread and make a statement.
"This is a great team win. We were up against a good team with size and we played good interior defense, our point guard is playing great basketball and this was a great team win," said Nehemiah Burleson. "We are putting people on notice that Ramapo is here and there is no backing down."
Programs with the pedigree of Bergen Catholic don't get the luxury of rebuilding, but to be fair the Crusaders are breaking in a whole new backcourt. Julian Brown and Will Richardson are off playing Division 1 college basketball, Elliot Cadeau, who was on the BC roster last season but did not play due to injury, transferred to Link Academy (MO) and recently committed to the University of North Carolina.
While Copeland (14 points) and Benjamin (14 points), the two talented junior post players return, the backcourt rotation is new, BC is going 10 and 11 deep at this stage of the season as it tries to dial in the chemistry. Smooth freshman wing Chidi Nwigwe (14 points) and senior Mikai Klintman (10 points) made it four Crusaders in double digits, and Jaylen Robinson (7 points) and Naiim Parrish combined for 10 points off the bench.
Seals made three 3-pointers and was 8 of 9 from the free throw line on his way to his game-high 29. Cervino (15 points) made four 3-pointers, and Nate Burleson, not yet starting as he works his way back to full strength after an injury, was a pretty good sixth man. He had 15, included the dunk which could, and probably already has been, turned into a poster. Eglinton Manner (8 points), Nehemiah Burleson (5) and Schnorbusch (3) rounded out the scoring for Ramapo, which is now 8-0 against about the toughest schedule that a public school can face.
The Raiders are not looking for easy wins, but only more nights like Tuesday. The bandwagon is filling up as just about all of what left of local high school sports media was in attendance, the parking lot was full almost an hour before game time and all of it is only going to swell from here. Bergen Catholic will get better as the season progresses, Don Bosco Prep has one of the nation's top players in Dylan Harper and St. Joseph Regional is also out there, but the question of if Ramapo can hang with the big boys has already been answered.
That alone might inject new life into the Jambo, which has been a parochial playground since Teaneck handed over the throne in the mid-2010s.
"I am just along for the ride at this point," said Veir, a former first team All-County point guard at Bergen Catholic. "Every game we talk about being the biggest game of the season and we will continue that approach. We are enjoying the moment, but the schedule continues to get tougher and tougher, the games will be difficult and that is what we want."

FOR MORE PHOTOS FROM THIS EVENT PLEASE CLICK HERE. TO BUY A COLLECTOR'S PRINT OF THIS STORY PLEASE VISIT 4-FeetGrafix.com.