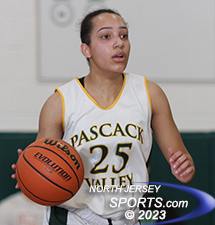 In her first game for Pascack Valley, senior Madison McCarthy scored a game-high 18 points in a 43-38 win over Ramsey at the Zack Latteri Foundation Benefit Games.
HILLSDALE -- It's been a windy road through the high school basketball circuit for Madison McCarthy. She burst on the scene as a freshman when she earned a place in the rotation at Saddle River Day and broke out in the 2020 Bergen County Tournament semifinals against a highly-skilled Ramapo team. She then missed her sophomore season, the COVID year, with an injury, which led to a fall down the pecking order and a cut in playing time as a junior.
Now a senior and a transfer to Pascack Valley where she had to sit out the mandatory 30 days, she has just over a month left to make the most of a final taste of high school basketball. McCarthy became eligible on Sunday morning in the first of seven games that made up the Zack Latteri Foundation Benefit Games and she was obviously ready to get back on the court in a competitive setting.
McCarthy scored 7 points in a game-opening 9-2 run, knocked down two first quarter 3-pointers and scored 14 of her game-high 18 points in the first period of Pascack Valley's 43-38 win over Ramsey.
"I've experienced this before. I was injured all of my sophomore year, I was out the whole season and I was on the sideline seeing the game from a different perspective. I was trying to help my teammates off the court rather than on it. It's what I have been doing this year, too," said McCarthy, who has the talent to play at the collegiate level, but has decided against it. "I feel like the only goal for me now is just to win. No matter how many points I score, I can help rebound and defend. I just want to help whatever way I can to make the best season possible for the team."
Senior Amanda Rosen made two 3s and led Ramsey with 10 points.
Now at full strength for the first time this season, Pascack Valley came out flying. An unofficial count had the Panthers with 12 first quarter offensive rebounds as they got shots up from the perimeter and chased down long rebounds of the ones they missed. McCarthy's stick-back with 4:27 left in the first quarter put PV up 9-2 and it was up 20-14 after one period.
Ramsey, however, made the adjustment and made it a game. Back-to-back 3s by Amanda Rosen and Amanda Mack kicked off a 14-2 run as the Rams stormed back to grab a halftime lead. Hannah McGurr banked in a 3 to tie the game and Julia Taylor knocked one down from the corner to give Ramsey a 29-26 edge at the break.
The third quarter was a defensive struggle that ended with Ramsey up 33-31, although, even though it only scored five points in the period, Pascack Valley had already begun to change the momentum. McCarthy scored a quick four points to close the third quarter scoring and it was the start of a 14-0 run decided the game. Sophomore Celina Bussanich hit a jumper from the wing 37 seconds into the fourth quarter that gave the Panthers the lead back for good.
Lindsay Jennings followed with 5 straight points and by the time the run ended on Bussanich's mid-range jumper with 3:16 left in the game, Pascack Valley had a 41-33 lead and was well on its way to its seventh with of the season.
Pascack Valley got all of its points from McCarthy, who led the way with 18, Jennings, who scored 10 of her 12 points in the fourth quarter as the Panthers surged, Bussanich (9) and Tori Criscuolo (4), who made two second quarter field goals.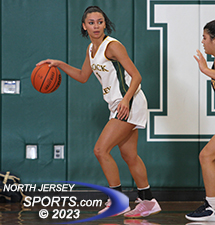 Lindsay Jennings scored 10 of her 12 points in the fourth quarter for PascacK Valley, which improved to 7-5 on the season.
Ramsey (7-4), which had won three in a row coming in, spread its offense among eight different players. Rosen (10 points) was the only Ram to finish in double figures. Taylor finished with 8 points, McGurr added 6, Riley Schwanewede and Ella Randazzo each had 4, Mack made a 3-pointer, Jordan Barnes added a field goal and Calie Simmons made a free throw.
Pascack Valley improved to 7-5 on the season and, with McCarthy now in the lineup, is at full strength for the first time, a welcome development with the second half of a tough league schedule yet to play and also the county and state sectional tournaments on the horizon. That is the basketball side, but there is also a bigger picture.
The Benefit Games started 20 years ago with two games to benefit Autism research. They have grown to include 14 different teams playing seven games with service at the forefront. The tie in to the Zack Latteri Foundation, whose motto is "Paying it forward," fits the ethos perfectly.
"This is a community wide event honoring Zack Latteri. I am thrilled that all of these teams consent to come, that all the people come because the money raised goes to help cancer patients and community service people. This is what Zack was. He was all about paying it forward," said Jeff Jasper, who is in his 50th season as Pascack Valley. "It couldn't be better, quite frankly, than to have this benefit on Dr. [Martin Luther] King's weekend. It's all about service, doing things for others and to stand up, speak out and speak up. When you do service, you not only make yourself feel good, but you are paying back to the community and that is what this is all about."
FOR MORE PHOTOS FROM THIS EVENT CLICK HERE. TO BUY A COLLECTOR'S PRINT OF THIS STORY PLEASE VISIT 4-FeetGrafix.com.