Dino Vasilakis scored 15 points, including the 3-pointer with 1:17 left that sealed Dumont's 50-44 win over Westwood on Thursday night in the season opener for both teams.
DUMONT – There is an unmistakable buzz around the Dumont boys basketball program, which returns all five of its starters from last year's team and none of them are seniors. The community is behind this group as evidenced by the packed student section on hand for Thursday night's season opener and a distinct lack of parking spots in the main lot behind the gym. Even the VIPs were left searching.
"I am the head coach and I am one of the last cars in," said Dumont head coach Kenny Martoral. "I'll take it. It was a great atmosphere in here tonight."
And it was a great game, too, as Westwood, which trailed for all but 16 seconds in the game and trailed by as many as 11 points, rallied to grab its only lead of the night on an AJ Batelli 3-point play with 5:06 remaining in the game.
Dumont starts five juniors and its sixth man is sophomore Nick Giangregorio, who hit his fourth 3-pointer of the game with 3:45 left in the game to nudge the Huskies back in front for good. Dumont got its season off to a rousing start in front of the raucous home crowd with a 50-44 victory on Thursday night.
Giangregorio's first three triples came in the first 5:19 of the game to get Dumont off to an 11-2 lead and his last one put his team in position to close out the win.
"This felt amazing. Last year I was the last guy off the bench and this year I am the first guy. When I got in I just wanted to contribute and when I hit my first one everything started to click for me," said Giangregorio, who was one of three Huskies to finish in double figures. "I am glad that it all went well, I am glad that we succeeded and got the win and I can't wait for the next one."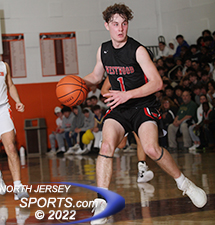 Robbie Carcich led Westwood with a game-high 16 points.
Westwood has athletes and it has moxie. What it does not yet have is varsity basketball experience, which was exasperated by first half foul trouble that had four different players saddled with two fouls by the intermission. At one point, the Cardinals had five players on the floor that had never been in a varsity game. Westwood trailed by as many as 11 in the first half and by 25-16 at the break, but rather than fold, it rallied.
The Cards were barely hanging around when Dino Vasilakis scored four quick points on a putback and then with a steal and a layup to put Dumont up 34-25 with one minute left in the third quarter. An 11-2 run that ended with back-to-back 3-pointers by Matt DiNallo and Sam Arcieri tied the game at 36 with 5:44 left in regulation.
After Jackson Angeles broke the tie in Dumont's favor, Batteli's 3-point play made it 39-38 Westwood (0-1) with 5:06 to go. Freddy Herbst's free throw re-tied the game with 4:50 left before Giangregorio's final 3-pointer put the Huskies in front for good 1:05 later. Dumont was up by the same score with 1:17 to go when the ball found its way to Dino Vasilakis, who could have held it and forced Westwood to foul, moved it to burn some more time or rise up and try to end the festivities right there.
Vasilakis chose option No. 3, buried the 3-pointer and doubled the Dumont (1-0) lead to 45-39. Westwood never got back to within one possession.
"My coach always tells me to shoot, I was open and I shot it. I had the confidence and it went in," said Vasilakis. "Because of how loud it was in here tonight, we fed off of that energy. We are a team that is going to come out every night and fight on the defensive end. We can score, but we know on the defensive end is where we can make the biggest impact."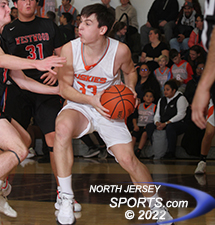 Freddy Herbst is one of Dumont's five returning starters, all of who are juniors.
Vasilakis (15 points), Giangregorio (14) and Herbst (10) were Dumont's three double digit scorers and Angeles (6 points) had one of Dumont's six 3-pointers. Nick Vasilakis made a field goal and a pair of free throws, Derek Martoral made second quarter field goal and Gabe Victoria's free throw rounded out the scoring for the Huskies, who have high hopes for the season that they hope to attain in grind-it-out fashion.
"In a game like this it was easy to see what it was going to come down to. Both teams were going to fight, both teams were going to compete and it was just about which team was going to make a couple more shots and we made a couple at the end. Happy for my guys and coming out of here with a whole lot of respect for Westwood," said Kenny Martoral. "This is a group that has been together since fourth grade and we took a few lumps last year. Our motto is just 'Play hard.' If we play hard and we make some shots, we will win some games. If you compete, you can walk off the court with your head up and you can live with the result."
The result did not go Westwood's way, but the revamped Cardinals have plenty of positives to take away from a six-point loss on the road in a loud gym against a quality opponent. Robbie Carcich led the way with 16 points, Sam Arcieri had 10 and the Cards might have found more depth than they knew they had as five other players chipped in offensively. Sean Morrison made two 3-pointers, Batelli's five points all came in the second half, Matt DiNallo made a fourth-quarter 3 and Jaeden James and Joe Ceritelli combined to go 4-for-4 from the free throw line. Ceritelli is a freshman, who was forced into action by all of the foul trouble and did not look overwhelmed.
"I think the resilience we showed was really good, but the basketball acumen was the best tonight. You could tell that they were the team with five returning starters and we were a team that, at one point in the first half, had five kids on the floor that had never been in a varsity game," said Rob Carcich, who is in his second season as Westwood's head coach. "This one stings a little bit, but the future is bright and we have a lot of room to get better."
FOR MORE PHOTOS FROM THIS EVENT PLEASE CLICK HERE. TO BUY A COLLECTOR'S PRINT OF THIS STORY PLEASE VISIT 4-FeetGrafix.com.