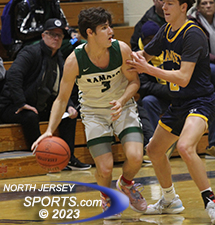 Junior Wyatt Eglinton Manner scored 13 of Ramapo's 16 first half points and finished with a game-high 24 for Ramapo, which overcame a tough challenge from Ramsey, 47-41, in the Jambo quarterfinals.
HACKENSACK – The top eight seeds in this edition of the Bergen County Jamboree all reached the quarterfinals and the tournament has been decidedly short on upsets, but on Saturday at Hackensack High School, Ramsey made its bid. The seventh-seeded Rams, up against second-seeded Ramapo, a team ranked in the Top 10 in the state that has not lost to a fellow public school opponent all season, came out of the halftime locker room with a bang.
Using its active 2-3 zone, Ramsey succeeded in keep the score low and the game close through the first half and then, with its first shot of the third quarter, took the lead. Michael Stone's 3-pointer from the corner put Ramsey in front and put Ramapo, so unflappable throughout the 20-2 start to the season, in scramble mode.
"I have to give Ramsey a ton of credit. We have seen zone, but that is the best zone we have seen by far," said Ramapo head coach Nick Veir. "They have size, they have length, they are well coached, they know who they are and I just think that they do a good job of taking the other team out of what they want to do."
There are a lot of aspects to offense that Ramapo wants to do. The Green Raiders like to get out in transition and get fastbreak points, they like to drive-and-kick and they like to slash to the basket, but against Ramsey's zone in the first half it was mostly standstill jumpshots against closing-out defenders after a contested pass to the wing. Ramapo was held to just five first half field goals and 16 first half points and held only a two-point lead at the intermission. Ramsey had the momentum and the lead after Stone's third quarter icebreaker.
"First thing I told them at halftime was, 'Hey, guys…you are only down two against the No. 6 team in the state. You are in the Jamboree, you are in the Elite 8 and you showed that you belong," said Ramsey head coach Mark Christiansen. "We were able to get in the flow and we went on a quick little run."
Battle tested against possibly the most difficult schedule a public school team could possibly play, Ramapo showed its class. The backcourt tandem of Peyton Seals and Wyatt Eglinton Manner, a pair of juniors, scored all of Ramapo's points in an 11-1 third quarter run that wrested the lead back. Although Ramsey never let the Raiders out of its sight, Ramapo toughed out a 47-41 victory to set up another round in its continuing rivalry with Bergen Catholic.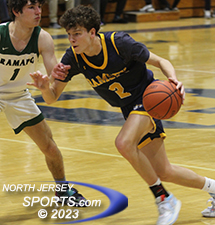 Michael Stone made 5 of Ramsey's 6 3-pointers, including that gave the Rams their only lead of the second half.
The Crusaders, a 71-43 victor over Saddle River Day in the first game of Saturday's quarterfinal quadruple header, beat Ramapo in last year's semifinal round on the way to the Jambo championship. The Raiders returned the favor in a regular season matchup in Franklin Lakes last month.
Eglinton Manner and Seals combined to score 37 of Ramapo's 47 points against Ramsey with Eglinton Manner carrying the Raiders through the second quarter rough patch. He scored all 10 of the Raiders' points in the period and finished with a game-high 24 points, including five 3-pointers. Eglinton Manner's triple from the wing with 5:23 left in the third quarter tied the game for the last time at 21 and Seals' 3 the next time down the floor gave Ramapo the lead for good at 24-21.
"It was a dog fight the whole way; mentally challenging," said Eglinton Manner, who scored 13 of Ramapo's 16 first half points. "We just trust the process; just keep getting guys shots until they start to fall. Maybe I missed a couple that I should probably not have taken, but you just have to keep playing your game until they start to fall."
Nate Burleson made a bucket on the baseline and Zach Schnorbusch made a layup off a Nehemiah Burleson steal and assist to give Ramapo a 31-23 lead after the third quarter and the Raiders opened their largest lead of the game, 37-26, after back-to-back 3-pointers by Eglinton Manner and Seals early in the fourth.
There were still a few dicey moments left as Stone made a 3 with 4:45 left to get Ramsey back to within single digits and, the next time down the floor with Veir trying to call a timeout that was not heard by the closest official, Seals picked up his fourth foul on a charge. Ramsey got to within 39-32 on Michael Bernius' conventional 3-point play with 3:02 left, but the game swung Ramapo's way for good shortly thereafter. Seals, again just a junior, scored the 1,000th point of his career when he put back his own missed shot and Ramapo went 6-for-6 from the free throw line in the final 1:03 to cinch its spot in the Final 4.
Ramapo junior Peyton Seals scored the 1,000th point of his career on a putback with 2;24 left in the fourth quarter.
"In this game I was not thinking at all about scoring [my 1,000th point]. We just had to find a way to get a win. It was a tight one," said Seals. "It is a great accomplishment, though. There are a lot of great players that are up on that [1,000-point scorer] banner and I am happy to be going up there. I am thankful for my teammates and coaches that put me in positions to score and to be able to get there."
Nate Burleson scored all 4 of his points in the second half, while Nehemiah Burleson, Chris Cervino and Schnorbusch evenly split the other 6 points for Ramapo, which improved to 21-2 in the season. Michael Stone made five of Ramsey's six 3-pointers and finished with a team-high 17 points. Bernius scored all 9 of his points after halftime, Max Nierenberg added 6 points, Noah Eide made a pair of first half field goals, Matty Stone made a 3-pointer and Ollie Hochstein had the other field goal for Ramsey.
IN OTHER QUARTERFINAL ACTION:
Third-seeded and defending champion Bergen Catholic opened the day with a 73-41 win over No. 6 Saddle River Day. Junior forward Terry Copeland, who is listed at 6-foot-9, showed his outside touch early with four first quarter 3-pointers on the way to a team-high 15 points, all of them coming in the first half that ended with the Crusaders in front 34-20.
Brandon Benjamin (13 points) and David Munro (11 points) joined Copeland in double digits as the Crusaders advanced to the semifinals where they will play Ramapo on Saturday at Hackensack High School. Richard Machado led Saddle River Day with 11 points, as the only Rebel to finish in double figures.
Prior to the quarterfinals the only game in the Jambo that was won by the lower seeded team was a play-in round game won by No. 19 Elmwood Park on the road at No. 14 Dumont. St. Joseph Regional, the No. 5 seed, added the mildest of 'upsets' with its 76-65 win over No. 4 Teaneck. The Green Knights took a 36-24 lead by halftime powered by Montique Nedd, who scored 8 points in the first quarter and 10 in the first half.
Nedd, a senior guard, finished with a team-high 21 points, sophomore Jahmir Joseph added 17 and Christopher Williams scored 13 of his 17 in the second half. Tyler Tejada, Teaneck's 6-foot-8 senior, finished with a game-high 27 points, while Keith McKnight and Jarrell Harmitt each added13 points to make it three Highwaymen in double digits.

St. Joseph will play top-seeded Don Bosco Prep in the Final 4. The Ironmen opened a 52-15 lead on No. 8 Pascack Valley by halftime and coasted to an 86-37 win to make it three non-public schools in the semifinals.
FOR MORE PHOTOS FROM THIS EVENT CLICK HERE. TO BUY A COLLECTOR'S PRINT OF THIS STORY PLEASE VISIT 4-FeetGrafix.com.