On Senior Night, GianLica Galasso and Ramapo's other three seniors all won to highlight a 50-24 victory over Demarest on Friday night in Franklin Lakes.
FRANKLIN LAKES – There is little time for celebration at this time of the season, but Ramapo carved out a couple of minutes to acknowledge its accomplishments on Friday night. About 14 hours before the Bergen County Tournament was to begin at Rockland County Community College, the Green Raiders conducted Senior Night and took stock of what has been a bounce back season in Franklin Lakes.
With four seniors in the lineup, all of whom posted victories, and with six freshman also taking the mat, Ramapo showed off its present and its future in a 50-24 win over Northern Valley/Demarest that ran its record to 10-2 on the season, its first under head coach Bill DiMauro.
"It's been awesome. We have a full lineup for the first time in a long time. When I was a freshman we did not even come close to it. We had fans come out tonight, the parents give us full support and it was fun," said senior Tom Shokoff, who won his match via first period pin before heading into the county tournament as the No. 1 seed at 190 pounds. "Coach DiMauro is a great coach and a great leader and this season has been everything we could have asked for so far."
DiMauro was an assistant coach last year but his Ramapo roots run way deeper. He was an assistant under Drew Gibbs, the legendary coach who passed away just over a year ago.
"We had six wins all of last season and we are at 10 already this year. We have a new freshmen crew. They are young, they like to learn and they come from a good [junior] program where they did dual meets, so they know how to wrestle in the team concept," said DiMauro. "We have improved and we can only improve more in the coming years. Our older guys have provided leadership and young guys have brought great energy."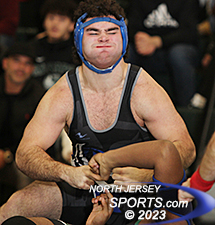 Demarest senior George Tzoulafis is pumped after his pin at 215.
One of those young guys is freshman Casey Grusser, who fell behind by a 10-3 score in the third period of the first bout of the night at 144. The ensuing comeback set the tone for the rest of the match as a five-point move in the final 10 seconds of regulation got Russer all the way back even. A quick shot and takedown right off the whistle in overtime gave Grusser a 12-10 win and Ramapo the lead for good. Back-to-back first period pins by senior David Rozenblum and freshman Branden Causillas gave the Raiders a 15-0 advantage through the first three bouts.
"My coach tells me all the time to just keep working hard no matter what the situation is. I got the head lock and took him to the mat late [in the third period] to tie it up, never gave up. In the overtime I went for the low single, got it and that was it," said Grusser, who took a couple of years off of wrestling before finding his way back to it. "We have a phenomenal young team. Our seniors are great guys they help us all out and I kind of eased back into it. I stopped wrestling for while, but I wanted to give it a shot in high school. I just felt like it was the right time and it's been great."
Senior Matt Marinich got Demarest on the board with a second period pin at 165 before Ramapo's James Tubb got a win by injury default and Shokoff followed with his pin to make it 27-6. All of Demarest's points came via the pin as George Tzoulafis (215), Dan Nam (285) and Andrew Zwernemann (126) all won by fall to make up the 24 points for the Norsemen.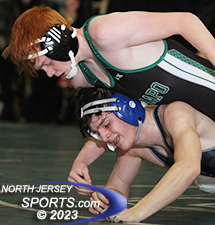 Casey Grusser (top), one of Ramapo's talented freshmen, won in overtime in the first bout of the night at 144 pounds..
All but one weight class was contested as Ramapo's Jacob Guzman received a forfeit victory at 113. Joey Fulco (technical fall), GianLuca Galasso (pin at 4:29) and Gino Gorga at 138 pounds (127) were the other winners for Ramapo. Fulco and Gorga are part of the stacked freshman class, while Galasso won in come-from-behind fashion. He was just about decked near the end of the second period, but made it to the buzzer and then turned the tables with a pin inside the first 30 seconds of the final period.

A lot can get lost in the grind that is the high school wrestling season, but both Ramapo and Demarest are moving in the right direction. Numbers are up in both programs under first-year head coaches and Demarest (6-7), despite being hit hard by injuries, has continued to run quality and near full line-ups out there night in and night out under Michael Rooney, who moved over to Demarest after a successful run at Dumont.
For Ramapo, there is competition in the room and the results have followed.
"The kids work hard and they listen. It's fun to be around them every day because they are so coachable," said DiMauro. "We still have more to do this year and most of this lineup will return. It's promising."
FOR MORE PHOTOS FROM THIS EVENT CLICK HERE. TO BUY A COLLECTOR'S PRINT OF THIS STORY PLEASE VISIT 4-FeetGrafix.com.