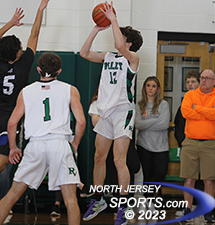 Shane Buoye's 3-pointer with 8 second left in regulation gave PascacK Valley a 59-57 win over Demarest at the Zach Latteri Foundation Benefit Games in Hillsdale.
HILLSDALE – Having given up all of its double digit halftime lead and trailing by a point with 20 seconds to go in regulation, Pascack Valley needed options. Up against a well-organized Northern Valley/Demarest team that had the momentum after a dominant third quarter and two Brandon Srebnik free throws late in the fourth, PV used the timeout huddle to come up with a plan and then a couple of contingencies.
"We talked in the timeout about some things and then we saw they came out in a zone, we had something that we thought would work, but we did not get the look that we wanted. They did a good job taking it away," said Pascack Valley head coach Al Coleman. "We worked the ball around, moved it and we made one more pass to Shane."
"Shane" is junior Shane Buoye, who picks up the story from there.
"We had the ball underneath out of and we were hoping to get a 3-pointer or a slip to the basket, but it didn't work out that way," said Buoye. "We pulled it out, got the ball back to the top [of the key] and then the ball just found me for the shot. I just stepped into it and knocked it down; probably one of the biggest shots of my life to be honest."
The biggest shot in Buoye's life to date came from the left corner and it put the Panthers up by a pair with eight seconds remaining. Demarest was unable to find a quality last shot and Pascack Valley, the host school in the seven games that made up the Zack Latteri Foundation Benefit Games, pulled off a 59-57 win in front a high-energy crowd in Hillsdale.
It was just another piece of the celebration of the life and legacy of Latteri, a Pascack Valley student taken by cancer when he was just 15 years old in 2015.
"Zack Latteri is the inspiration. He symbolizes the feeling that when you feel like you can't do something, just do it anyway. You can always push through just like he did his whole life," Christian Vargas, Pascack Valley's senior point guard. "The Zack Latteri Foundation is awesome and I hope everyone donates. Honestly, this was a perfect ending; a game like that that we can dedicate to Zack."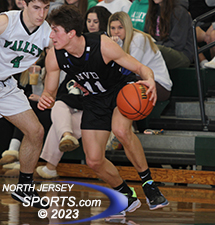 Demarest junior Brandon Srebnik led all scorers with 18 points.
Late drama was not a forgone conclusion. Pascack Valley held a 16-14 lead after the first quarter before seemingly breaking the game open in the second. Sophomore Devin Merker scored 7 of his team-high 14 points in a 10-0 PV burst that that opened up a double-digit lead, 32-19, and it was still a 13-point spread at the intermission after Trevor Kirkby finished a Jimmy Shea drive and dish with a layup to make it 36-23.
The third quarter, however, belonged to Demarest as it started to find some opportunities in the open court. A Nick Gorenstein triple right out of the gate in the second half was followed by two fastbreak baskets by Zach Schweiz and the Norsemen quickly shaved seven points off their deficit just 1:19 into the second half. An 8-0 later in the period with the points split evenly between sophomore big man Marco DeCroce and Srebnik got Demarest all the way back. It was Srebnik's steal and layup with 1;38 left in the third quarter that gave the Norsemen their first lead of the game, 40-39, and they led 42-41 heading into what would become a back-and-forth finish.
"In the third quarter I feel like we might have got too comfortable with the lead. We started getting off the gas pedal, they started pressuring us more and we were throwing the ball away," said Vargas. "They outscored us by like 14 points (19-5) in the third quarter. It was crazy. We have to put a full four quarters together, but we didn't help ourselves at all in third and then it was a fight the rest of the way."
There were four lead changes in the fourth quarter with clutch plays made by both sides. Demarest's largest lead of the final period was at 50-45 after a Gorenstein triple with 4:26 left to go before PV scored the next six points in just 1:09 to go back in front. Four straight made free throws by DeCroce and Schweiz put Demarest back in front, 54-51 before Vargas responded. He hit a reverse layup and a 3-pointer from the wing on either side of a 1-of-2 trip to the line by the Norsemen, who then went back in front, 57-56, when Srebnik made a pair from the stripe with 24 seconds left.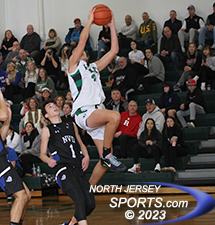 Sophomore Devin Merker scored a game-high 14 points for Pascack Valley, which improved to 8-4 on the season.
Demarest took a timeout to set up its defense and the final possession was going just the way the Norsemen wanted until PV made the extra pass to Buoye, who buried the 3-pointer that made the difference.
The loss was a tough one for Demarest (7-4), which has now lost three straight, the last two by a combined total of four points. Srebnik finished with a game-high 18 points and Schweiz (14 points) and Gorenstein (11 points) made it three Norsemen in double digits. DeCroce, a sophomore, is a bruiser in the paint, but he also has a soft tough. He was 6-for-6 from the free throw line in the second half and finished with 9 points. Matt Slowikowski hit a fourth quarter 3-pointer and Jake Goldenberg's second quarter field goal rounded out the scoring for Demarest.
Pascack Valley improved to 8-4 and is 8-2 in its last 10 games after starting the season on the short side of two buzzer beaters. The Panthers have a well balanced team in terms on guys who can play multiple positions and by age. The two senior starters, Vargas and Jimmy Shea, each scored 12 points with both making two 3-pointers. Conor Higgins is the lone junior in the starting 5 and he scored all 8 of his points in the first half. The sophomore starters are Merker, who finished with a team-high 14, and Kirkby (6 points), who was active in the paint on the defensive end and was a human floor burn in his pursuit of loose balls.
Buoye's only field goal was the game-winner and senior Michael Criscuolo added a bucket off the bench for Pascack Valley, which is in prime position to earn a spot in the Bergen County Jamboree, although that is not the focus, according to the head coach.
"I know it is coach speak, but we are just trying to get better every day. If we just do our jobs we will get better. If it is good enough to get in the county tournament that would be great and if not then it is not something I am going to lose sleep over," said Coleman. "When you are around great kids like we have here at Pascack Valley it makes coming to practice every day so enjoyable. Just look at the turnout we had for the Zack Latteri Foundation today. All of the kids we had volunteering on a Sunday morning, it is great to see them representing themselves and the school in such a positive way. That is the real takeaway from today."
FOR MORE PHOTOS FROM THIS EVENT CLICK HERE. TO BUY A COLLECTOR'S PRINT OF THIS STORY PLEASE VISIT 4-FeetGrafix.com.