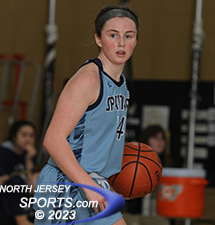 Ally Sweeney, Sparta;s senior points guard heading to the University of Richmond, finished with 14 points as the Spartans handed NV/Old Tappan its first loss of the season, 43-31, on Saturday morning.
OLD TAPPAN – The matchup might have been forced upon them eventually anyway. Undefeated Northern Valley/Old Tappan and defending Group 3 state champion Sparta are in the same state tournament section and could have ducked each other until the playoff bracket said otherwise.
Instead, Sparta woke up early on Saturday morning in Sussex County and made the long ride to the northeast corner of Bergen County for an 11:00 a.m. tip. Sparta has crisscrossed the state searching for good competition because the prospect of a good run is just too alluring.
"I am always of the belief that we have to go out and play the best teams. Usually by this time of the year we have a game against IHA or Saddle River Day or someone like that, but for whatever reason we have not so this was a no-brainer," said Old Tappan head coach Brian Dunn. "It was just what we needed; a good hard, physical basketball game against a team of that quality."
Sparta's quality is obvious, even without Villanova commit Brynn McCurry, one of the state's top seniors, who tore her ACL in the final preseason scrimmage. With McCurry in the lineup, the Spartans were probably the favorites to win another state title. Without McCurry, Sparta still might be the favorite to Group 3 for a second consecutive year.
The Spartans still have point guard Ally Sweeney and Bailey Chapman, whose versatility makes it hard to pigeon hole her into any one position. The senior tandem took turns carrying Sparta on the offensive end. Sweeney scored all 14 of her points in the first and third quarters and Chapman scored all of her game-high 15 points in the second and fourth periods in a 43-31 road victory that a power points bonanza against a previously unbeaten opponent.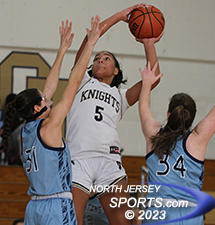 Junior Layla Giordano finished with a team-high 13 points for Old Tappan.
Sparta came out in a full court press and although Old Tappan was able to navigate through in a back-and-forth first quarter, it enabled to Spartans to dictate the pace at which the game would be played. With Sweeney, a Division 1 point guard heading to the University of Richmond, at the tip of the spear on both ends, Sparta applies constant pressure.
There were three lead changes and two ties in the entertaining first quarter that ended in a 10-10 stalemate before Sparta started to dial in its strategy.
"We have two presses. One is really aggressive, which I don't think we repped too well, so I went more to my 2-2-1 press. I felt like we covered the middle well and we were able to speed them up once they passes half court," said Sparta head coach Catherine Wille. "My goal was to make them start the offense a little farther out so that the screens were set a little higher and we had room to get under or through."
Mason Munier scored on the fastbreak to open the second quarter scoring and, although it didn't feel like a turning point, it turned out that that was the bucket that put Sparta in front for good. Chapman scored 9 points in a 13-2 run that proved decisive. Old Tappan's Maya Giordano beat the buzzer to finally break a 9-0 Sparta spurt, but the Golden Knights still trailed 23-14 at halftime.
"It was an early morning and maybe we started a little slow, but this was a big game and we prepared all week for it. We knew they were undefeated coming in here, so we had the incentive to give them their first loss," said Chapman, his is sorting through a host of Division 2 offers. "Our goal is to repeat as Group 3 state championship. We take them one game at a time, but we obviously keep an eye on what the other teams are doing and we know that [Old Tappan] is one of those teams that we are going to have to beat."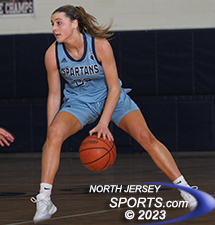 Bailey Chapman finished with a game-high 15 points for Sparta, which improved to 7-2 on the season.
Sweeney scored 9 of her 14 points in the third quarter, the first two on a drive to the basket that put the Spartans up by double digits, 25-14, for the first time in the game. She hit a floater to make it 30-20 and followed a steal with a layup to make it 34-20.
"Our focus this week was really defense and rebounding and I thought we got both of those done today. We had a lot of people in high digit rebounds and that got the job done," said Sweeney. "We are nine games in and we are just trying to get better every game, individually and as a team, so that by the end of the season and for the playoffs we will be ready to go."
Natalie Carril pulled two points back for NVOT just before the third quarter horn. Junior Layla Giordano scored 7 of her team-high 13 points in the fourth quarter for Old Tappan and her driving layup 1:25 into the period got the Knights back to within 8. They had a chance to cut the deficit to two possessions the next time down the floor, but a missed layup and a basket at the other end by Rylee Munier with 4:24 to go pushed the Sparta lead back into double digits. The Spartans went 7 of 8 from the free throw line in the final minute to close it out.
The Munier sisters scored 6 points apiece and Malaya Dobbs added a field goal off the bench for Sparta (7-2), whose only two losses came against state powers Camden Catholic and Manasquan. Layla Giordano was the only Golden Knight to reach double digits. Mackenzie Ward, who committed to Franklin and Marshall University earlier this week, finished with 6 points and Carril, Melissa Brennan and Maya Giordano all had two field goals for Old Tappan (9-1), which only went to the free throw line three times in the game (1-for-3) and did not make a 3-pointer.
"I thought we did a good job handling their full court pressure, I just think we rushed ourselves a little bit when we got into the halfcourt. Once we got into the halfcourt I thought we were too quick to pull the trigger, especially in the first half," said Dunn. "Second half I thought we got better looks; we just did not know them down. It was not a good day of shooting, but Sparta had a lot to do with that. I think what we learned here is that we have to prepare a little bit better, practice a little better and start the game a little bit better."
FOR MORE PHOTOS FROM THIS EVENT PLEASE CLICK HERE. TO BUY A COLLECTOR'S PRINT OF THIS STORY PLEASE VISIT 4-FeetGrafix.com.