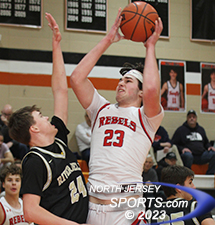 Senior Parker Neuenhaus scored all 7 of his points in the fourth quarter for Saddle RIver Day, the No. 6 seed that held off No. 11 RIver Dell, 53-49, in the Bergen County Jamboree's Round of 16.
TENAFLY – River Dell, the No. 11 seed, was trying to pull the upset and Saddle River Day was trying to avoid a premature exit and neither team shrunk from the moment. On seven straight trips down the floor spanning 3:17 in the middle of the fourth quarter, the team with the ball made a shot from the field, an entertaining back-and-forth with everything on the line. In just that stretch of the game there was one tie and five lead changes as both sides battled to earn a berth in the quarterfinals of the Bergen County Jamboree.
The last shot of that sequence was a 3-pointer from just to the right of the top of the key by Saddle River Day's Richard Machado, who felt the gravity of the moment.
"I felt really good about that shot. The guy went under [the screen] and I shot it with confidence even though my shots weren't really falling today. I was like 1-for-5 before that, but we had to win," said Machado. "This could have been my last game [in the Jambo]. I am a senior now. I have been doing this for four years. I knew that when I took that shot it was probably either make it or lose."
Machado made it with 3:26 left in regulation to give Saddle River Day a two-point edge and then it finally got a stop on the other end, which led to a Parker Neuenhaus 3. That put the Rebels up by five and they handled all of the late game situations smoothly from a strategy and execution standpoint to finally put pesky River Dell away, 53-49, at Tenafly High School.
"We knew River Dell was going to come out and fight and scrap and claw. Credit them. They hit some big shots in some big moments and they kept putting the pressure back on us. Us being the higher seed, you never know how you are going to respond in those situations," said SRD head coach Anthony Gallo. "We were missing our point guard [David Alexandre] here, River Dell was on an eight-game win streak and you can never take anything for granted. Our guys stepped up, we ran a few things well and we put the ball in the hoop at the right time."
River Dell made Saddle River Day uncomfortable from the start. Matt Kelleher came out on fire as he hit three 3-pointers in the first quarter, which ended with the Golden Hawks in front13-9. With a 12-12 stalemate in the second quarter River Dell carried its four-point lead into halftime. Kelleher added a 3 right out of the locker room as the Hawks matched their largest lead of the game at 28-21.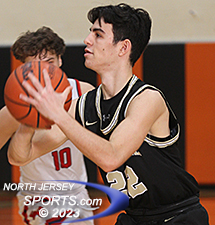 River Dell's Matt Kelleher made five 3s and finished with a game-high 21 points.
Saddle River Day closed to with 35-31 heading into what was a well-played fourth quarter, There were no game-changing runs, no head-scratching decisions, few demoralizing turnovers and little in the way of controversial officiating decisions. It was all about execution on the offensive end and Saddle River Day was extremely sharp down the stretch.
Neuenhaus, who scored all of his 7 points in the fourth quarter, opened the period by diving to the hoop after setting a pick and making a layup. River Dell's Hamilton Roth, who scored 7 of his 9 points in the final eight minutes, answered with a driving layup. Shane Cassels then made two straight field goals, both off Machado assists and it was the second bucket that kicked off the seven straight possessions that ended in field goals for both teams.

Saddle River Day got the better of that exchange, though, as Machado's go-ahead 3-pointer was followed by a Neuenhaus triple with 2:31 to go that gave the Rebels a five-point edge. Jeremiah Iyonsi tacked on a free throw to make it 50-44 with 1:13 to go and it looked like Saddle River Day had come through the other side of the upset bid.
Ten seconds later, however, Roth made a 3-pointer from the corner and was fouled on the release. He made the free to make it a two-point game and River Dell kept after it. Roth jumped a passing lane and nearly had a steal and he knocked the ball free near the sideline, but his save landed in the hands of an SRD ball-handler.
Machado made one free throw with 23 seconds left to put the Rebels up 51-48 before Gallo's late-game strategy worked to perfection. He gave his last foul before the bonus to slow River Dell's last possession and then, up 3, Gallo decided to put River Dell at the line for a one-and-one with :05.9 remaining. River Dell's Andrew Lezaja made the first and missed the second and the Hawks actually tied up the rebound, but with the possession arrow pointing SRD's way, the Rebels closed it out with two Neuenhaus free throws that made it a two-possession game with only enough time for one last rushed shot.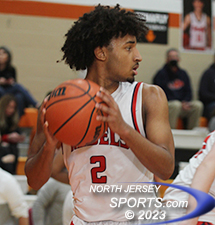 Jacob Carmona scored 8 points for Saddle River Day, which will play 3rd-seeded and defending champion Bergen Catholic in the quarterfinals.
"We were up the whole game, they caught us and then we made another run late. We just couldn't get over the hump. We hit a big 3 to go up three [at 40-37], then they answer with a 3 right away to go back ahead. It was tough to come back from that," said River Dell head coach Ronnie Van Saders, who team has little time to sulk. "We have two games in the league this week against Westwood and Indian Hills and we are in the lead in the league so we can't have a letdown. We have something to play for with that and we are up there [for potential seeds] in our [state] section, so we want to stay up there."
Kelleher hit five 3s and led all scorers with 21 points. Sean Golden added 13 and Roth scored all 9 of his points after halftime. Chris Nastasi scored all 5 of his points in the second quarter and Lezaja's free throw rounded out the scoring for River Dell, which left some points at the free throw line as it went a combined 9 of 17 from the stripe in the game.
Machado made three 3s on his way to a team-high 14 for Saddle River Day, which showed off its depth, even without Alexandre, who is nursing a shoulder injury. Cassels (13 points), Preston Neuenhaus (6) and Gus Craft combined for 21 points off the Rebels bench while River Dell got all of its scoring from its starting five. Jacob Carmona chipped in with 8 points, Evan O'Neill added a field goal and Jeremiah Yonsi made a free throw for Saddle River Day, which will play third-seeded and defending champion Bergen Catholic in the quarterfinals at Hackensack High School next weekend.
"Anytime and you can win and advance in the county tournament you will gladly take it, but it only gets tougher the deeper you go," said Gallo. "We got crushed earlier in the year by Bergen and they made us look real bad, but we are excited to get another opportunity to try to figure it out."
FOR MORE PHOTOS FROM THIS EVENT CLICK HERE. TO BUY A COLLECTOR'S PRINT OF THIS STORY PLEASE VISIT 4-FeetGrafix.com.