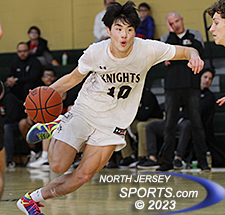 Josh Lim scored 13 points for NV/Old Tappan, which, after a 2-7 start the season, is back over .500 and heading The BIT final after a 57-45 win over Tenafly..
MONTVALE – At 2-7 to start the season and with a roster full of round pegs and square holes, the 2022-23 boys basketball season looked bleak for Northern Valley/Old Tappan right around the start of the New Year.
"When we came into the season we had a lot of young guys and we didn't really have any chemistry or anything," said Old Tappan senior Dan Kelley. "You could see through the season, though, we just kept working hard and kept getting better every game."
So much so, in fact, that the Golden Knights will play for the Bergen Invitational Tournament championship next weekend after a 57-45 win over Tenafly in the semifinals on Saturday at St. Joseph Regional High School in Montvale.
From out of nowhere, Old Tappan is over .500 for the first time at 12-11 heading into the final week of the regular season.
"We are really excited for the guys. We have come a long way since the start of the season and we are really starting to play well. The kids have put in the work," said Old Tappan head coach Craig Ferrara, whose team is now 3-1 against Tenafly this season. "There were secrets out there today. They know everything we do, we know everything they do and we both know the matchups. We knew it was going to be a grind right down to the end."
Old Tappan gained separation a couple of times as it led by as many as 10 in the first quarter, and by as many as nine in the third, but Tenafly, which has also steadily improved since the start of the season, was not having it. Reilly Benowitz's foul line jumper pulled the Tigers to within 22-20 at halftime and they drew even early in the third on Zackary Shammash's short jumper from in the lane.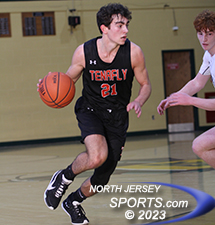 Reilly Benowitz made two 3s and finished with 10 points for Tenafly.
Kelley banged a 3 at the other end to put Old Tappan right back in front and it would stay there for the rest of the period. Back-to-back 3-pointers by Josh Lim and Kelley and a Dylan Drullinsky's driving layup pushed the Knights' lead up to 36-27.
That was when Tenafly employed a tactic that seems so passé nowadays. The physics and math of the game dictate that the closer a player is to the basket, the easier it is for said play to make a field goal. In a span of just 1:43 late in the third period, Shammash, a junior center, made five field goals, all with his feet in the paint, as part of a quarter-closing 11-2 run that that had Tenafly to within 38-36 heading into the fourth period.
And then, 1:33 into the fourth quarter, Tenafly (10-11) grabbed its only lead of the game, 41-40, when Reilly Benowitz hit a 3-pointer from the top of the key.
"We took the lead there and we had our chances, but that is why Old Tappan is so tough. They are so well-coached, they are disciplined, they know their roles and they don't force the issue," said Tenafly head coach Jeff Koehler. "This whole year has been a learning experience for us. We are kind of young and this is another example where we could have made better decisions in late-game situations."
Kelley filled that role for Old Tappan as he took over in the final six minutes. His putback put the Golden Knights back in front for good at 42-41 and he scored eight straight points, including a 3-pointer from the top of the key that made it a 48-43 game with 3:28 left as Old Tappan outscored Tenafly17-4 over the final 6:04 to grab a spot in the BIT final against Paramus.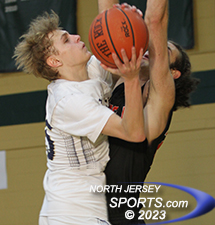 Sophomore Dylan Drullinsky finished with 10 points for Old Tappan, which will play Paramus in The BIT final.
Kelley (19 points), Lim (13 points) and Drullinsky (10 points), a sophomore, all finished in double figures for Old Tappan, which got all of its points from its starting five. Evan Brooks, a junior and a standout receiver on OT's state championship football team, scored 6 of his 8 points in the final period and freshman Isaac Shrager (7 points), a freshman and the son of Fort Lee head coach Adam Shrager, rounded out the scoring for the Knights.
"Our team has progressed a lot. We have a freshman starting, a sophomore starting and they have really started to pull it together. We are really playing like a team and it is awesome to win this game," said Lim. "Getting the younger guys in a championship game is going to prepare them for the next few years and I am excited to see what they can do."
Shammash scored 10 of his team-high 14 points in that torrid stretch of the third quarter and the other four in the fourth quarter for Tenafly. Benowitz added 10, Aidan McGinty finished with 9, Raman Mitta scored 5 points off the bench, Alex Plotkin made two field goals and Yuval Guttman had the other three points for the Tigers.
FOR MORE PHOTOS FROM THIS EVENT CLICK HERE. TO BUY A COLLECTOR'S PRINT OF THIS STORY PLEASE VISIT 4-FeetGrafix.com.