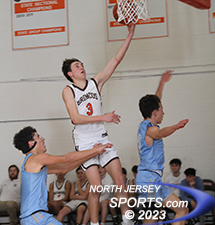 Justin Ohnikian, one of Pascack Hills' five seniors, was one of five double digit scorers in a 52-30 win over Mahway on Senior Night in Montvale.
MONTVALE -- Pascack Hills hosted its Senior Night against Mahwah on Thursday night. The Broncos' senior class consists of five members  -- Tyler Sanders, John Stewart, Sam Cooper, Justin Ohnikian and Alex Bunting -- and they started the game together, a memorable moment. Sanders scored the game's first two points only 17 seconds in, but the festive mood quickly shifted.
Mahwah's zone defense caused some havoc and Danny McClanahen hit two first quarter 3-pointers, included a buzzer beater field goal that gave Mahwah a five-point lead at the end of the first quarter and the Thunderbirds were up one at halftime.
Having scored just 18 points through the first two quarters, Pascack Hills nearly matched that with a 17-point third quarter that restored order in a 52-30 victory that got the Broncos back to .500 at 8-8 on the season. They made it 9-8 with a win over Glen Rock on Saturday in the quarterfinals of the Bergen Invitational Tournament.
"Well we made some adjustments and, really, I think it was about playing with a sense of urgency more than anything else, and we weren't making shots in the first half. When we started making shots, all of a sudden the defense started clicking," said Pascack Hills head coach Paul D'Errico. "We changed defenses. Little bit more energy. Little bit more man-to-man, try to take them out of their comfort zone and the guys that started the third quarter did a really good job getting us back into the game."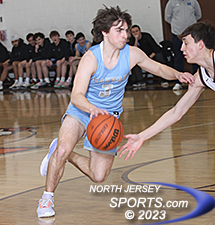 Danny McClanahan topped Mahwah with 8 points, including two first quarter 3-pointers.
Pascack Hills started to turn the corner in the second quarter with Ohnikian knocking down a 3-pointer and one foul shot, and Sanders scoring 9 points in the period. He hit a corner jumper to get the Broncos to within 15-12 and, with 13 seconds left in the half, Sanders hit another 3 to pull his team to within a single point going into halftime.
"Once we started making a couple shots, you could see, the tables started turning a little bit and we played with more confidence," said D'Errico. "All the sudden we were hustling, we were diving on the floor, we were making more shots. Everything kind of snow balled in a good way for us."
Mahwah kept it interesting in the early going of the second half as Omar Ahmad hit a 3-pointer just 15 seconds into the third quarter to extend the T-Birds' advantage to 22-18, but, after a series of back and forth, Pascack Hills junior David Weidmuller hit a crucial field goal with 3:47 left in the third quarter. That kicked off a 9-2 run that turned the game in the Broncos favor for good. Hills stretched its lead out to 35-25 heading into the fourth quarter.
"He's been doing it all year," said D'Errico of Weidmuller, a junior and a Ramapo transfer. "You know if he gets a good look at the basket from the three point range and the foul line, he's been money all year,"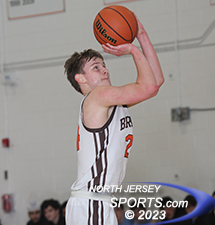 Nuck Lukmann scored all of his 11 points in the second half for Pascack Hills.
After Weidmuller's key 3, Pascack Hills took off.
"That one just really helped build momentum, helped start a run that kind of just energized the whole team and got something going for pretty much the first time all night for us," said Weidmuller.  "The team has been coming together more and more as the season goes on and I feel like I fit in well here and help the team out."
Weidmuller scored all 11 of his points in the second half and he was one of four double-digit scorers for Pascack Hills. Sanders led the way with a game-high 17 points, Nick Lukmann made three third quarter 3s on his way to an 11-point second half and Ohnikian added 10. Alex Banting added a fourth quarter field goal to round out the scoring for the Broncos. McClanahan led Mahwah with 8 points while Ahmad and Melvin Guevera each added 6.
Pascack Hills was able to finish their senior night the same way it started- with all five seniors on the court.
"Everyone contributed, everyone played, everyone was able to help and it was a great atmosphere," said Weidmuller.
FOR MORE PHOTOS FROM THIS EVENT CLICK HERE. TO BUY A COLLECTOR'S PRINT OF THIS STORY PLEASE VISIT 4-FeetGrafix.com.