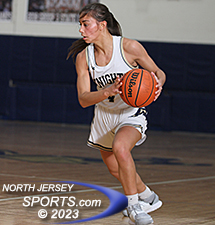 Senior Natalie Carril scored a career-high 12 points to help No. 2 Old Tappan hold off No. 7 River Dell, 49-45 in the North 1, Group 3 state sectional quarterfinals.
OLD TAPPAN - Northern Valley/Old Tappan, the No. 2 seed, drained 3-of-4 free throws in the final 19.1 seconds of the game and was able to hold on to take the North 1, Group 3 quarterfinal matchup over River Dell, 49-45, Wednesday afternoon.
Hawks senior Lily Crowder had just canned a turn-around jumper and added a free throw to draw River Dell within one point, 46-45, with 35 seconds to go in the game. After a timeout Old Tappan passed the ball around, trying to kill the clock but a Hawk defender fouled Knights senior Natalie Carril, sending her to the free throw line for two shots.
She made both.
"I knew I had to hit them," she said. "Usually I get nervous in those situations. I was calm, I was confident. I stepped up. I knew I needed to hit them and I did. It was a good feeling after that."
On the ensuing possession River Dell missed a shot and junior Maya Giordano secured the rebound for the Knights. She was fouled and went to the line with 5.3 seconds left. She needed to make 1-of-2 to secure the win. She missed the first, but made the second to finish with a team-high 14 points.
"I think [Coach] Dunn is probably the best coach we could have in that situation," said senior Marin DeGennaro. "He's tough but in end-of-game game situations there is nobody else I want to be coached by. He makes all the right decisions. The challenge is for us to listen to him and do the things we practiced. If we do the things we know how to do, it will be fine."
The Golden Hawks had started fast, running out to a 6-0 lead, as the Golden Knights were having a problem handling the ball.
Lily Crowder finished with a game-high 15 points for River Dell, which finished the season with a 20-6 record.
Hawks junior Sofia Sanchez stole the ball and raced the length of the court for a layup to open the scoring. Then Crowder took a pass from a teammate to score from in close on two straight possessions. She finished with a game-high 15 points.
"We turned the ball over seven times right out of the gate," said Old Tappan coach Brian Dunn. "That's our problem, that's our issue. I love my kids. They play really hard and they try hard but they want to force the issue too much, instead of figuring out what's there and letting the game happen. Sometimes we have to dial it back a bit and get control of ourselves and get back to what we know we are good at."
Golden Knights senior Melissa Brennan canned a jumper from the left elbow to get OT on the board, but before the quarter ended Lizzy Puentes scored two more times and senior teammate Ari Rodriguez added a free throw to stake River Dell to an 11-2 lead.
"We're not really a first quarter team," said DeGennaro. "I think our defense was really slack in the first quarter and we had some issues taking care of the ball. We talked between the first and second quarter and we regrouped. Maybe we were just a little frazzled in the beginning. The key was taking care of the ball, something we are continuing to work on. Once we got that going we closed the gap pretty well."
Old Tappan came all the way back to tie the game in the first three minutes of the second quarter.
Giordano scored from in close, senior Mackenzie Ward hit a short jumper and Brennan swished a three-pointer. When Ward stole the ball and took it down the court for a layup the game was tied 11-all.
"We were all just in our heads at first," Carril said. "We did it last game too - the first quarter we didn't come out great. The second quarter we knew the season was not ending today. We had to kick it into gear. The second quarter was go, go, go."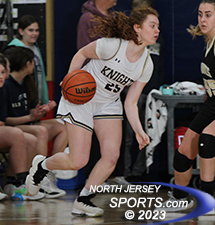 Senior Marin DeGennaro and Old Tappan will host Sparta in the semifinals on Friday.
Brennan gave Old Tappan the lead for good with a three. Later she hit another trey and scored 9 of her 11 points in the second quarter. Carril tallied 6 of her 12 points and heading into halftime Old Tappan led, 25-13.
"Usually we're a scrappy, aggressive team," Carril said. "We're all over everyone. It was a mentality thing. Our minds weren't right but as soon as we flipped the switch in the second quarter we were a different team. It was a reality check. We scored 2 points in the [first] quarter. That can't be us. We picked it up right then and there."
River Dell went on a 6-2 run early in the third quarter but back-to-back baskets by Giordano boosted the lead back up to 12. The quarter ended with Old Tappan ahead by eight but a minute-and-a-half into the fourth quarter Rodriguez hit a three and sophomore Morgan Sconza drove and scored and River Dell only trailed by three points.
"This group has a lot of fight in them," Hawks coach Lindsay Steffner said. "There are 13 seniors. They've been playing with me for a while, they know what's expected and they left it all on the floor today. In that second quarter we got a little out of sync but we came back and fought hard in the third and fourth quarter and made some tough shots over a really good defense."
As the game unfolded DeGennaro admitted to feeling uneasy about this being her last game.
"It's felt very real these past couple of weeks - thinking about states and thinking about being a senior," said DeGennaro, also a starting defender on Old Tappan's state sectional championship soccer team this past fall. "I'm not playing any sports in the spring so this is the last time I'm going to be playing sports. There were a couple of times in this game that it really hit me that this could be the last time I ever play. When I went in, in the fourth quarter it was really going through my mind of the possibility of it ending.
"It just adds more fire, makes me play better, makes us play more like a team. I'm playing for myself as a senior but I'm also playing for the other five [seniors] that are working to go as far as we can. If anything it is making us better."
With the victory No. 2 seeded Old Tappan will host Sparta in the semifinals Friday in a rematch of a regular season game won by Sparta in the same gym.
"They made a couple of shots and got it tight," Dunn said of the Hawks. "Fortunately we were good enough to hang on. Natalie played huge with some big foul shots."
"I felt the energy from the bench today," DeGennaro said. "Once we got our game going and were closing the gap in the second quarter I think everybody was really feeling it. We want to keep playing."
FOR MORE PHOTOS FROM THIS EVENT CLICK HERE. TO BUY A COLLECTOR'S PRINT OF THIS STORY PLEASE VISIT 4-FeetGrafix.com.