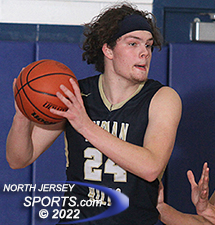 Senior Gavin Enright finished with a double-double of 16 points and 12 rebounds for Indian Hills, which improved to 4-0 with a 69-60 win over Wood-Ridge at the Herb Cohen Holiday Tournament.
WOOD-RIDGE – Except for Yankees fans and devotees of Tom Brady, most sports enthusiasts love underdog stories, so here is an introduction to the Indian Hills boys basketball team. While its sister school, Ramapo, was winning a state sectional championship last season, the Braves suffered through a 4-22 campaign that actually doubled their win total from the previous two seasons.
It's been rough, to say the least.
"It's been a process. We have three guys on this team that have been through it," said Nick DeCarlo, who, now in his fourth season as Indian Hills' head coach, has also been through it. "Anthony [Puglisi], Gavin [Enright] and James [Hickey] have all played three years of varsity basketball without a lot of wins to show for it."
Ready for the good news? With a 69-60 win over host Wood-Ridge in the opening round of the Herb Cohen Holiday Tournament on Tuesday night, Indian Hills improved to 4-0 on the season, matching their win total from all of last season. Should the Braves go on to win the tournament, no easy task with Northern Valley/Demarest up next in Wednesday's semifinal round, they would match their win total from the last three years combined.
It is still early and this success needs to be nurtured, but the Indian Hills fan bus is starting to attract some passengers.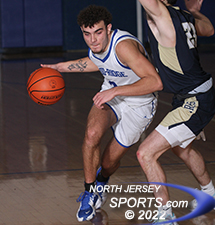 Senior Ryan Lagrasta made four 3-pointers and finished with a game-high 24 points for Wood-Ridge.
"Now just through the first part of the season I can't tell you how many people have checked in. Teachers, counselors, janitors, other coaches in the building just stopping in to say, 'Hey, great win," said DeCarlo. "Hopefully it is going to be invigorating for the community. The kids are having a great time and hopefully we can show some of the younger ones in the Oakland area that this is what basketball could be at this school."
Enright and Puglisi scored back-to-back baskets to put the Braves in front right out of the gate and, except for the 16 seconds that the game was tied at 8; Indian Hills was in the lead for the duration. With four unselfish and capable ball-handlers surrounding the 6-foot-5 Enright, himself an accomplished passer out of the post, Indian Hills spread the scoring round in an opening quarter in which it scored 22 points.
All five of those players – Puglisi (16 points), Enright (16), Hickey (15), Michael Caso (11) and Everett James (11) -- combined for all of the Braves' 69 points and all five finished in double figures.
"We are not the same Braves. We are different. We have a great group of guys, we share the ball and we play hard," said Puglisi, who scored 13 of his 16 points in the second half. "Everyone sleeps on us and we know that, but we have the right mindset now. We want to keep winning games, bottom line."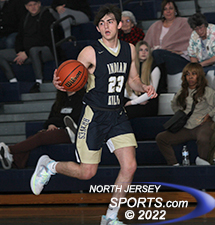 Anthony Puglisi was one of 5 double-digit scorers for Indian Hills, which will play NV/Demarest in the semifinals.
Indian Hills led by as many as 12 in the opening quarter and by 15, 41-26, at halftime against a Wood-Ridge team that has been plagued by slow starts so far this season. Indian Hills maintained its separation well into the second half as an Enright free throw 2:10 into the third quarter put the Braves up 44-27, they led 50-34 after a Hickey floater with 3:35 left in the period and had a 55-44 advantage going into the fourth after Hickey scored off a Puglisi assist.
However, the Wood-Ridge DNA, which includes trapping the ball, getting out in transition and firing up 3s, means that the Blue Devils are never really out of a game. They can shoot themselves back in it quickly and that is exactly what happened in the back half of the fourth quarter. Owen Caprio's deep 3 with 3:19 left in the game kicked off an 11-2 run that made it fun down the stretch.
Ryan Lagrasta, who led all scorers with 24 points and four made 3-pointers, buried a triple from the corner to get Wood-Ridge within 63-55 with 1:32 left, Daniel Cook completed a conventional 3-point play with 57 seconds to go to make it a five-point game and his hoop from inside the paint with 48 seconds remaining brought the Blue Devils all the way back to within 64-60.
Opportunities to close out games on the road are still relatively new to Indian Hills, but James and Puglisi combined to go 5-for-6 from the free throw in the final 47 seconds to close out the Braves' fourth win in as many tries this season.
Wood-Ridge fell to 1-4, but the schedule has been tough in the early going and the Blue Devils have the talent to turn it around. Lagrasta, Caprio (18 points) and Cook (12 points) all finished in double figures and the return of point guard Eric Barton (4 points) was a boost after he missed the better part of a week with an illness.
Wood-Ridge will play Mahwah in the a consolation matchup on Wednesday. On the other side of the bracket, Dumont and Rutherford will match up in the semifinals.
In a new league and with new energy around the program, it's a whole new ballgame for Indian Hills.
"It's great to be 4-0, especially coming off of two seasons when we had four wins in 40 games. This season means a lot. Me, James [Hickey], AP (Puglisi)…we have been playing together since we were little kids and now this being our senior year, our final ride together, being 4-0 means the world to us," said Enright, who, like all kids from Franklin Lakes, Wyckoff and Oakland, had an open choice of where to attend high school. "We chose to go to [Indian] Hills because we knew we had a chance to prove everyone wrong. Ramapo is always going to be Ramapo. They will always be bigger, they will always have more athletic kids, but we have heart. We are the underdogs in everything, but we also feel like we have nothing to lose."
FOR MORE PHOTOS FROM THIS EVENT PLEASE CLICK HERE. TO BUY A COLLECTOR'S PRINT OF THIS STORY PLEASE VISIT 4-FeetGrafix.com.