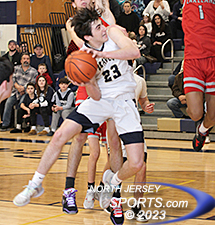 Senior Anthony Puglisi scored 9 of his game-high 23 points in the final 2:05 of the fourth quarter of Indian Hills' 56-48 win over Lakeland in the North 1, Group 2 state sectional tournament opener.
OAKLAND – For a little contrast, how did Thursday night's atmosphere for the North 1, Group 2 state sectional tournament opener differ from the previous three seasons when Indian Hills' boys basketball team won a combined six games?
"The past few years no one has come out [to games] except maybe like four of my friends," said senior Anthony Puglisi. "Now we had the whole school coming. It's loud, it's fun."
With the student section spilling out of the stands and into the corners of the gym, the Braves sent their new and hard-earned spectators home happy. Puglisi hit two field goals in the final 2:05, both of which broke ties and James Hickey hit 3 of 4 free throws in one-and-one scenarios inside the final 30 seconds to give Indian Hills, the No. 5 seed, a 56-48 win over No. 12 Lakeland.
Because No. 13 Westwood went on the road and upset No. 4 Vernon in the opening round, Indian Hills will host the Cardinals in a quarterfinal home game on Thursday. Get there early.
"These guys have worked for four years and to see the dream kind of come through here…It's awesome. We haven't had a home [state playoff] game at this school since I don't know when. I went through the records, I got to 2011 and there are none," said Indian Hills head coach Nicholas DeCarlo. "We made it a point at the end of the year last year to say that with the talent in this room, we said that if we could put it together we could do special things. Tonight was a special night."
Puglisi, Hickey and Gavin Enright have all played varsity for the last three seasons and they combined to score 52 of Indian Hills' 56 points. Enright got it rolling with a near-perfect first quarter. He made all six of his field goal, including two 3-pointers, and scored 14 points in the first 5:52 of the game and the Braves led 19-12 after the opening period.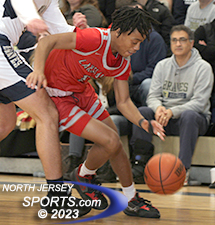 Ra'Sun Ricks finished with 12 points and 12 assists for Lakeland, which closed the season with a 13-13 record.
Enright is the now-rare post player who has a good midrange game, is comfortable receiving entry passes at the high post or with his back to the basket and also finding cutters when he draws extra defensive attention.
"We got off to a good start. We did our thing and dropping 19 in the first quarter, not many teams would lose when that is a stat," said Enright (21 points, 11 rebounds, 6 assists), who was efficient on his way to the double-double. "If I try to do more than what I have to I might turn the ball over, I might get some silly fouls and put them on the foul line early. You can lose a game like that so I just do my job, make sure my teammates do everything they can and hopefully win the game, which we did."
They did, but Lakeland was a tough out. Five different players made at least one field goal in the second quarter that opened with a 7-0 Lancers run. An Ilmi Kaba bucket tied the game at 20; five straight points by Ra'Sun Ricks gave Lakeland the lead it expanded that run to 11-2 before grabbing a 33-29 lead at halftime.
"Gavin got off to the great start, but we were going basket-for-basket, which scared me because that is their strength. They are a team that can score the basketball and shoot it very well," said DeCarlo. "They got on a roll and knocked down some shots. We tried to match them and got a little out of what we do. You saw the result in the second quarter where I don't know what game we were playing."
Xavier Alvarado hit a 3 out of the locker room and Ricks scored off an assist from Noah Pagan to give Lakeland its largest lead of the game, 38-29, with 7:05 left in a third quarter with a decidedly slower pace. The Lancers played a triangle-and-2 against Enright and Puglisi for a stretch and it was effective, but had to abandon that strategy as fouls started to pile up. Indian Hills closed the period on a 6-0 run to draw within 41-39 heading into the fourth quarter and Enright gave the Braves the lead 10 seconds in with a 3-pointer from the top of the key.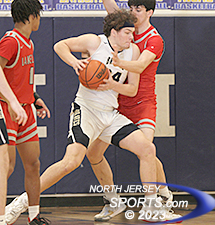 Senior Gavin Enright was a perfect 6-for-6 in the first quarter and finished with 21 points for Indian Hills, which will host Westwood in the quarterfinals.
Lakeland tied it on a Kaba free throw and went ahead when Pagan scored off an inbounds play with 6:40 left in regulation and back-and-forth it went down the stretch. Puglisi made a contested shot to put Indian Hills up 46-44 with 2:38 to play before Pagan answered inside at the other end. Puglisi then hit the shot of the night, a spinning, layup around and through two defenders that went in off the backboard with English. Unfazed, Kaba scored on a cut to the basket that tied it up again, 48-all with 1:57 left. With the crowd on full boil, Puglisi finally put Indian Hills ahead for good, 50-48, with 1:16 remaining.
"It's always been my dream. I want that moment, give me the ball," said Puglisi, who scored 9 of his game-high 23 points in the final 2:05 of the fourth quarter. "My teammates root for me to make the shot, they tell me to take the shot and that gives me the extra confidence to make it."
Hickey sealed it with his three free throws.
"Game on the line, you have to win it. Everybody was here. The whole community was here and you just have to find a way to win it right there," said Hickey. "You are in the moment, why not embrace it?"
Hickey scored 8 points in support of Puglisi and Enright and Everett James and Michael Case split the other four points for the Braves. Alvarado (14 points), Ricks (12 points) and Pagan (11 points, 10 rebounds) all finished in double figures, Kaba added 9 and Matt Adams added a field goal for Lakeland, which closed out its season with a 13-13 record.
Indian Hills in now 18-6 on the season with another home state playoff game on the immediate horizon. The bigger picture is starting to look a little prettier now, too. Students from Oakland, Wyckoff and Franklin Lakes can choose to attend either Ramapo or Indian Hills. While Ramapo is among the handful of favorites to win the Group 3 state title and was a Bergen County Jamboree semifinalist, Indian Hills is hoping that its ascent is sustainable.
"I hope that what we are doing is going to show the kids in Oakland, the kids in Wyckoff, what Indian Hills basketball could be if they come here, what basketball could be at this school," said DeCarlo, "Tonight was a big help."
FOR MORE PHOTOS FROM THIS EVENT CLICK HERE. TO BUY A COLLECTOR'S PRINT OF THIS STORY PLEASE VISIT 4-FeetGrafix.com.