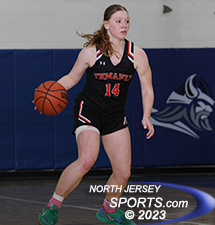 Senior Rylie Theuerkauf scored her 2,000th career point earlier this week then added 39 more in a 52-40 win at Demarest on Thursday night.
DEMAREST – Senior Rylie Theuerkauf could have played her high school basketball anywhere. She could have gone to any of the non-public powers in the county, state or anywhere else and through familial connections she was eligible to play for either of the Northern Valley Regional schools, Old Tappan or Demarest.
Instead, she decided to stay at Tenafly and make her mark at her hometown high school. She was an integral part of the Tigers' state championship volleyball team this past fall and in hoops, her decision to play at a what might be perceived as a more low-key program has not hindered her. Theuerkauf became the 15th female in Bergen County history to score 2,000 career points on Tuesday; she is the all-time leading scorer in the history of Tenafly High School and is heading for big time Division 1 basketball at Wake Forest next year.
"It really meant a lot to me [to score 2,000 points] because I was surrounded by my family. My aunts and uncles, everybody came and also my teammates and my coaches that I have been with for the last four years," said Theuerkauf. "It meant more because it happened with the people that I love and care about. It was a great moment that everyone shared."
In what has been a brilliant career so far, Theuerkauf ticked off another milestone on Thursday night. Having never won against Northern Valley/Demarest, where her father is a teacher and coach and her uncle's picture hangs on the wall as a previous Athlete of the Year, she scored 39 points, 15 in a dominant third quarter, and added four steals as the Tigers pulled away for a 52-40 victory on the road.
"This is my last time playing in this gym and I feel like this is home because I work out here every single summer. I think that is why I shoot so well here," said Theuerkauf, who made eight 3-pointers, six in the second half and four in the third quarter. "This was not just another game for me. This win means a lot for our team. Everyone is contributing. Anna [Taufield], a senior who I have played with since first grade, has really stepped up. Sophia Tapia and Juliet [Schwartz] and Adar [Serok], our two sophomores, have picked it up, too. Everyone is putting their passion into it, showing up every day and giving it their all and that is why we are winning games."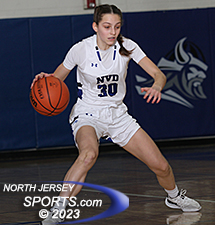 Freshman Gabriella Mittleman scored a team-high 18 points for Demarest, which is now 5-4 on the season.
Experience is not something that Demarest has in abundance. The Norsewomen have only two returning players that were on the varsity roster last season, they lost Cristina Parrela to a transfer to Saddle River Day and start a freshman, Gabriella Mittleman, at the point and a sophomore, Yasmin Marcus, at the two-guard. Still, Demarest is battling. It won a holiday tournament trophy, is above .500 at 5-4 on the season and trailed by just one point, 9-8, after the opening quarter against Tenafly.
"We have two kids that were varsity basketball players before this year, our rotation went seven deep tonight, so that means we have five players that did not get a lick of varsity playing time last year. It's a totally new team, it a totally new program, but we they are having fun and they are getting better," said Demarest head coach Jenny Jurjevic. "Gabriella Mittleman is 14 years old and she is out there being guarded by an 18-year old body out there. Taylor Miller is out with a broken hand, but she is here rooting everybody on and building everybody's confidence. We have a lot of stories like that on this team, we are playing the hand that we have been dealt and we are enjoying it."
And then Theuerkauf started draining 3s. She made two in the second quarter and had 10 of Tenafly's 12 points in the period as Tenafly opened a 23-14 lead by halftime. Mittleman more than held her own, however, as she scored the final two points of the first half and then the first four of the second to pull the Norsewomen back in it. Then it was Demarest's two experienced seniors combining as Sarah Slowikowski found Christina Argenziano inside for a bucket that made it a 23-21 game 1:50 into the third quarter.
Slowikowski cut to the basket and scored off a feed from Marcus to make it 24-23, but Theuerkauf was just getting started. She scored five straight points on a 3 and then a steal and a layup to steady the Tigers' ship and then provided a healthy cushion with three 3-pointers, one deeper than the next, in a span of 1:30 to close out the third quarter with Tenafly in front 41-29.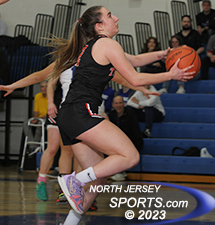 Anna Taufield scored 6 points for Tenafly, which improved to 7-2 on the season.
Theuerkauf then hit a pull-up 3 and another from the wing in the first 2:30 of the final quarter to push the lead to 47-31, before Mittleman reasserted herself. The diminutive freshman scored half of her team-high 18 points all from behind the arc and in a row in a span 2:43 make it interesting down the stretch.
Tenafly's lead was cut to 47-40, but the Tigers made 3 of 4 free throws in the final 2:20 and got a layup from Melissa Durakovic to close out their seventh win of the season.
Theuerkauf scored 39 of her team's 52 points. Taufield added 6 points and Serok and Durakovic split the other two field goals for Tenafly, which has one of the best players in New Jersey and is relevant in league, county and state sectional title races.
"Riley is an incredibly hard worker. She always want to put in extra work whether it be getting to the gym early to shoot, staying after practice to shoot around a little bit more, trying to get into a gym before a game to get more shots up. She just loves the game and that impacts everyone else," said Tenafly head coach Devin Feeney. "We have a lot of players contributing. Anna [Taufield] is such a hard worker defensively, and she goes hard to the basket, we have Adar [Serok], who is a great defender and Juliet [Schwartz] is a great shooter from the outside and can get to the basket. We are playing good team basketball."
Demarest is, too. Mittleman (18 points), Argenziano (11), Slowikowski (9) and Lilly Hamlin provided the scoring for the Norsewomen, who are in amongst the sharks in a tough league and brutal North 1, Group 3 state sectional bracket.
"I consider our league the best league in the county. You have Old Tappan and you have Teaneck and they are going to be the No. 3 and No. 4 seeds in the county. You have Tenafly, which will be in the Top 12 and you have Pascack Valley that will be right around there, so we know where we are at," said Jurjevic. "If were in any other league we would be contenders, but we are in this bloodbath of a league. It is what we signed up for and we enjoy the challenge."
FOR MORE PHOTOS FROM THIS EVENT PLEASE CLICK HERE. TO BUY A COLLECTOR'S PRINT OF THIS STORY PLEASE VISIT 4-FeetGrafix.com.