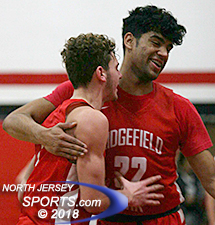 David Feliz (left) gets a hug from Alex Willoughby after his free throw with no time left on the clock gave Ridgefield Park a 56-55 upset victory over Tenafly in the opening round of the Bergen County Jamboree.
BERGENFIELD – Practicing free throws is a part of every basketball player's routine. It might not be the most glamorous or the most electrifying part of the regimen, but it is one that often makes the difference between a hard-fought win and a soul-crushing loss. As Ridgefield Park's David Feliz stepped to the foul line on Saturday in the opening round of the Bergen County Jamboree, the game was tied, there was no time left on the fourth quarter clock and all eyes in the gym were squarely focused on Feliz.
The enormity of the moment got to Feliz as he bricked his first free throw attempt. However, the senior had worked too hard to get himself into that position and was not about to let this opportunity slip through his fingers. With the opposing crowd in his ear, Feliz was able to swish the second free-throw to give No. 19 seed Ridgefield Park a 56-55 upset over No. 14 seed Tenafly at Bergenfield High School.
After suffering a 35-point drubbing at the hands of Dwight Morrow in its final game before the Jambo cutoff and then making the field from the bubble, the Scarlets quickly showed that they belonged. The start could not have been better as Alex Willoughby and Feliz combined to hit four straight three-pointers with Ridgefield Park jumping out to a 14-0 lead.

"People doubted that we belonged here and we came into this game with a chip on our shoulder." said point guard Jonas Espinal. "We started the season 0-3 and people wrote us off then. That motivated us to work harder and become a better team. Everybody has a role on this team and it showed with the way we started the game and how we finished."
Ridgefield Park appeared in control for the entire first half, but the Tigers kept plugging away. A bad shot and a turnover led to a pair of easy buckets in the final minute of the second quarter helped Tenafly get back within striking distance by halftime, down 29-22.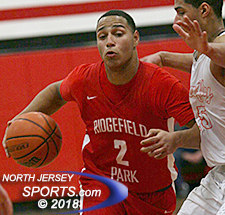 Jonas Espinal finished with 16 points for No. 19 Ridgefield Park, which earned a shot at No. 3 Hackensack in next weekend's Round of 16.
The adjustment the Tigers made at halftime were to speed up the pace and led their defense create their offense. They got the stops they needed and Dean Kubersky heated up from beyond the three-point line. His third long-range bomb of the third quarter gave the Tigers their first lead of the game, 38-37.
The score was tied heading into the fourth quarter and was tied three more times before a three-pointer from Espinal put the Scarlets in front, 52-49, with 2:08 to go. Jonny Angbazo answered with a basket inside to tie the game with exactly one minute to play. Tenafly rebounded a missed shot and had a chance to go for the final shot of regulation, but never got one off.
The Tigers inbounded the ball with 9.4 seconds left near midcourt and things quickly went awry. Hector DeLorenzo came up with a steal and then hoisted up a 40-footer with four seconds on the clock. The shot hit the rim then caromed towards the corner. Feliz never stopped hustling on the play and got to the loose ball first and then things got even crazier. Feliz was fouled almost simultaneously as the buzzer sounded. Even though he was unlikely to have been able to get a shot off, the foul was called anyway and Feliz headed to the foul line with a chance to win the game.
"That was a tough call but there were other situations where we didn't take advantage of opportunities we had," said Tenafly head coach Jeff Koehler. "We had a few possessions in the fourth quarter where we couldn't score in a tie game or up two. More importantly, we had the ball with nine seconds left where we could either take the last shot or go to overtime. Give Ridgefield Park credit though, they forced a turnover in that situation and made big plays throughout the game whenever we started to make a run."
Feliz stepped to the line, took a deep breath and went through his usual routine only to see his first shot from the charity stripe go way off-line. Now the pressure was really on. A make and he would be the hero of a game that his teammates would always remember. A miss and the game would go to overtime with Tenafly grabbing the momentum. Feliz never had a doubt as he calmly came back to the line for his second free-throw. It hit nothing but the bottom of the net and his teammates mobbed him.
"The gym was so loud that it got to my head on the first one; I had to get back to acting like it was practice and I was the only one in the gym," said Feliz. "I was pumped up going into the first shot. I had to relax myself and just focus on the rim for the second one. It feels great to hit that last free throw and to be a part of a win like this."
Ridgefield Park (10-5) had balanced scoring from Feliz, Espinal, and Alex Willoughby, who finished with 17,16, and 15 points, respectively and the Scarlets now advance to the Round of 16 against third-seeded Hackensack. An upset there would be a monumental one, but the Scarlets are excited about the chance to play against a Bergen County power all while playing with house money.
"It's special to be in this tournament and I think this win justified us getting in," said Ridgefield Park head coach Chris Gaskin. "We didn't have a good start to the season and we weren't consistent, but we're finding our way. This game went back and forth but we never lost our composure and we played hard every possession. I couldn't be happier for the 12 guys in this room, everyone played a role and they deserve to enjoy this one for a few days before we get back to work next week."
TO BUY A COLLECTOR'S PRINT OF THIS STORY PLEASE VISIT 4-FeetGrafix.com.