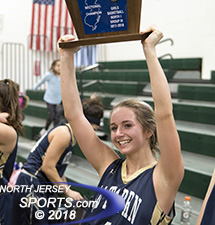 Jackie Kelly hit two late free throws to seal NV/Old Tappan's 35-32 win over Pascack Valley in the North 1, Group 3 state sectional final on Monday in HIllsdale.
HILLSDALE - Old Tappan junior Jaclyn Kelly drained a pair of free throws with 35.4 seconds left in the game and the Golden Knights went on to beat defending state champion Pascack Valley, 35-32, to take back the the North 1, Group 3 state sectional title in Hillsdale on Monday afternoon.
"I want to be in that position," Kelly said. "I practice that all the time and I want to be the one in that situation when it comes down. I was ready and I did what I needed to do. The first free throw is a little nerve-wracking. Everyone is cheering trying to make me miss, but once I get the first one in it's an easy second one. I know that that one is going in. I have to be confident in myself. Once I was on the line my team knew they were able to rely on me and I'm so grateful for that."
Kelly's heroics boosted the Knights' lead from 1 to 3 points and, after a couple of changes of possession, the Indians had the ball and called timeout with 13.4 seconds left.
"Once we knew we were up by three I think it took a little nerves off," said Kelly. "If they did hit a three we would be tied and we would grind it out in overtime. Since they didn't get a three we know we had the game."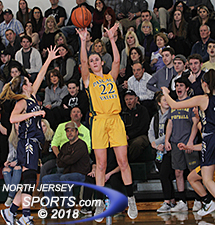 Pascack Valley senior Kelly Petro hit a long three-pointer to give Valley a 30-29 fourth quarter advantage.
Valley inbounded the ball to senior Brianna Wong, who dished it to junior sharpshooter Brianna Smith. Smith dribbled left, then right, back left, back right with Old Tappan senior Sophie Downey tracking her every move. As the clock kicked down senior center Alex George came from the post and joined Downey on defense. The ball was knocked away and, as players from both teams were diving for the ball, the horn sounded and the Knights had secured the victory.
"In that situation we were going to try to force them to handle the ball back to the other side of half court," Old Tappan coach Brian Dunn said. "I said if they try to push it across and anybody got a clean look we were just going to foul them and make it a one-and-one and take our chances on getting a rebound. I wasn't real confident about that because they were out-rebounding us the whole game.
"I said if Smith gets the ball let's foul her before she gets a shot off. We were ready to foul with about six seconds left but I figured if we got to that point we would be in good shape."
The game was close throughout. Valley jumped out to a 6-0 lead in the first minute-and-a-half on a pair of three-pointers by Smith. They boosted the lead to eight, 10-2, midway through the quarter on a drive to the basket by the high-scoring Wong. In this game, however, Wong was held to three points. The Knights came out flying to open the second quarter with a 10-1 run to grab a 17-12 advantage.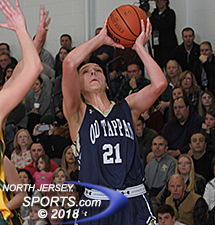 Alex George and Old Tappan will play Sommerville in the Group 3 state semifinals on Wednesday.
"I think we just came out strong," said Kelly. "Sometimes we come out weak but we never let that stop us for the entire game. Every quarter is a new quarter to come out strong so that second quarter we knew it was our time to come out strong."
In the middle of the run was a key three-pointer by senior Katie Dunn, the daughter of the coach.
"When things weren't looking so great she stepped up and hit a huge one," coach Dunn said. "She's been struggling with her shot the last couple of games and she's been frustrated because she knows that's what she brings to the table. I'm proud of her."
Old Tappan was able to take the lead in part by the play in the middle by George, who blocked seven shots in the first half alone.
"Something we pride ourselves in as a team is stopping teams from getting to the rim," said George. "Whether it's me with a block or [sophomore] Gianna [Saccoccio] or Jackie [Kelly] taking a charge. It's a matter of calling who has it. I knew that if we wanted to win this game I had to step up in the post on defense. I had to worry about my girl but I also had to worry about the girl going to the basket. Blocking someone is one of the most exciting things you can do in a game - especially a game like this. The whole crowd goes wild and it's an adrenaline rush. I'm thankful to have so many, but it's also my teammates putting me in position to get those blocks."
Brianna Smith and Pascack Valley finished the season with just three losses.
"The biggest difference from last year is having her (George) back on the floor because she didn't play in a game last year," said Dunn. "She's a presence in the paint that is hard to contend with. They had kids beat us off the bounce and get to the rim but with her standing back there she's hard to get around."
But Valley is a championship caliber team and it closed out the first half with a 6-1 run of its own. A basket by senior Tori Tabasco, one by sophomore Sofia Battista and a three-pointer by senior Kelly Petro as time ran out sent the teams into the intermission tied at 18-all.
Early in the third quarter the teams traded baskets until Knights senior Erin Harnisch scored on a put-back and Kelly swished a three-pointer. As a result Old Tappan took a 27-22 lead into the final frame.
Tabasco canned a three and Gonzalez answered with a basket for a 29-25 OT lead. Smith scored from in close and, 30 seconds later, Petro hit a long three to give Valley a 30-29 advantage. With 3:40 to go in the game Kelly drove and scored to give the lead back to Old Tappan.
"She's just tremendous," Dunn said of Kelly. "She's a great shooter and can fill it up. She knows how to hit baskets in clutch times. She doesn't try to do too much - she knows people are going to try to come after her and hound her. She waits for the opportunities. I thought she did a great job not pressing early, waiting for the opportunities to come. She hit a step-back three and got her game rolling."
Kelly finished with a game-high 13 points. George increased the lead to three, 33-30, with a short jumper, but Indians senior Kelly Smith scored off a pass from Wong to cut the Knights lead to 33-32 and set up the exciting finish.
"Sitting last year as a junior was really hard," said George, "watching my team go through this. To lose to PV in states is so hard especially since we had beaten them earlier. I'm very thankful that I'm on the floor this year, especially as a senior. It means that much more to me. This is our team this year as seniors and have grown together and to be able to make a comeback like that is totally amazing."
George and Kelly credit the coaches for their personal development and the team's success.
"It's the coaching staff - [Brian] Dunn, [Bob] Silvestri and [Christine] Massaro - they're all fabulous," said George. "They work very well together. They do a great job to inspire us on the floor. I was having a rough start in the game and Dunn gave me a pep talk. He yells but he also knows when to boost you up. It's not us. I could play for any school and I wouldn't be as good as I am today - how they coached and developed me as a player."
"He's the best coach we could ever ask for," added Kelly about Dunn. "He puts the hardest work into us and we give it in return. And this is what we get. His good coaching and our hard work gets us this. We're so happy for that."
Old Tappan and Pascack Valley have had epic battles over the years and this game was no exception. The two teams split the season series this year. Last year the Knights knocked PV from the ranks of the undefeated in the county tournament. Valley returned the favor by besting Old Tappan in the state tournament en route to winning the Group 3 title. Now Old Tappan gets a shot at winning a state title, something they accomplished in the 2016-17 season.
"[These are] two teams that are very committed to what they do on the floor and play with a lot of passion and heart," said Dunn. "They want desperately to win but also get the big picture. We play different styles in some ways but the mindset is the same. I learned a lot of that from him (Indians coach Jeff Jasper) a long time ago about how to approach the game. They do it right and we try and do it right.
"Nobody lost the game; the time just ran out. We just happened to hit a shot at the end and hit a couple of foul shots. It could have been them at the other end. There was no point where I thought we were better than them, not even close. It was just two teams battling who desperately wanted to win the game. The clock ran out on them and we just happened to be on the plus side. That's all it was."
TO BUY A COLLECTOR'S PRINT OF THIS STORY PLEASE VISIT 4-FeetGrafix.com. FOR MORE PICTURES OF THIS EVENT CLICK HERE!