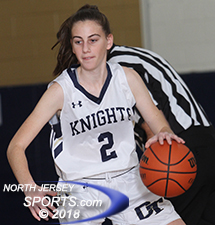 Erin Harnisch and Old Tappan played trademark defense in a 48-37 victory on the road at previously undefeated Pascack Valley.
HILLSDALE -- Old Tappan opened the third quarter with a 6-1 run to break open a close game en route to a 48-37 road victory over Pascack Valley on Tuesday afternoon.
The Golden Knights improved to 15-3, while the Indians suffered their first loss of the season to fall to 16-1. Last season Old Tappan knocked Valley out of the ranks of the undefeated with a 43-41 victory in the Bergen County Tournament.
"It feels very good," said Knights junior Noelle Gonzalez. "Being able to beat them when they were undefeated two years in a row feels pretty good. It shows how much work we put in to do that."
"We knew we could do it," added Old Tappan senior Erin Harnisch. "At the beginning of the season we played a little slow when we played against them - none of us were playing our best. We really stepped up the second time [we played them] so it feels really good."
After Valley senior Brianna Wong canned a free throw eight seconds into the third quarter, Knights senior Alexandra George took a feed from senior Sophie Downey to score from in close.
"Alex George and Sophie Downey are good around the basket," Gonzalez said. "Our forte is getting the ball in to them and getting good looks around the basket. They work hard but it's easy for us to get it in to them because we vibe together pretty well.
"We had a little bit of a rough start in the beginning. Alex (George) came back and we weren't used to working together [with her]. As the season is going on we're really starting to click so it's starting to fall into place."
After George hit a foul shot, Gonzalez zipped a pass to junior Jaclyn Kelly, who drained a three-pointer, prompting Valley coach Jeff Jasper to call a timeout. It paid off as Wong and senior Kelly Petro drove and scored to cut the lead to four, 23-19.
But Harnisch tallied a layup, George scored inside on a pass from Kelly, Harnisch swished a three and George took a pass from Harnisch and laid it in to boost the NV/OT lead to 32-19 with 2:04 to go in the third quarter.
"The design is we have five kids that have to share the ball and know their strengths," said Old Tappan head coach Brian Dunn. "If you see something in your wheelhouse go do it. Erin (Harnisch) felt comfortable so she shot the ball."
"We try to be all-around players," said Harnisch. "Almost all of us can shoot and drive. Sophie and Alex kill it in the post. It's really a group effort all around."
Wong helped Valley fight back with a pair of threes but Knights sophomore Gianna Saccoccio drove to the basket and Old Tappan took a nine-point lead, 34-25 into the fourth quarter.
Pascack Valley went on a mini run fueled by Petro and senior Cerina Dunkel to get within five, 38-33, but George and Downey scored inside to halt the run and the Indians never got any closer to taking the lead.
Defense was a huge key to the Old Tappan victory.
"We have our matchups," said Gonzalez. "I was guarding Brianna Wong and Erin Harnisch was guarding Brianna Smith. We were trying to trail Brianna Smith around the outside because she's a good shooter from the outside. Keeping a hand on their outside shots was important for us too."
"[Brianna Smith] is really good with the step-back and [Brianna Wong] is good at driving," added Harnisch. "So we had to guard that. Dunn is really good at preparing us and telling us everything we need to know about how to defend them. He prepared us very well. We have a lot of film sessions to know the players we're going to be against."
The plan worked as Hanisch held Smith scoreless and Wong did most of her scoring from the outside.
"It's not easy holding them down," said Dunn. "They have so many weapons and Jeff (Jasper) does a great job of putting the kids in the right spots. They don't hurt themselves."
Wong led all scorers with 21, including five three-pointers, but the rest of the team only managed 16 points. Gonzalez led the Knights with 12 points, five rebounds and a steal, while George chipped in with 11 points, 10 rebounds and four blocked shots.
"Our plan against them is to not get embarrassed at some point," said Dunn. "It's tough to come in here and play. They're a phenomenal team. Our plan was to make it as difficult as possible for them to get clean looks, play good 'D,' and make sure we knew their personnel.
"We've been fortunate to play well at the right times. Last year we played them four times. We know their team; they know ours. It's hard to play a smooth, clean game when the other team knows your strengths and weaknesses so well."
TO BUY A COLLECTOR'S PRINT OF THIS STORY PLEASE VISIT 4-FeetGrafix.com.