NJS.com WORLD HEADQUARTERS -- The 2017-18 high school sports year is in the books, so it is time to take a look back and hand out some awards. The week-long extravaganza that is the Barton's Best Awards continues as we recognize our Teams of the Year.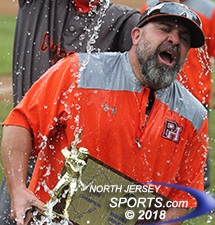 HUM BABE!
Boys' Team of the Year:
Pascack Hills Baseball
With the non-public sports programs growing in talent and geographic reach with each passing season, it is increasingly hard for public schools to break through in any county tournament in any sport. It took one of the deepest pitching staffs in Bergen County history and a team that approached every at-bat and every routine play in the field with equal ferocity to finally reach the top of the heap. Pascack Hills' baseball team was the one.
With the four-deep pitching staff of Ryan Ramsey, Jack Brodsky, Paul Sullivan and closer Brandon Siegenthaler, the Cowboys' team ERA and WHIP were 0.88 and 0.73, respectively. Maybe the most remarkable stat of all is that half of the Cowboys' 32 games ended with a win via shutout.
That is not to say this team could not hit. Not a big power group, the Cowboys manufactured runs as well as any team in North Jersey. Despite hitting just nine homers all season, the Cowboys averaged 6.5 runs per game. They also scored at least 10 runs in a game 10 different times over their final 24 contests.
County and state tournament play was where the Pascack Hills really thrived. After consecutive shutouts of Ramapo and Fair Lawn to start the Bergen County Tournament, the Cowboys scored eight runs over the first three innings then held on late for a 10-6 win over St. Joe's (Montvale). In the county final, Brodsky was virtually unhittable as the Cowboys won their first county title since 1987.
As the state tournament began, the Cowboys were motivated. Since that '87 team, no public school has won league, county, and state titles in the same season. After pounding out 52 runs in five state tournament games, trouble finally brewed in the Group 2 state final. Raritan forced the Cowboys into extra innings before a pitch hit Chris Lum with the bases loaded to bring home the game-winning run with Brodsky picking up the win in relief to cap a magical season with a trio of titles, a final record of 30-2, a No. 1 state ranking in the Star-Ledger and the title of Barton's Best Team of 2017-18.
Runner-Up:
Bergen Catholic Wrestling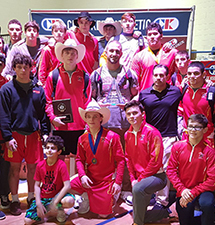 BC AT THE DOC BUCHANAN
The Crusaders went coast-to-coast and took on any nationally-ranked opponent they could find. Even with the toughest schedule in the nation, they managed to lose just one time the entire season, that loss coming by just two points.
They were equally as successful in two of the country's top showcase tournaments. After a second-place finish at the Beast of the East Tournament, BC rolled to a title at the Doc Buchanan in California.
Once back inside the state's borders, the fruits of that schedule paid dividends as Bergen Catholic ripped through the state tournament, capped by a 63-12 thumping of Camden Catholic to win the program's seventh straight Non-Public A state title.
Honorable Mention:
Bergen Catholic Football
Kearny Soccer
Don Bosco Prep Basketball
Rutherford Football
Northern Valley/Old Tappan Football
Girls' Team of the Year:
IHA Volleyball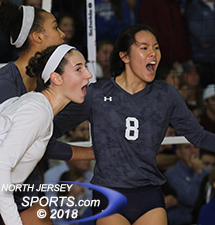 IHA VOLLEYBALL
With a collection of experienced star players, Immaculate Heart Academy head coach Maria Nolan set lofty goals for his squad with all of them being reached.
After a 5-0 trip to Florida that included three consecutive narrow three-set victories, the Blue Eagles came back to New Jersey brimming with confidence and eager to prove that they were the best team in New Jersey.
Julia Morris ran the offense to perfection, setting up hitters like Anna Morris, Catherine Fazio, Sydney Taylor and Collette Petric while libero Erica Timpinaro did the dirty work along the back line with one incredible dig after another.
This was a complete team in ways that were both consistent and utterly dominant. In 34 in-state matches, the Blue Eagles did not drop a single set on their way to a record 8th Tournament of Champions title and a 40-1 record.
Runner-Up:
Ramsey Softball
RAMSEY SOFTBALL
In 2016, Ramsey snuck up on teams who were non-believers on its way to winning a Bergen County title and adding a North 1, Group 2 state section crown. How would the Lady Rams respond with some key pieces having graduated and the pressure mounting to repeat that success?
Turns out they responded quite well with arguably the state's best battery, pitcher Victoria Sebastian and catcher Ryan Henry, leading the way. With an unforgiving lineup that was equally as effective defensively the Rams enjoyed the journey on their way to defending the crowns they earned a season ago.
Olivia Sebastian became a legitimate threat at the plate and freshman Bella Sebastian grew quickly into her role as the everyday shortstop. Steady left fielder Gabby Marchisin and underrated speedster Emma Cunningham in right field were vital to another successful campaign for Ramsey.
The most incredible part of the Rams' season was not only did they repeat as Bergen County and North 1, Group 2 section titlists but during a 24-game winning streak they never trailed once for the duration, eventually finishing the season with a 27-2 record.
Honorable Mention:
Saddle River Day Basketball
Northern Valley/Old Tappan Basketball
Ridgewood Lacrosse
Northern Highlands Soccer
Westwood Soccer
Pascack Valley Basketball
Lincoln Basketball
Immaculate Conception Softball
TO BUY A COLLECTOR'S PRINT OF THIS STORY PLEASE VISIT 4-FeetGrafix.com.