Nick Scalabrini's two-run double in the top of the sixth inning put Ramapo ahead for good in a 6-1 win at Old Tappan on Friday.
OLD TAPPAN – With a 6-5 record and just two games left on its schedule before the field for the Bergen County Tournament will be chosen on Monday, Ramapo could not afford to let Mother Nature win this time. Having already lost three games to the weather this season and with its home field taking on water again on Friday, the Green Raiders were willing swap the benefits of being the home team for a long bus ride across the county to sit in the visitor's dugout.
The weather was no better in Old Tappan, but the field was in better shape, good enough to host Ramapo's 6-1 victory that upped the Raiders' record to 7-5 on the season, which should be good enough to earn a county tournament bid as long the selection committee pays even the slightest bit of attention to the strength of schedule that the Raiders have played this year.
Last weekend they played a double header against the defending champion from both Hudson County and Bergen County – St. Peter's Prep and Bergen Catholic -- on the same day, they played St. Joseph Regional on the road two weeks ago and will round out their resume against another parochial power, Immaculata, on Saturday.

The win over Northern Valley/Old Tappan, a team in similar circumstances in regards to its standing on the county tournament at-large bid pecking order, ensures that Ramapo will be above .500 when its resume is considered.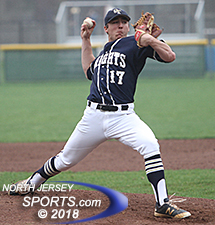 Aidan Conboy threw five shutout innings for Old Tappan.
"We haven't been able to get games in. We have lost three games [to the weather] and this would have been the fourth. We have to play. We have to see some live pitching, we have to see some ground balls and we have to get out there and compete, so we had to come here and get this one in," said Ramapo head coach Mickey Hunt. "Every time we start to get a rhythm it rains again. It has been a tough season for everyone, but I hope we have made the case for ourselves throughout the season. I hope the weather turns, I hope we get into the tournament and anything can happen when you get there."
Friday's game was played under fog in a steady mist that lasted from first pitch until the last one, not prime for fielding ground balls or gripping baseballs. Ramapo made three errors in the first two innings, but Old Tappan could not cash in against David Ring (2 1/3 IP, 0 R, 0 ER, 1 H, 5 K, 4 BB), the right-hander who left the bases loaded in the bottom of the first and then struck out three straight hitters after the first two Golden Knights reached safely in the bottom of the second.
Old Tappan loaded the bases again in the third inning on three walks, which meant Jack Hagan was summoned from the bullpen and thrown right into a tough spot with the bases loaded and one out. Hagan got the first batter he faced to hit into a 5-2 fielder's choice, caught the next hitter looking at a called strike three and that was just the start of his effective afternoon.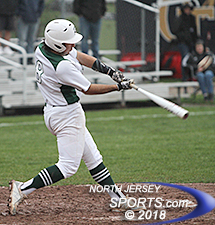 John Whooley's lead off double in the sixth opened the door to a six-run inning for Ramapo.
In four-and-two-thirds innings of relief, the junior southpaw did not allow an earned run, or even a hit for that matter. He threw a lot of pitches that wiggled, most of them for strikes, and got Old Tappan hitters out on the front foot consistently.
"I just wanted to make them put the ball in play and see what happens," said Hagan. "I was just trying to throw strikes and not give anything away. It was tough conditions to pitch in and play in, but it turned out to be a great day in the rain."
The lone run that Hagan allowed was unearned, but it gave Old Tappan a lead in the bottom of the fourth. Alex Clyde drew a one-out walk, went to second on a wild pitch and scored on a two-base error that allowed Armen Santana to reach safely with two outs.
Meanwhile, Ramapo was stymied at the plate by Old Tappan starter Aidan Conboy, who threw five shutout innings in the adverse conditions. He allowed just three hits, walked three and struck out three and stranded all six runners to reach base against him. Conboy retired seven of the last eight hitters he faced before exiting. The Knights went to the bullpen to start the sixth inning and Ramapo went to work at the plate.
John Whooley's lead-off double got things rolling in an inning where Ramapo sent 10 hitters to the plate and scored all six of its runs. Hagan had a bunt single and Matt Wingfield reached on a fielder's choice to load the bases with no outs before Nick Scalabrini came through with a two-run single that finally got Ramapo on the board and in front for good.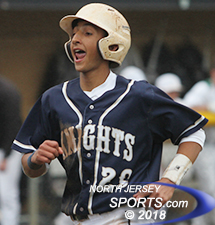 Alex Clyde had the lone hit and scored the lone run for Old Tappan.
"The first three pitches were curveballs and I was just sitting back waiting for my pitch," said Scalabrini, a left-handed hitter who pulled a fastball to just short of the fence in right field. "On the fourth pitch I saw a fastball and it was in my spot. I just swung and the ball did what it did."
What the ball did was elude the rightfielder who was giving chase and kept the inning going in the right direction. Anthony Valvano added an RBI groundout to make it 3-1 and, with two outs, Ring singled home Scalabrini to make it 4-1. AJ Wingfield added the icing to the inning when he battled back from 0-2 and smoked a two-run double to the opposite field to make it 6-1.
Hagan was flawless over his final three-and-one-third innings of work as he retired the final 10 hitters he faced. Of those outs, eight of them were harmless flyballs, one came courtesy of a diving grab of a line drive by shortstop KC Hunt and the other was a strikeout as Hagan slammed the door.
Whooley, Ramapo's junior catcher, had the best view.
"Jack has been great and he has been great for us all season. He just throws strike after strike after strike. He is not going to beat you with his fastball, but he places his fastball well and he has three pitches," said Whooley. "It gives him a lot of options and I love catching him."
Ring (2-for-4, R, RBI), AJ Wingfield (2-for-4, 2 RBI, R) and Hagan (2-for-2, R) all had multiple hit games for Ramapo, while Hunt (1-for-2, 2 BB) reached safely in three of his four plate appearances. Clyde's lead off single in the bottom of the first inning was the lone hit for Old Tappan, which fell to 6-7 on the season.
TO BUY A COLLECTOR'S PRINT OF THIS STORY PLEASE VISIT 4-FeetGrafix.com. FOR MORE PHOTOS FROM THIS GAME PLEASE CLICK HERE