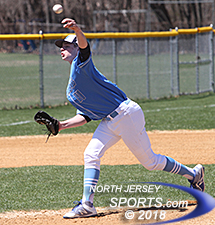 Spencer McNamara settled in after a wild first inning to throw 6 2/3 quality innings before winning the game with his bat in the bottom of the eighth inning of a 5-4 victory over Northern Highlands, Waldwick's fourth in a row.
WALDWICK – Just one out away from a complete game victory, Waldwick senior left-hander Spencer McNamara ran up against an implacable foe: The pitch count. McNamara's 110th and final pitch of Saturday's independent matchup against Northern Highlands that was smacked into left field by Thai Morgan meant that McNamara would be deprived of the chance to finish what he started…or so it seemed.
But because Morgan advanced to second base on a wild pitch and then scored when Liam Roy deposited a double just inside the right field line, McNamara did get a chance to put the finishing touches on a game that had his fingerprints all over it. It was from the left-handed batter's box with no outs in the bottom of the eighth that McNamara secured Waldwick's fourth straight win. He singled home Louis Fabbo from second base as the Warriors won an entertaining, back-and-forth affair against Northern Highlands, 5-4, in Waldwick.
"It was frustrating. I knew I had to get that last kid out or I would reach my [pitch] limit. Those are the rules and I had faith in Garrett [Mironenko] to come in after me and lock it down," said McNamara, a senior left-hander who is committed to Post University. "When they tied it, I just knew that we had to get back out there and hit and I had to be ready for my turn."
The way McNamara ended it stood in sharp contrast to the way his afternoon began. Highlands, which came in hot having just swept a two-game set against Hackensack and splitting with Ridgewood, put up three runs in the opening inning by waiting out McNamara's early wildness. The first batter of the game, Gabe Robles, beat out a bunt single before McNamara walked two, gave up an RBI single to Liam Roy and hit two batters with the bases loaded to stake the Highlanders to a 3-0 lead. McNamara faced nine batters in the opening inning and threw 38 pitches, before finding his stride and leaving ample time for his team to come back.
Highlands' Liam Roy tied the game in the top of the seventh with a two-out, RBI double down the rightfield line.
After giving up a one-out single to Ken Suzuki in the top of the second, McNamara retired 13 straight hitters, a stretch that last until there was one out in the top of the sixth and by that time Waldwick had edged in front, 4-3. The Warriors got one run back in the bottom of the first when Joe Brunner's groundball scored Matt Rypkema, who reached on an error leading off, and another in the third on Nick D'Annibale's (2-for-4, RBI, R, SB) RBI single scored Fabbo (2-for-4, R, 2 SB) who singled leading off that frame and stole second.
Suzuki (4 IP, 2 R, 1 ER, 6 H, K, BB) went the first four innings for the Highlanders and left with a 3-2 lead, but Waldwick's offense got to work in the fifth. Brunner (2-for-4, R, RBI) and D'Annibale reached on back-to-back one-out singles and each moved up a base on the same wild pitch. Mironenko got the Warriors was nearly robbed of the game-tying single by CJ Minchin, but the ball bounced away as the diving Highlands left fielder hit the ground and Brunner beat the throw home to make it 3-3. Connor Conyngham's sacrifice fly made it 4-3 Waldwick heading into the sixth.
McNamara (6 2/3 IP, 4 R, 4 ER, 5 H, 6 K, 3 BB) was still dealing as he retired the first two hitters before Nick Marconi snapped the string of 13 straight outs by drawing a walk and Isaac Springer beat out an infield single before McNamara got a strikeout to end the threat. He retired the first two hitters of the seventh before Morgan ended McNamara's day with his single.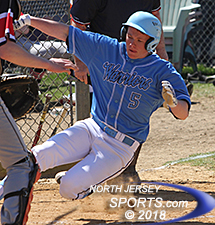 Joey Brunner scoring one of the two runs in the fifth inning that gave Waldwick a 4-3 lead.
Mironenko's first two pitches in relief did not go as planned as the first one was wild and the second one was dropped down the right field line by Roy to tie the game at 4. Mironenko recovered to strand Roy in scoring position and Waldwick had a legitimate chance to win it in the bottom of the seventh.
With two outs, Joey Parsons (1-for-2, 2 BB) drew a walk to load the bases and turn the lineup over for Rypkema, who hit in tough luck all game long. In the fifth and with the sacks full, Rypkema ripped an 0-2 pitch on a line in the middle of the field, but it landed in the glove of Springer, who started the game at shortstop. In the seventh, Rypkema hit a hard two-hopper back up the middle, but this time it was gloved by Morgan, who had moved over to shortstop and he stepped on the bag to force extra innings.
Mironenko gutted his way through the top of the eight, which started when he took a one-hopper off the leg and Northern Highlands had runners on second and third with one out when Ben Johnson hit a groundball to short. Rypkema threw a strike to catcher Lucas Mainetti, who slapped on the tag for the second out at the plate and another groundball out kept the game even.
"I have faith in my teammates and all I was trying to do was let them put the ball in play and let my defense do the work. They made the plays behind me," said Mironenko. "Most of it is, for sure, mental. You have to be confident and think you can get hitters out. I have a good team behind me and I just had to keep the faith."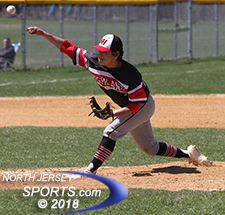 Ken Suzuki went the first four innings on the mound for Highlands, which fell to 4-5 on the season.
Waldwick needed just two hitters to put together the winning rally as Fabbo drew the leadoff walk, stole second and scored on McNamara's base hit off of Luke Lombardi, Highlands' fourth pitcher of the game, to make a winning pitcher out of Mironenko, who went the final 1 1/3.
"I just shortened my swing in that final at bat. After I saw the kid throw a few pitches I could see that he was throwing hard and I wanted to be quick to the ball," said McNamara. "We had a tough couple of losses as the beginning of the season, but we are playing well now because we have the confidence that everybody on this team is going to pick each other up."
Highlands fell to 4-5 on the season while Waldwick is red hot under Mark DeMenna, who took over the head coaching duties this season from Frank Clarke, who moved on to Midland Park. DeMenna, a former head coach at Don Bosco Prep among other stops, is back at his alma mater and happy in the role, especially now that his team is 6-3 and riding a four-game winning streak.
"This is where I am from. I went here, I have kids in the program down below the high school level and I am really enjoying being back," said DeMenna. "This is really where I wanted to be all along. It's a great community to be a part of and things are really starting to click right now and now we have to keep it going in this direction."
TO BUY A COLLECTOR'S PRINT OF THIS STORY PLEASE VISIT 4-FeetGrafix.com. FOR MORE PHOTOS FROM THIS GAME PLEASE CLICK HERE