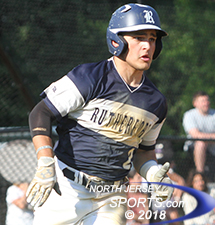 Nico Mundo had two hits and three RBI for second-seeded Rutherford, which advanced to the North 2, Group 2 state sectional semifinals with a 6-1 win over Whippany Park.
RUTHERFORD – Breylin Jones has been a part of a state sectional championship team. Two years ago as a freshman, he played shortstop for the Northern Highlands squad that won the North 1, Group 3 title and he told his friends from Rutherford all about it.
"That team I was on as a freshman at Highlands was something special. I always hung out here even when I was up at Highlands and I tried to share the feeling," said Jones. "Now that I am back and playing with all of my friends, I really want to win so we can do it together. We want it bad. I am going to do everything I can to help this team get a ring, too, and it is going to be fun while we are doing it."
Now a junior playing shortstop and batting fourth for Rutherford, Jones helped push the Bulldogs closer to the same experience. His two-out, two-run double in the bottom of the third inning on Thursday put Rutherford ahead for good as it turned the tables on Whippany Park, the defending North 2, Group 2 state sectional champion. Last year Whippany Park upset the Bulldogs on their own home field in the section final. This time around it was Rutherford that ended the Wildcats' season with a 6-1 win in the quarterfinals.
It was actually a Jones mistake and the way he atoned for it that changed Thursday's game around. A groundball hit by Alex Maietta, Whippany Park's No. 9 hitter, went right through the wickets and gave the Wildcats a leadoff baserunner that came around to score on Nick Geroldi's two-out infield single. With two out and nobody on in the bottom of the inning, Regan Landrigan was grazed by a pitch and John Kelly singled in front of Jones, who delivered the double that scored two and put Rutherford ahead for the first time and for good. Nico Mundo and Jacob Gomez made it four straight hits with run-scoring singles of their own as Rutherford stretched its advantage to 4-1.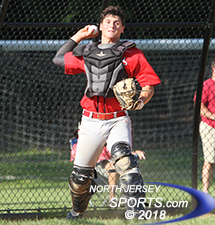 Whippany Park catcher Mike Roma had two of the Wildcats' six hits.
"Errors like that don't happen to me that often. The first ground ball that was hit to me bounced right over my head, so on that second one [hit by Maietta] I was a little shaky because I didn't know what it was going to do. It stayed down and went right through my legs," said Jones. "So when I got up to the plate with runners on I wanted to make up for it. He [Whippany Park starter Brian Clarke] kept throwing me curveballs because my first time up I got a hit off his fastball. I was pretty sure he was coming with another curveball, he did and he hung it a little bit and I was able to hit a double into the rightfield gap."
The run support was more than enough for Kelly, the senior right-hander who was not only throwing hard, but was putting the ball right where he wanted. Kelly (7 IP, 1 R, 0 ER, 6 H, 8 K, 0 BB), the Oklahoma State signee, did not walk a batter and struck out eight in a complete game six-hitter that took him only 82 pitches to finish. Kelly was efficient and Whippany Park, which scored 10 runs in last season's section final upset, could muster just the one unearned run it scratched out in the top of the third.
"You don't want to overthrow because then you get wild. I I was excited for this game but I was able to stay in control of myself. I was able to throw almost as hard as I am capable and was still able to spot the ball," said Kelly. "I was able to spot my breaking ball, spot my change-up and my two-seam. I had everything working for me today. I had everything down pat and I knew our team was going to come through. We have each other's backs, we trust each other and even after we went down 1-0 we knew good things were going to happen."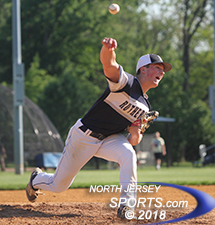 Senior John Kelly went the distance on a six-hitter and did not walk a batter for Rutherford, which will host Newark Tech in the semifinals on Tuesday.
Four straight two-out hits certainly qualify as good things happening as Rutherford took control in the four-run bottom of the third and struck for two insurance runs in the fifth. Landrigan and Jones both singled and Mundo (2-for-2, 3 RBI, SAC) finished his productive day with a two run single to close the game's scoring.
"I did not like the way our bracket was set up. I thought we were going to see [Whippany Park] in the championship game because, as you saw them last year and again today, they have a very talented team, they have a moxie about them. They play hard and they made it to the Group 2 championship game last year," said Rutherford head coach Carmen Spina. "They are not the kind of team that is a seven seed that you should have to play in the quarterfinals. That kid [Clarke] beat Pascack Hills in the state semis last year and he made us earn it."
With Kelly unwilling to help out with free passes, Whippany Park (11-9) was unable to sustain anything close to a rally. Its six hits came in six different innings and its only extra base hit was a one-out double by Maietta (2-for-3, R) in the top of the fifth. Maietta, who reached base in all three of his plate appearances, also singled with two outs in the seventh before Kelly finished off the game with his eighth strikeout.
Jones (3-for-3, 2 RBI, 2 R, SB) and Mundo had multi-hit games for Rutherford, which pounded out 10 hits in total. Abellany Mendez (1-for-4), Landrigan (1-for-3, R), Kelly (1-for-3) and Jacob Gomez (1-for-3, RBI) all chipped in offensively for the Bulldogs, the No. 2 seed, who advance to semifinals where they will host No. 11 Newark Tech on Tuesday. Lyndhurst, the top seed, beat No. 4 Leonia on Thursday and will visit No. 1 Madison in the other semifinal.
While the win over Whippany Park gives Rutherford a measure of satisfaction after the way last season ended, the Bulldogs are still two wins away from a section title and there was little in the way of celebration after Thursday's win.
"This win is nice, but, believe me, we are not sleeping on Newark Tech. They have to be good if they have won two tournament games. We have a lot of veterans on this team and they know if we take any team lightly then we are going home. The season will be over," said Spina. "We are going to come to play. We are practicing all weekend. We are not playing around with this. This is our time to grab this title, so we are going to go after it."
TO BUY A COLLECTOR'S PRINT OF THIS STORY PLEASE VISIT 4-FeetGrafix.com. FOR MORE PHOTOS FROM THIS GAME PLEASE CLICK HERE