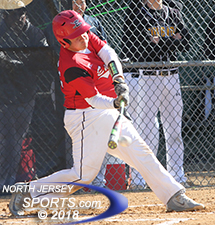 Justin Roa had an RBI single and also did a solid job catching Joe Carmosino's complete game shutout as Emerson improved to 7-1 with a 4-0 win at Cresskill.
CRESSKILL – Emerson does not win a state championship or state sectional title every year, but the Cavos win one or the other or both more often than just about every other Group 1 baseball program in the state and they never stop chasing those goals. Last year brought a sectional title and a trip to the Group 1 state final and this year looks just as promising.
The Cavos had won six of their first seven games heading into Cresskill on Friday afternoon and had their ace all healed up and ready to go. In his first game back after nursing a slight hamstring strain, junior right-hander Joe Carmosino was lights out in a complete game four-hitter as he recorded 14 of the 21 outs via the strikeout. He carried a no-hitter through four innings, walked just two and got Emerson's 4-0 win over and done with in just about two hours flat.
"I hurt my hamstring last week against Bogota, but it has gotten a lot better and I was just looking forward to coming back and throwing some strikes. I was ready. This was a big league game against Cresskill," said Carmosino. "I was just throwing my fastball pretty good and dropping a couple of curveballs over for strikes. Towards the end we started using the change up a little more just to throw them off and it worked pretty well."
It worked better than pretty well as Carmosino (7 IP, 0 R, 0 ER, 2 H, 14 K, 2 BB) struck out two in each of the first three innings and had a 2-0 lead to work with by that time. Emerson's opportunistic offense took advantage of a couple of Cresskill mistakes to forge in front in the opening inning. Andrew Brahm, the first batter of the game, reached on an error, stole second, went to third on Jared Delpome's sacrifice bunt and scored when Declan Patterman's groundball was misplayed in the infield. Emerson added another unearned run in the third when Brahm raced home on an RBI groundout by Carmosino.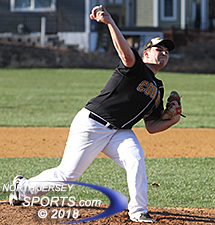 Junior Jason Naccavella went the distance and allowed just one earned run for Cresskill.
Down two runs was not a good place to be for Cresskill, which has had trouble scoring runs this season. The Cougars did not get more than one runner on base in any inning but the fifth and were limited to seven in the game. The only Cougar to get into scoring position was Jon DiTore, the courtesy runner for starting pitcher Jason Naccavella, who drew a walk leading off the bottom of the second. DiTore got to second on Kenny Spaddaccini's sacrifice bunt, but was stranded there when Carmosino ended the frame with back-to-back strikeouts.
Ohjiro Motoki was hit by a pitch leading off the fourth, but he was caught stealing by Emerson catcher Justin Roa and Spaddaccini was left stranded at first after drawing a two-out walk in the same inning. Cresskill got two on in the fifth on Josh Danzig's two-out single, which followed by a Woo Nam's hit-by pitch, but again Carmosino got a called strike three to end the mini threat. Spaddaccini singled with two outs in the sixth, but Carmosino retired the final four batters he faced to slam the door.
The lack of offensive punch was in contrast to the outing that Naccavella turned in on the hill for Cresskill. The junior right-hander went the distance and allowed just one earned run and five hits against an Emerson lineup that can produce from top to bottom. Naccavella's final line (7 IP, 4 R, 1 ER, 5 H, 2 K, 2 BB) was good enough to win most times out on the high school level.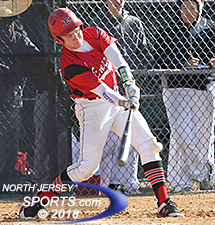 Designated hitter Declan Pattermann drive in two runs for Emerson.
"When you give up [five] hits in high school you probably deserve to win. Jason is a bulldog on the mound. He will give you everything, he throws hard and has a nice little curveball, but we just did not play behind him today," said Cresskill head coach Donnie Merritts. "We made too many mental and physical mistakes. In a 4-0 game where three runs are unearned, that makes it tough on your starting pitcher."
Emerson made it easy on its starting pitcher by giving him a lead to work with before he even took the mound, tacking on when given the chance and then playing solid defense to make Cresskill earn its every opportunity. Joe Giacalone reached on an error leading off the top of the fifth inning and then, two bunts and a sacrifice fly later, the Cavos bumped their lead to 3-0. Justin Roa stroked an RBI single to centerfield in the top of the sixth to score Pete Durocher with the game's final run.
Roa, a junior in his first season as the starting catcher, contributed in all areas as he went 1-for-3 with an RBI, cut down the only runner to try to steal against him and framed Carmosino's work on the corners perfectly to give the home plate umpire a good look.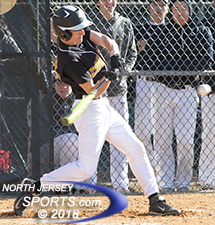 Josh Danzig had one of Cresskill's four hits.
"This is just so much fun to be a part this team and going out there and playing every day with my friends and Joe [Carmosino] made my job easy today," said Roa. "We are always confident with Joe on the mound, he gives us the best chance to win and today he threw nothing but strikes all game."
Emerson is now 7-1 heading into an independent matchup against River Dell on Saturday. The Cavos lone loss was to Group 4 Hackensack on the back end of a doubleheader earlier this month. With the change in format for the Bergen County Tournament this year, Cavos skipper Chris Sommerhalter could choose to line up Carmosino for every round that they advance and give it a real go. But for now, the progress made toward a league title, a good seed in the state sectional playoffs and the overall quality of play are the focus right now.
"We just want to continue pitching well, putting the ball in play, putting pressure on defenses and scoring some runs. The bunt is a big part of our arsenal and that is the way we win games," said Sommerhalter, who has been to the Group 1 state final in two of his first three years as the Cavos' head coach and won one of them. "The big games are the league games and that is where all the attention is. The next one is always the most important one for us right now. We won't worry about the tournaments until we get there."
TO BUY A COLLECTOR'S PRINT OF THIS STORY PLEASE VISIT 4-FeetGrafix.com. FOR MORE PHOTOS FROM THIS GAME PLEASE CLICK HERE