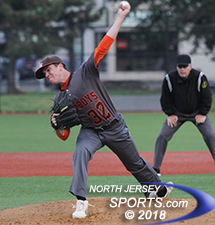 Ryan Ramsey struck out 12 in six innings to lead Pascack Hills to a 1-0 win over Fair Lawn in the quarterfinals of the Bergen County Tournament.
LYNDHURST – With Pascack Hills' junior Ryan Ramsey and Fair Lawn senior Ryan Rue, two of North Jersey's top left-handed pitchers and two Division 1 college recruits, matched against each other in the quarterfinals of the Bergen County Tournament on Monday night, the outcome was clearly going to be determined by just a couple of at bats. There was not going to be a big inning for either side, no stringing a bunch of hits together to mount a sustained rally. Instead, it was all about one guy being able to put the ball in play at some key moment over the course of seven innings.
That guy was Pascack Hills third baseman Mike Rodriguez. With one out in the bottom of the third inning and with Julian Bulzomi standing on third base, Rodriguez shot one past the drawn-in infield and into centerfield to drive in the only run of the game.
"I was looking for fastballs. I had to just turn off my brain, get a pitch I could and try to do something with it," said Rodriguez, Pascack Hills' junior third baseman. "With a man on third and less than two outs I was just trying to get the ball into the outfield somewhere. It found a hole."
With Ramsey throwing gas for six innings and Brandon Siegenthaler backing him up with a dominant seventh inning on the hill, Pascack Hills closed out a 1-0 victory that puts the second-seeded Cowboys in the Bergen County Tournament Final 4 where they will play No. 3 St. Joseph Regional on Saturday at Northern Valley/Demarest.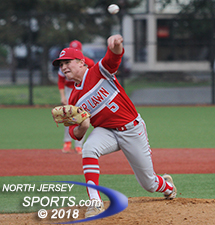 Fair Lawn's Ryan Rue struck out 10 and allowed just four hits in his six innings.
"We knew coming in here that Rue was going to be tough. He is a bulldog, he can throw four pitches for strikes and we thought if we could find a way to get to runs our man here [Ramsey] would get us through," said Pascack Hills head coach Kevin Kirkby. "We only got him one, but that was all he needed and then Siegenthaler came in and closed the door."
Ramsey (6 IP, 0 R, 0 ER, 2 H, 12 K, 2 BB), who has allowed just one earned run all season and has struck out at least 10 in all but one of his starts, made his most pressurized pitch in the top of the fifth inning when he induced a pop-up along the third base line with the bases loaded and two outs. Paul Sullivan grabbed it in foul ground and Ramsey and Siegenthaler combined to set down the final six Fair Lawn hitters in order, half of them by strikeout, over the final two innings.
"It is not about my numbers at all. We got a big win today, one more win and that is the only number that counts," said Ramsey, the University of Maryland commit who has struck out 28 in 13 innings of work in two county tournament games. "It was definitely a good matchup today. [Rue] is a good lefty. He had a lot of movement on his pitches, good two-seam movement, and he has a good curveball that he throws in the dirt. In a pitcher's duel it all comes down to getting a big hit or two and Mike got the one we needed."
Ramsey struck out the first two hitters he faced and then K'd the side in order in the top of the second. Rue (6 IP, 1 R, 1 ER, 4 H, 10 K, 2 BB), who will pitch at Hofstra next year, worked around a leadoff walk to Bulzomi in the bottom of the first and dealt with a slight issue in the second inning. Chris Curcio beat out an infield single for the first of the just six total hits in the game with two outs and Marc Hernandez drew a walk before Rue got a swinging strike three for the final out.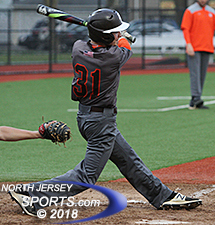 Mike Rodriguez drive in the lone run of the game for Pascack Hills, which will face St. Joseph Regional in the county quarterfinals.
Bulzomi's clean single to right field gave Pascack Hills (17-2) a leadoff baserunner in the top of the third and the Cowboys used it to build a run. Bulzomi stole second and moved up on Sullivan's ground ball. With every run and every out at a premium, Fair Lawn had to bring the infield in and Rodriguez used the advantageous geometry to power the ball back through the box for the all-important RBI.
Fair Lawn's Tyler Wehner had the game's only extra base hit, a one-out doubled that he yanked down the left field line, and he got as far as third base on a wild pitch, but he was stranded there as Ramsey got a called strike three for the final out. The Cutters' only other hit of the game was an infield single by Brian Colca with two outs in the top of the fifth and it nearly started something. John Burek struck out on a pitch in the dirt, but got to first base anyway by just beating throw down and Louis Scappaticcio drew a walk to load the bases with Fair Lawn's No. 3 hitter coming to the plate.
The showdown ended with the ball landing safely in Sullivan's glove and that was that for Fair Lawn, which rebounded from a 2-4 start to the season and a No. 23 seed in the county tournament to make a run to the quarterfinals where they severely tested one of the state best pitchers and best teams.
"It was a tremendous game; two great pitchers matching each other and going at it. They got a hit with a runner in scoring position and we didn't. That is what it boiled down to," said Fair Lawn head coach Jamie Graceffo, whose team is now 14-7 on the season and a threat in the North 1, Group 4 state sectional tournament. "I am proud of my guys, they battled hard, they played good defense and Ryan Rue pitched incredibly well."
Pascack Hills, the defending North 1, Group 2 state sectional champion, is now in rarified air. The Cowboys are the lone public school left in the county tournament as they join non-public behemoths Don Bosco Prep, the top seed, Bergen Catholic, the defending champion, and St. Joseph Regional, next weekend's opponent in the semifinals.
"There are no cupcakes left," said Kirkby. "We have Bosco on Monday in an independent game, [Northern] Highlands on Friday and then [St. Joe's] on Saturday. It's crunch time."
TO BUY A COLLECTOR'S PRINT OF THIS STORY PLEASE VISIT 4-FeetGrafix.com. FOR MORE PHOTOS FROM THIS GAME PLEASE CLICK HERE