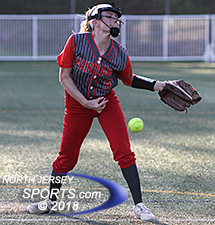 With the potential tying run at third and the potential go-ahead run at second, Emily Meerholz got the out Fair Lawn needed to secure a 6-5 win over West Orange and a spot in the North 1, Group 4 state sectional semifinals.
WEST ORANGE – It was a few hours before top-seeded Fair Lawn was supposed to host West Orange in the North 1, Group 4 state sectional quarterfinals when the word came down that both of the Cutters home fields were still unsuitable for use. A decision had to be made. Fair Lawn could push the game to Thursday and waste the chance to play on a day when it was 90 degrees and sunny or they could give up the home field advantage all together in favor of a game on an unfamiliar turf field at West Orange High School.
The team captains were called into the office of athletic director Cory Robinson.
"We got called down to the athletic director's office and our coach [Sue Benjamin] gave us the option. She asked us what we wanted to do. We could play on the turf here or we could play at home tomorrow," said Raina Alexander, a captain and one of Fair Lawn's six seniors. "We have just been pushed back so many times and we just thought that it was time to play no matter where the game was. We were pumped. We gave [West Orange] an advantage even though we are the No. 1 seed, but we came down here with confidence even though it was a little bit stressful."
The stress that started hours before the game carried right through its duration and only subsided on its final pitch. Fair Lawn fell behind by two runs in the top of the first inning and led by two heading into the seventh inning when West Orange loaded the bases with one out. It was not until Alyssa Gauthier gloved a spinning roller along the first base line and then stepped on the bag for the final out that the Cutters could take a deep breath after a 6-5 victory.
"There was a lot of stress. We didn't find out until 1:45 that our field was unplayable, we got here and we still didn't know if we were going to play on a turf or a dirt field, the bus driver hit traffic…it was just one thing after another. And then they loaded the bases in the seventh inning," said Benjamin. "It was a tremendous amount of pressure, more than a team that is a No. 1 seed in the state tournament should have to face, but we have faced adversity many times before and I was confident that my kids were going to pull through. They made me proud today once again."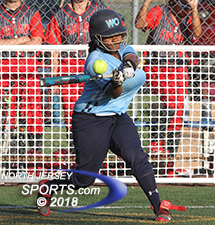 Krystal Johnson drove in three of West Orange's five runs.
Fair Lawn answered West Orange's first inning, two-run salvo with three runs of its own as the Cutters got a sacrifice fly from Bailey Hartman, an RBI single from Amanda Luandi (1-for-3, RBI) and a run-scoring double from Gauthier (1-for-3, RBI) to surge in front 3-2. Danielle Jurcevic's two-out single in the second scored Grace Patvliet to make it 4-2 and Fair Lawn starter Alyssa Schmidt settled in to work three straight scoreless innings in the second, third and fourth. Courtney Kopf tacked on an insurance run in the bottom of the fourth as the Cutters took advantage of two errors to take a 6-2 lead with nine outs left to get.
As it turns out, no higher seed was safe in the North 1, Group 4 bracket. Livingston, the No. 13 seed, upset No. 5 Randolph in a 2-0 shutout and No. 7 Ridgewood took care of second-seeded Morris Knolls, 5-1. West Orange, the No. 9 which won an 11-10 slugfest against No. 8 Passaic County Tech in the opening round, took its shot at pulling off another stunner starting in the top of the fifth inning when No. 9 hitter Isa Oden dropped a lead-off single into centerfield.
Oden wound up scoring when Andreyah reached base despite swinging at strike three and Krystal Jamison (1-for-3, 3 RBI) took advantage of the extra at bat gained with an RBI single that scored Nahtali Simpson (1-for-3, RBI, R) with the run that got the Mountaineers to within 6-4.
Fair Lawn had seven hits in the game, but all of them came in the first three innings. West Orange hurler Sophia Scholz, not the hardest throwing pitcher, moved the ball around and kept Fair Lawn off balance in the later stages of the game. Scholz retired 12 of the final 14 hitters she faced with the only two baserunners in that stretch reaching on errors. Fair Lawn went 1-2-3 in the fifth and sixth innings to leave West Orange in the game and it got real dicey in the top of the seventh against Emily Meerholz, who was pitching her second full inning of relief.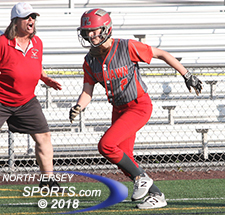 Raina Alexander had two hits, scored two runs and stole a base for Fair Lawn, which will host Livingston in the semifinals.
Erin Vermeal and Danielle Fastiggi (2-for-4, R) reached on consecutive singles to start the inning before Meerholz got the first out with a swinging strike three. Ageday loaded the bases with a single up the middle before the Cutters traded the one run they had to play with for an out as Alexander hauled in Johnson's sacrifice fly in centerfield that got the Mountaineers to with 6-5.
Two outs, two runners in scoring position and a trip to the sectional finals on the line: It was crunch time.
"I wasn't nervous at all. I think I do better in pressure situations and it helps to have that demeanor. The umpire had a tight strike zone, but I couldn't let that get to my head. I tried to stay calm, cool and collected," said Meerholz. "I didn't know I was going to pitch today, but I was hoping that I would. When I found out I was going in, I was psyched because I love getting on the mound and to be able to do it in a state tournament game was a great opportunity."
Meerholz's final pitch just clipped the end of the bat of West Orange's final hitter and the ball spun slowly up the first base line. Gauthier grabbed it for the final out, but there was little celebration on the way back to the Fair Lawn bench. The Cutters have six seniors on the roster, all of them are starters and all of them want to keep their high school careers going for as long as possible.
"Going into every game now it is always in that back of your head that, as a senior, this could be your last game," said Jurcevic, the Fair Lawn shortstop who finished 2-for-3 with an RBI and a run scored. "You can't let that thought get the best of you though. You just have to be excited to go out there and play for as long as you can."
The Class of 2018 has put Fair Lawn softball back on the map as they were integral in leading the Cutters into last season's Bergen County Tournament semifinal round and to the sectional final. This year Fair Lawn won a league title and is off to the North 1, Group 4 Final 4 where it looks like they will get a true home game against Livingston on Friday.
"We have been together forever. We have six seniors that all start and that usually never happens," said Alexander, who had two hits, scored twice and stole a base. "We have played together six we were in elementary school and started travel when we were 10 years old. We have this connection. We play well together, we are never mean to each other and there is just a great chemistry that we have. We perform well and we have at least one more game together and hopefully more."
TO BUY A COLLECTOR'S PRINT OF THIS STORY PLEASE VISIT 4-FeetGrafix.com. FOR MORE PHOTOS FROM THIS GAME PLEASE CLICK HERE