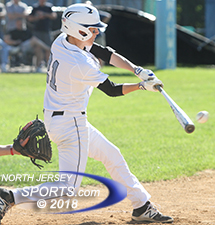 John Baldi making contact with his first inning, two-run double that got Mahwah going in a 6-4 win over Ramsey in the opening round of the North 1, Group 2 state sectional tournament.
MAHWAH – There are so many rules, so many variables in the game of baseball that no matter how many game are played there is always the chance that something unique is going to happen. In short, you never know what you are going to see when you show up at the park to watch a baseball game. Case in point: Monday's North 1, Group 2 state sectional tournament opener between third-seeded Mahwah, the home team, and league rival Ramsey, the No. 14 seed.
Here is the situation…bottom of the first inning, bases loaded, two outs and Mahwah's John Mikardos at the plate. Mikardos hits a ground ball back through the middle where Ramsey pitcher Frank Doyle gets a piece of the ball, redirecting it toward second baseman Brian Davidio, who is run into by the baserunner crossing from first to second while trying to field the ball. The call was immediate: Runner's interference for the third out, inning over and the game still scoreless.
About 15 minutes the later, the situation was entirely different. The call was originally made by the base umpire, who then conferred with the home plate umpire and the conference expanded to include Ramsey head coach Bill Chesney, who brought his rulebook with him. The discussion then shifted to the third base line where Mahwah head coach Jeff Remo had his own rulebook and finally a cellphone was fired up so that the umpiring tandem on the field could consult with an umpire in absentia to finally come to a decision.
When play resumed and after the umpires had reversed their original call, Mahwah had a lead, it had the bases still loaded and it had John Baldi at the plate. Baldi then smoked a two-run double that capped a three-run first inning as Mahwah led wire to wire in a 6-4 win in the third matchup of the season between the two league rivals. The season series ended in a sweep for the Thunderbirds, who will host No. 6 Glen Rock, an 11-5 first round winner over Kittatinny, on Thursday in the quarterfinals.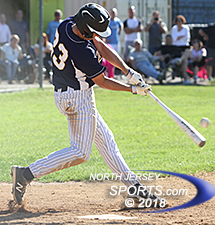 Joe Winterhalter's two-run double in the top of the fifth got Ramsey to within 6-4.
"In the first inning when all of that commotion was going on, the biggest part of it I think might have been that their pitcher [Frank Doyle] had to sit there for 15 minutes and that had to be tough on him," said Mahwah head coach Jeff Remo. "The call was what the call was and it gave us an opportunity that we took advantage of."
Mahwah starter Joe Cinnella was the beneficiary of the early run support and also some solid defense as he went through the first three innings without allowing in a run. His first pitch of the game was lifted to deep centerfield by Ramsey's Brooks Thompson and hauled in near the fence by Matt Walters and that was a recurring theme as the Thunderbirds played error free against a Rams' offense that consistently put the ball in play.
"I came in knowing a lot about what their hitters liked and what they didn't like because we have played them already. I knew what pitches I had to execute. Some of them were there and some of them weren't, but I am happy that we got the win," said the left-handed Cinnella (6 IP, 4 R, 2 ER, 6 H, 5 K, 4 BB). "My teammates gave me a lead to work with and I just tried to keep up in front."
Mahwah went up 4-0 in the bottom of the third when Cormac Henriques (1-for-1, RBI, 2 R, 2 HBPs) was hit by a pitch leading off, went to second on Max Kohler's sacrifice bunt, to third on a fielder's choice and scored on a wild pitch before Ramsey cut its deficit in half in the top of the fourth. Ben Bibergal (2-for-4, R) got it started with a single and a throwing error on the pitcher allowed Ben Sample to reach on his bunt attempt and also to take second base. Joe Creagan's sacrifice fly scored Bibergal and Mike Feehan's groundout scored Sample as Ramsey drew to with 4-2.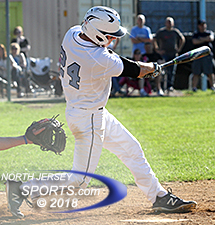 Cormac Henriques reached base in all three of his plate appearances and scored twice for Mahwah, which will host Glen Rock in the quarterfinals on Thursday.
Mike Cantow restored half of the ground lost in the bottom of the fourth when, as a pinch hitter leading off, he crushed a fastball well into the trees behind the left field fence and Henriques' two-out RBI single restored the T-Bird' four run cushion at 6-2.
"Could not have been a better day for me, 1-for-1 with a home run, or a better day for the team. We got the win and that is what we play baseball to do," said Cantow. "This is the third time we played Ramsey and this is the best that they have played us and you expect that in the state tournament. We are very determined to win, we got this one and we are ready to move on."
Ramsey made it interesting in the fifth with Joe Winterhalter's two-run double to left field that scored Thompson and Jack Radigan. Cinnella stranded Winterhalter in scoring position, worked around a one-out double by Feehan in the sixth and then turned the ball over to Kyle Teel, who pitched a scoreless seventh inning to close out the win. After a two-out walk with the bases empty and a single by Bibergal (2-for-4, R), Ramsey's sophomore shortstop who was the only player for either side to have a multi-hit game, Teel induced a 6-4 fielder's choice to end it.
"We knew we were in for a tough game and we talked to the kids in the locker room about just that. We said it was going to 110-times-two, 220 pitches and we had to be laser beam focused for every one of them," said Remo. "Every pitch of the ball game in a state tournament is important both offensively and defensively and we had to play it out right down to the end."
Mahwah improved to 18-7 on the season, while Ramsey's season came to an end with a 10-13 record.
"We battled and that was our trademark this year. We don't give up. We've gone through a 10-game losing streak, we have gone through a five-game winning streak, but we battle and we did today right to the end. I knew we would," said Ramsey head coach Bill Chesney, who will lose three senior starters to graduation but have a talented core group coming back. "You have to tip your cap to Mahwah. They played well enough to win today and we came up just a little bit short."
TO BUY A COLLECTOR'S PRINT OF THIS STORY PLEASE VISIT 4-FeetGrafix.com. FOR MORE PHOTOS FROM THIS GAME PLEASE CLICK HERE