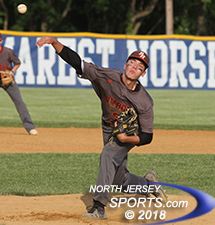 Brandon Siegenthaler pitched a scoreless seventh inning for Pascack Hills, which became the first public school to advance to the Bergen County final since 2013 with a 10-6 win over St. Joseph Regional.
DEMAREST – For most of the marathon game there was no need for a contingency plan in the Pascack Hills dugout. The second-seeded Cowboys were trying to become the first public school team to reach the Bergen County Tournament championship game since 2013 and were in fine shape of most of the day. They scored three times in the bottom of the first inning, five times in the second and they were ripping through the St. Joseph Regional pitching staff.
Pascack Hills knocked SJR's starting pitcher out of the game after just 2/3 of an inning, sent 19 hitters to the plate in the first two innings, had six hits and drew five walks over that span and took the field for the top of the third inning having given Ryan Ramsey an eight-run lead to work with. Ramsey, the junior left-hander who had given up just one earned run all season, struck out the side in both the first and second innings.
So why, then, in the top of the seventh inning, was Pascack Hills head coach Kevin Kirby pondering a radical coaching strategy that probably has not been used since Barry Bond's steroid-infused hey day? Because about three hours after the game began and six-and-two-thirds innings had been played in the first scorching heat of the season, St. Joe's was one baserunner away from bringing Justyn-Henry Malloy to the plate as the potential tying run.
There were two on with two out and had SJR catcher Raul Ortega gotten on base as he had in three of his previous four plate appearances, Malloy, the Vanderbilt University signee who had already homered twice in the game, would have come up with the bases loaded and his team trailing by four runs.
"If the bases were loaded [and Malloy was up] I would have intentionally walked him. Absolutely that was what I was going to do," said Kirkby. "If the guy behind him came up and hit a homer than it would have been a bad move on my part and we would have had to prepare for the states, but I would not have let that kid beat us again."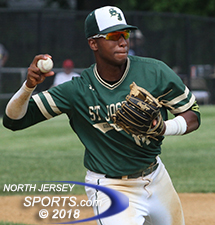 Justyn-Henry Malloy hit two home runs, including a grand slam, drove in all six SJR runs and was in the on deck circle when the final out was made.
As it turned out, the game never got that far. Brandon Siegenthaler, called on to close out the game to start the seventh inning, got a flyball to left field that Chris Lum gloved near the foul line for the final out of Pascack Hills' 10-6 victory on Saturday at Northern Valley/Demarest High School. The Cowboys will try to become the first public school to win a Bergen County championship since Pascack Valley did it in 2010 when it plays top-seeded Don Bosco Prep on Monday in the final in a 2:00 p.m. start also in Demarest.
Siegenthaler hit the first batter of the seventh inning before Anthony Panissidi hit a ground ball to shortstop Chris Curcio, who flipped to Julian Bulzomi at second base with Justice Welch bearing down. Bulzomi's return throw to first was offline, but it was ruled that Welch's slide was illegal, a double play was granted and the Green Knights had to start from scratch with two outs, no one on and No. 9 hitter Andrew McDermott at the plate.
McDermott beat out and infield single and Joshua Rodriguez squirted one through the middle of the diamond to bring up Ortega, a tough out and a tough kid, who battled through six innings behind the plate as St. Joseph used five different pitchers, none of whom that could find a consistent hold on the strike zone. Siegenthaler was in a tight spot, but stayed calm and won the battle.
"I knew [Malloy's] spot was coming up. They had 7-8-9 to start the inning and I was just trying to get outs. I was trying to go at guys," said Siegenthaler, the junior right-hander already committed to Villanova. "I hit a guy, they got a dinker up the middle…I did not have my best stuff today, but I just had to try to find a way to battle through and we got that last out."
It was a suspenseful finish to an otherwise weird game. Because the first semifinal between Don Bosco Prep and Bergen Catholic moved at a snail's pace and with no shade available, both Pascack Hills and St. Joe's players sat in the scorching sun for an extended period before the game even started. Because the first two innings took so long to play as Pascack Hills batted around in both frames, Ramsey, who hit a two-run homer in his first at bat in the opening inning, was left with long waits between trips to the mound to pitch.
Chris Curcio played error free at shortstop, threw an inning of relief and had three hits and two RBI for Pascack Hills, which will play Don Bosco Prep in the county final on Monday.
Whether it was those long layoffs between pitches, the heat, a combination of both or for none of those reasons, Ramsey was not at his sharpest. He had walked just seven hitters all season coming into the game, but issued five free passes in his four innings of work and left having thrown 85. The only runs Ramsey allowed came courtesy of Malloy's first home run, a two-run shot in the top of the third.
Pascack Hills had plenty of chances to put the game away. Yes, it did score eight runs in the first two innings, but also left the bases loaded in those two frames and also settled for just one run in the third when it also left the sacks full. The Cowboys stranded two more runners in the fourth to make it 11 runners left on through four innings against four different SJR pitchers struggled just to throw strikes. An RBI single by Curcio (3-for-3, 2 RBI) in the third and a one-out RBI double by Mike Rodriguez (2-for-4, 2 2B, 2 R, RBI) in the sixth gave the Cowboys their two insurance runs.

Pascack Hills is loaded with quality pitching, but, also still alive in the North 1, Group 2 state sectional tournament where it is the defending champion and top seeded heading into Tuesday's semifinal round against 13th-seeded Jefferson, Kirkby had a lot to juggle after Ramsey departed. The Cowboys will play three single elimination games in four days and every pitch thrown by a particular pitcher on Saturday with the game seemingly in hand will count.
SJR took advantage of the situation to close the gap with a four-run top of the sixth inning against two Pascack Hills relievers. The exact situation that Kirkby feared in the seventh inning but ultimately never had face, played itself out to completion in the sixth as Ortega walked with two outs to load the bases in front of Malloy (2-for-2, 2 HR, 2 R, 6 RBI, 2 BB), who crushed his second home run of the game, a majestic grand slam to left centerfield that cleared the bases and drew the Knights to within 10-6.
One inning later, the game ended with Malloy in the on deck circle.
"Oh, it would have been nice to send him up there. That call at the end [at second base] was a tough one for us. We were trying to get to [Malloy] again and if that call went our way he would have had another shot," said SJR head coach Mark Cieslak. "But that was not the game. Hills put the bat on the ball. They are very disciplined at the plate, they were not chasing pitches and they made us throw them strikes. No excuses. We were up against a good team and they just did it better than we did today."
It took three hours and 14 minutes to play, but when it was over Pascack Hills found itself as one of only two teams left in the county tournament. The last time the Cowboys won a county title was in 1987 when they became the only public school team in Bergen County history to win league, county and state titles in the same season. The head coach then was Mike O'Brien and he was in the first base coach's box on Saturday.
The current head coach, Kirkby, has a whole lot of decisions to make in terms of pitching set up as the Cowboys charge ahead in two tournaments.
"We have [Jack] Brodsky that can throw, Siegenthaler can throw and [Paul] Sullivan can throw," said Kirkby. "We will figure it all out and maybe it will be a combo of all of them."
TO BUY A COLLECTOR'S PRINT OF THIS STORY PLEASE VISIT 4-FeetGrafix.com. FOR MORE PHOTOS FROM THIS GAME PLEASE CLICK HERE