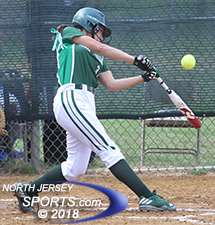 Jade Rodriguez scored twice in the first inning and four times in the game for Passaic Valley, which beat Westwood, 15-3, at the Susan G. Komen Foundation Tournament on Demarest on Saturday.
DEMAREST – It has been a while since Passaic Valley softball has been considered a contender for both a Passaic County Tournament title and as a real player in state sectional tournament. This season, however, the Hornets are both of those and certainly do look the part. Winning brings that certain swagger to a team and it travels well. Passaic Valley brought its new-found confidence to Northern Valley/Demarest High School for the 8th Annual Susan G. Komen Foundation Tournament to benefit breast cancer research on Saturday morning and quickly took control.
Passaic Valley wrapped out seven hits, drew three walks, scored 10 times and sent 13 hitters to the plate in the top of the first inning on the way to a 15-3 victory over Westwood. The Hornets are now 10-3 on the season and are in understandably good spirits.
"That was a good way to spend a Saturday morning. That was fun and it was for a good cause," said Passaic Valley head coach Kathy Hill. "We hit to our potential today. That is the ability we have and we were able to display it today. It was nice to string so many [hits] together and attack the ball."
Taylor Hill, Passaic Valley's shortstop and the coach's daughter, was the first hitter of the game, she draw a walk and it was 'Game on' from there for the Hornets' offense, which took advantage of a couple of Westwood errors to get the carousel turning on the basepaths. Rachel Sol, the Hornets' clean-up hitter, came up with the bases loaded and singled in the game's first run before its first out was recorded. Devyn DiPasquale and Shana Donnelly followed with back-to-back, two-run doubles and Danielle Gaita added an RBI single to make it 6-0 as the first seven Hornet hitters all reached safely.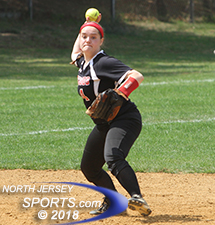 Samantha Liggio drove in a run for Westwood, which fell back to .500 at 7-7 on the season.
"This team has really good bats. We work hard in practice and when we come to the field for the game is when we get to show what we have been working on," said Sol, who had two hits and 3 RBI in the first inning alone. "One girl gets a hit and we try to keep rolling with it and keep the momentum going. We did that in the first inning today."
Passaic Valley tacked on three more runs in the third inning before Westwood was able to respond offensively. The Cardinals, to their credit, continued to battle against PV starter Alyssa Bernardo and finally broke through when given an opportunity via a couple of errors that extended the bottom of the third that was highlighted by Carlye Danziger, who ripped a triple deep into the right field corner.
"Maybe we don't execute as well as we would like all of the time, but our competitiveness the last two, two-and-a-half weeks with whoever the opponent is has been exceptional. Today was a challenge, no doubt, and you have to give credit to Passaic Valley. This is a strong club that they have over there," said Westwood head coach Dan Rattacasa, whose team fell to 7-7 on the season. "We will hang in. We will keep moving forward and learning lessons along the way. We are battling and we have been hovering around that .500 mark all season, but we want to make that [Bergen] County Tournament and we want to fight for a competitive seed in the states."
It was a challenge for Westwood because not only is Passaic Valley talented, but it is in fine form at the moment as evidenced by the way the bottom of the fourth inning ended. While common place on a baseball diamond, the shortened distance of the baselines on a softball field make it hard to turn a double play through the middle infield. But the Hornets did just that, a pretty 6-4-3 that started with Taylor Hill tracking down a grounder, glove-flipping the ball to DiPasquale, the second baseman who spun it quick for a twin-killing that got the Hornets back in to hit.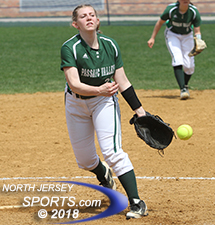 Alyssa Bernardo picked up the win for Passaic Valley, which is now 10-3 on the season.
All of that made it easy on Bernardo, PV's right-handed starter who went the first four innings of the five-inning game to pick up the win.
"I had the big lead to work with so I just wanted to move the ball around and get them to hit it in the air," said Bernardo, a senior right-hander. "Of all of my four years here, I can honestly say that this is the best one. We have a good team, we have a lot of young players that are contributing and we are so close with each other. We have never really had that before and we are always there to pick each other up. It has been great so far."
While Saturday was not all that great for Westwood in terms of results in the field, it was another chance for Rattacasa to drive home the message that a softball season is not just about one high school game and that representing a community is about more than just putting on a uniform.
Giving maximum effort regardless of the result while playing in a tournament founded to aid in the fight against breast cancer is far more important than a win or a loss.
"We were not going to let that first inning ruin our day. We always talk about big picture. Obviously did not want the girls thinking about cancer when they were out there playing a game, but in the grand scheme of things, the cause we were playing for kinds of puts things in perspective," said Rattacasa. "Put it this way, we just took a picture in front of the tournament sign after a loss, after we got beat up a little bit. Today was bigger than the game itself and we learned a lot from this experience."
TO BUY A COLLECTOR'S PRINT OF THIS STORY PLEASE VISIT 4-FeetGrafix.com. FOR MORE PHOTOS FROM THIS GAME PLEASE CLICK HERE