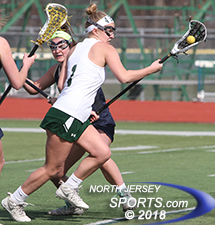 Erinn Romaine and the Ramapo defense held rival Indian Hills scoreless over the final 15 minutes to secure a 7-5 win on Saturday afternoon in Franklin Lakes.
FRANKLIN LAKES – The players were obviously excited for a girls lacrosse rivalry game between sister schools. For the coaches of one of the teams involved, all of that welcome energy comes with some caution signs.
"Our kids buy into the rivalry so much that sometimes we worry more about who we are playing than how we play," said Ramapo head coach Samantha Fontanella.
Fontanella's assistant coach Liz Drehwing, a former Ramapo player herself, explains further.
"It's been a rivalry forever; it's two schools in the same district and it is the girls' favorite game of the year to play. From the first day of the preseason they are looking forward to playing Indian Hills," said Ramapo assistant coach Liz Drehwing, a former Green Raider herself who played in the rivalry. "Both teams come pumped up and ready to play and sometimes it can get a little bit heated."
It was heated at times, low-scoring throughout and never more than two goals separated the teams through the full 50 minutes. Ramapo senior Abby Buczek broke the game's final tie with 13:44 to play in the second half and the Green Raiders held Indian Hills scoreless  over the final 15-plus minutes in an entertaining 7-5 victory for the home team in Franklin Lakes on Saturday afternoon.
"It was a real challenge. We came out trying to win and they came out trying to win and it is always competitive between us," said Ramapo senior defender Erinn Romaine. "This is a game we love to play and I thought we played well and so did Indian Hills, and that is why it was so much fun."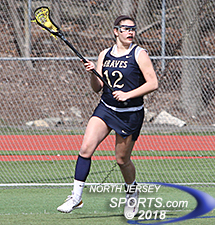 Alison Bremer's goal with 18:38 left in the game gave Indian Hills its lone lead of the second half.
Ramapo held a 3-1 lead at the half, but Indian Hills owned the first seven minutes after the break and surged in front. Senior Alison Bremer circled around the net and bounced home a goal from in front to start the Braves' surge and Devin Thompson tucked the ball inside the right post while Indian Hills had a man-advantage to tie the game at 3 with 20:24 left in the game. Indian Hills scored its third straight goal and took its lone lead of the second half less than two minutes later when Bremer backed down a defender in the crease and scored to make it 4-3 Braves.
There was no tactical adjustment or any tricky strategy that turned the game back in Ramapo's favor. It was just a matter of effort.
"I think we really did out-hustle them. We got to most of the ground balls and we forced a lot of turnovers, too," said Buczek, a midfielder. "As a team defensively we did really well today and that was what we needed to do to win this game. We held them to five goals and they are a really good team."
Sophomore Natalie Park scored with 17:46 left to get Ramapo back even and Susan Hartgers, another sophomore, converted from the doorstep a minute-and-a-half later to put the Raiders back in front, 5-4. Indian Hills was able to tie it up one more time with a Thompson goal with 15:13 to go, but Ramapo's defense held steady the rest of the way and kept the Braves off the board.
Buczek's game-winning goal came from a free position and sophomore Kaitlin Pini added some insurance with by scoring to make it 7-5. Neither team scored over the final 7:19 and Ramapo closed out the game with a ball-hogging final possession that ate up the final two minutes of the clock.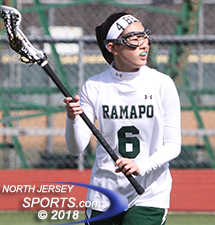 Sophomore Natalie Park scored a team-high three goals for Ramapo, which got back to .500 on the season at 2-2.
"Our whole defense played amazing today. Kaitlyn Skamas, Jamie Graff, Sam Steiner and Erin Romaine were great today. Skamas was face-guarding Devin Thompson and chased her all over the place and Jordan [Felixbrod] had a great game in goal," said Fontanella. "This team plays as a team. We are not centered around one player out there and we play well off each other, which gives everybody a chance to contribute with assists and goals."
While Ramapo's defense limited Indian Hills to just two goal scorers -- Thompson (3) and Bremer (2) – the Raiders were diverse in the offensive half. Park (3 goals) was the only Raider to hit the next more than once while Pani, Hartgers, Caitlin Wolfe and Buczek each scored once. Buczek also added two assists while Wolfe and Emily Sheppard each tallied one for Ramapo.
With the graduation of Danielle Van Calcar, the program's all-time leading scorer now playing at Colgate University, the Raiders know that they cannot make up for the lost goals by just feeding the same player all the time.
"I think that we all realize that we all have to step up and not try to play as individuals. We have to stay humble and play together. That is very important if we want to be successful," said Graff, one of the 12 seniors on the Ramapo roster. "I think this team is very selfless and we are good sharers of the ball."
Indian Hills fell to 3-2 on the season, while Ramapo got back even at 2-2 with both of the Raiders' wins coming in rivalry games. Ramapo opened the season with a 9-8 win over Sparta, the team that knocked the Raiders out of the state playoffs in the sectional final last year.
"This was a good win for us and we hope it can be a momentum builder," said Fontanella. "We have three big games coming up against Northern Highlands, IHA and Westfield. This should give us some confidence going into week with three games against very good opponents."
TO BUY A COLLECTOR'S PRINT OF THIS STORY PLEASE VISIT 4-FeetGrafix.com. FOR MORE PHOTOS FROM THIS GAME PLEASE CLICK HERE