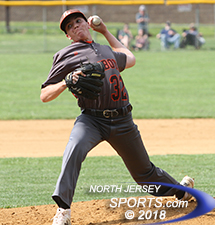 Ryan Ramsey threw a 1-hit shutout and struck out 11 in Pascack Hills' 5-0 win over River Dell in the North 1, Group 2 state sectional final on Friday in Montvale.
MONTVALE – A sectional champion last year with a bevy of big time arms and experience up and down the lineup returning, Pascack Hills has been the leader of the pack since Day 1 of the 2018 baseball season. Now two months in, the Cowboys have been poked and prodded by every manner of opponent and every time and by every measure the results have been just about universally the same. In-league public schools, well-stocked and well-recruited non-public schools and independently scheduled out-of-towners have all tried to find a weakness to exploit.
There are none.
Pascack Hills can play long ball, it can play small ball. It can play defense, it gets production from the top of its lineup to the bottom of its lineup. The Cowboys are well-coached, well-supported and, well, they can really friggin' pitch.
Ryan Ramsey, the junior lefthander that was this year's Most Outstanding Pitcher in the Bergen County Tournament, added another bold faced line to his resume in Friday's North 1, Group 2 state sectional final. Ramsey allowed just three base runners and threw a one-hit shutout in another sparkling performance that took just under 100 pitches to complete. He retired the final 12 River Dell hitters he faced, including three straight by swinging strikeout, in the seventh and final inning of a 5-0 victory that gave Pascack Hills (28-2) its 16th straight win and its second straight state sectional championship.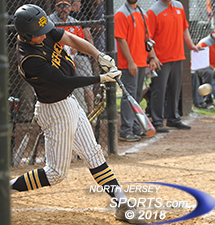 Nick Covo had the lone hit for River Dell, a leadoff double on this swing in the top of the fourth inning.
"We are just really feeling confident. These past couple of weeks it has all really come together and we came into this game feeling good," said Ramsey. "River Dell has a tough lineup and there is no way to pitch around them if a lot of guys get on base, so I had to bear down and stay out in front so they could not build an inning."
There was no easing into it for Ramsey (7 IP, 0 R, 0 ER, 1 H, 11 K, 2 BB), who hit 90 miles-per-hour with three of the 18 pitches he threw in the first inning and was right there or better as he closed it out in style in the seventh.
"That is the best in the state they had on the mound. That kid [Ramsey] is remarkable," said River Dell head coach Brandon Flanagan. "It's funny because he almost kind of lets you hit it at some points. He takes a little off to get a ground ball, but when he reaches back he has something extra special like in the last inning. He was really gassing it in the seventh inning. He was really impressive."
A pair of lead-off doubles and what each team was able to do with theirs looked like it was going to be the deciding factor as Ramsey and River Dell senior Aidan Tucker were engaged in a pitch-for-pitch battle on a humid afternoon in Montvale. Marc Hernandez gave Pascack Hills the first shot at showing how it could move a runner in from scoring position when he cracked a double to open the bottom of the third, the first hit that Tucker allowed and one of only three he surrendered through the first five innings.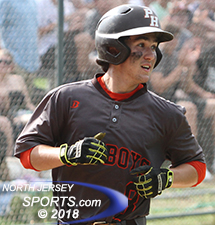 Marc Hernandez scored the first run and drove in the last two for Pascack Hills, which will play Madison in the Group 2 semifinals on Tuesday in Lyndhurst.
Jack Brodsky bunted Hernandez, the rare catcher who runs for himself, up a base with a sacrifice bunt and Julian Bulzomi smacked an outside pitch through the drawn-in infield and into right field for the RBI single that gave the Cowboys the 1-0 lead.
River Dell got its turn in the top of the fourth when Nick Covo produced the Golden Hawks' lone hit of the game, a ringing double to straight away centerfield. Kyle Bollinger took over to run at second base and got to third when David Estevez hit behind the courtesy runner, but a pop-up and a strikeout got Ramsey out of his only jam with no damage done.
And then the bottom of the sixth inning rolled around and Pascack Hills went for the jugular. Mike Rodriguez's infield single started it, Ramsey drew a one-out walk and then Chris Curcio hit one deep into the shortstop hole. Estevez gloved it, but had nowhere to go for an out as the Cowboys loaded the bases against a tiring Tucker, who was making his first start in more than two weeks. Then back-to-back doubles by Chris Lum and Hernandez drove in two runs each to break the game open at 5-0.
"Getting that double in the third inning and then getting brought in by Julian [Bulzomi] got us in the lead and kind of put them off balance. Then getting the double and two RBIs in the sixth inning felt pretty good, but I like to talk about the name on the front of my jersey. I play for the team and it was a good day for our team today," said Hernandez (2-for-3, 2 RBI, R, SB), who reached safely in all three of his plate appearances and scored one for catchers everywhere with his fifth inning stolen base. "It is really hard to think about all that we have done so far because we are just really staying focused game by game. I think in the end we get to enjoy it more, but we have another game to get ready for now."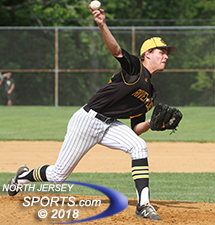 Aidan Tucker turned in a gritty effort for River Dell, which finished the season with a 19-11 record.
River Dell has played its last game of the 2018 season, but made some good playoff memories of its own. The Hawks came in as the No. 7 seed, won a home game and then went on the road to win two more. They battled a Pascack Hills team that is in the midst of a historic run for the better part of five innings, finished 19-11 and having won 12 of their final 16 games.
"This was a great run. We were 7-7 a month ago. We made a couple of switches, worked a couple of things out and made a run. Did we expect to be here? Maybe not, but we expect to compete every game and I thought we did that today," said Flanagan. "We have played these [Pascack Hills] guys enough to know what they are and that is a collection of talent of there. They do things the right way and, for us, that is where we want to be. We will keep battling."
Pascack Hills continues its quest to become the first Bergen County public school team to win league, county and outright state titles in the same year since the program did turned that trick in 1987. The Cowboys will play North 2 champion Madison on Tuesday in the Group 3 state semifinals in Lyndhurst.
"We just keep finding different ways to win. Seems like every day it is a different guy in the lineup. Today Marc Hernandez had two doubles, Chris Lum had a two-run double, Julian Bulzomi had a big hit and that is great to see. The defense has been solid and the pitching is what has carried us, but to win games you have to find ways to score and we have been scoring recently," said Pascack Hills head coach Kevin Kirby, who did not save the local media a spot in the upper parking lot nor open the gate as he promised on the air on Talkin' Baseball right here on northjerseysports.com. "Two dog piles in a week and nobody got hurt in this one. That is good and maybe we will have another one next week, but Madison is going to be tough. They are on a roll themselves. If they just beat [Rutherford's] John Kelly, who is going to Oklahoma State, they have to be able to hit a little bit and hopefully [scheduled starter Jack] Brodsky will be up for the challenge."
TO BUY A COLLECTOR'S PRINT OF THIS STORY PLEASE VISIT 4-FeetGrafix.com. FOR MORE PHOTOS FROM THIS GAME PLEASE CLICK HERE