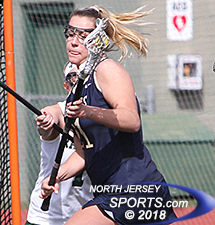 Devin Thompson scored with 6:18 left in the game to give Indian Hills a two-goal cushion and an eventual 13-11 win over rival Ramapo in the quarterfinals of the Bergen County Tournament.
FRANKLIN LAKES – Ann Wray has been through just about everything in her high school lacrosse career at Indian Hills. She played in the attack as a freshman, missed most of her sophomore season with a torn ACL, played defense as a junior and now, playing with a torn meniscus as a senior, she has switched roles yet again and this one a little harder to define. Even her teammate, Devin Thompson, really does not know what position Wray plays or whether she even plays a particular position at all.
"What even are you?" Thompson asked Wray in a postgame interview before answering her own question. "She is some kind of weird midfielder. She is all over the field."
Wray, a physical player that never shies away from contact or a groundball, was all over the field on Monday in Franklin Lakes, scoring a game-high and career high six goals as sixth-seeded Indian Hills pulled off a 13-11 upset of No. 3 Ramapo in the quarterfinals of the Bergen County Tournament.
Wray has had one heckuva senior year on Ramapo's home field. She was the goalkeeper when the Braves beat favored Ramapo in a penalty kick shootout in the North 1, Group 3 state sectional soccer tournament and now her six goals have led the lacrosse team into the Bergen County Tournament semifinals for the first time in five years. It was also a nice bounce back from a regular season loss that the Braves suffered back on April 7.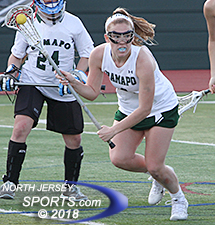 Senior Abby Buczek scored a goal and had three assists for Ramapo.
"It's always a good game against Ramapo. They have so many talented athletes no matter what sport it is. It is always fun to come out and play hard," said Wray, who will play lacrosse at University of Mount Olive (NC) next year. "Last game [against Ramapo] we didn't work as hard as we should have. We came into this game knowing that we had to work hard on every ground ball, every turnover and we just had to try to get the ball to the offense so we could get some goals."
It was back-and-forth early on with Ramapo edging in front at 1-0, 2-1 and 3-2. Indian Hills was the first to score two straight goals and Wray bounced one in with 12:03 left in the first half to give the Braves the lead for the first time at 4-3. They never gave it back. Indian Hills led 8-6 at the half and scored three of the first four goals of the second half to go up 11-7 with 16:30 to play. Allison Bremer's ability to win draws and the ability of Jenna Murphy (10 draw controls) and Devin Thompson (5 draw controls) to corral them gave Indian Hills the overall advantage on restarts.
"Control the draw, you control the game. That is it. They controlled the draws, they did a great job and they capitalized off of it," said Ramapo head coach Samantha Fontanella. "What we do know is work on what we get better at, wait for the state tournament and maybe we will see them."
Desperation set in for Ramapo (4-7) inside the final 15 minutes and the Green Raiders scrambled to get back in the game. Susan Hartgers started a three-goal run for the Raiders and Erinn Romaine scored from inside a traffic jam in front of the net to draw Ramapo back to within a single goal, 11-10, with 6:30 to play in the game.
Katherine Kerin scored three goals for Indian Hills, which will play IHA in the semifinals on Thursday.
It was crunch time and Indian Hills got back to basics. Bremmer won the draw, Thompson controlled the loose ball and then sprinted in and scored to make it 12-10 just 12 seconds after Ramapo had made it a one-goal game.
"That just really hyped me up. I really wanted to win. When there was that one-goal separation I just knew I had to take it and get that quick goal," said Thompson, a junior who transferred back to her hometown school from IHA last year. "I got it off the draw and I was right by the 8. My defender went out, I saw the open space and I just ripped it. It hit the post and went in. That was nice."
Wray put the icing on the cake for Indian Hills (11-4) by scoring the final goal of the game with 5:45 to go and the Braves are off to the semifinals. Katherine Kerin scored three times to back up Wray's break-out game and Thompson finished with two goals and an assist.
"We did not get outworked. We have lost too many close games this year; all of our losses were by one or two goals. We knew what was on the line and a lot of times you don't get a chance to play a team that you lost to in the beginning of the year," said Indian Hills head coach Mike Carti, whose team will play No. 2 IHA in the semifinals on Thursday. "The girls wanted it and we are at a point where we are playing really good lacrosse, the best that we have been playing in a couple of years. We talked about it in the beginning of the season about how we thought we were one of the top teams in the county and we just wanted the chance to prove it."
Hartgers, Emily Sheppard and Caitlin Wolfe all scored twice for Ramapo Jordana Felixbrod had a steady game between the pipes as she finished with 17 saves for the Raiders.
TO BUY A COLLECTOR'S PRINT OF THIS STORY PLEASE VISIT 4-FeetGrafix.com. FOR MORE PHOTOS FROM THIS GAME PLEASE CLICK HERE