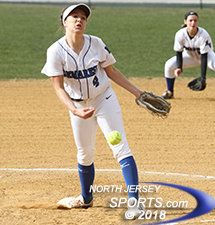 Senior Makenzie McGrath struck out 9 as NV/Demarest bounced back from a loss to Teaneck with a 7-3 win over rival Old Tappan on Wednesday.
DEMAREST – It has been less than two weeks since the first pitch of the softball season was thrown and the weather certainly has not cooperated, but the staggered start certainly does not diminish the fact that any league game, not matter how early it takes place or under what conditions, is of the utmost importance. There was certainly plenty at stake in the National Division of the Big North Conference when Northern Valley/Demarest hosted Northern Valley/Old Tappan on Wednesday afternoon.
Demarest was coming off a loss to Teaneck on Tuesday and Old Tappan had swept its first three games of the year, all against league opponents. Another loss would have put the Norsemen two games back in the loss column already with a limited number of opportunities to make up ground.
"We had to win this game, no doubt about it. It is always big when we play Old Tappan, but even more so because they were off to a 3-0 start. Winning a league title is high on our priority list and when we lost to Teaneck yesterday it dropped us to 2-1 in the league," said Jerry Hill, who has stepped in as Demarest's head coach this season. "If we want a shot to win the division, we could not fall behind Old Tappan by two games already. They would be a hard team to catch."
Old Tappan came averaging nearly 11 runs per game in its three-game winning streak to start the season and touched Demarest starter Makenzie McGrath for a run in the opening inning, but a four-run second inning turned the tide in Demarest's favor. McGrath settled in and the Norsewomen got the win they needed, 7-3, to improve to 4-2 on the season.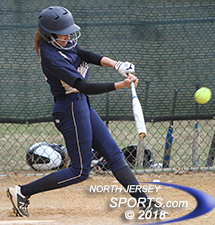 Junior Rebecca Clyde went 2-for-4 with 2 RBI, a run scored and a stolen base for Old Tappan.
"Yesterday against Teaneck was a really bad game for all of us. It was disappointing, but we talked about it and used it to bounce back stronger for today. Losing yesterday kind of helped us because we realized that we have to be focused on every pitch," said McGrath, a senior who will pitch at Fordham University next season. "In the game of softball, any team can win on any day. You have to fight for every win and I think we all got that message and came out ready to go."
Old Tappan took the lead just three batters into the game when Rebecca Clyde singled leading off the game, stole second and scored when Sinead Albelli smacked a single threw the right side. McGrath stranded Albelli in scoring position in the first and then struck out the side in the second before the Demarest put together an unconventional rally in its second turn at bat.
Meadow Garcia started it with a leadoff double and Samantha O'Donnell bunted her up a base. Keeping Garcia anchored at third consumed all of Old Tappan's attention against the two batters – Madison Tredo and Emily Taylor -- as they both reached on fielder's choices when defenders declined to throw to a base with Garcia dancing down the line. With the bases loaded, Abigail Herkert hit a grounder to third and this time Garcia was forced to move and she beat the play at the plate to tie the game.
That let little wiggle room for Old Tappan starter Clara Francis, who had no choice but to pitch to senior Ellen Hamlin, a returning All-County player who smoked a two-run double to left centerfield. Liz Reverend added a two-out infield single to drive in a run to give Demarest a 4-1 lead.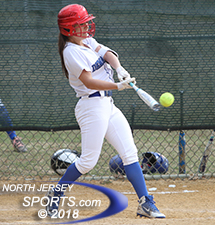 Meadow Garcia doubled and scored a run during Demarest's four-run second inning.
Francis, a junior right-hander who has taken over in the circle for Julie Rodriguez, the All-Stater now playing at UCLA, has been solid in the early season. She was the winning pitcher in all three of the Knights' wins to date and, after that second inning rally in that was not all of her own making, Francis (4 IP, 4 R, 1 ER, 5 H, 3 K, 0 BB) retired seven of the final eight hitters that she face before giving way to sophomore Abigail Kahn, who worked around a two-out walk to pitch a scoreless fifth.
Meanwhile, McGrath (7 IP, 3 R, 3 ER, 6 H, 9 K, 3 BB) was on cruise control. She retired 15 of the 18 hitters she faced in the second through sixth innings with Carolyn Goodman the only Old Tappan hitter to really figure her out. Goodman, OT's junior rightfielder and No. 9 hitter, double to lead off the third and singled with two outs in the fifth, but was stranded in place both times. Lindsey Germano, who beat out an infield single in the top of the sixth, was the only other Knight to reach base over that extended stretch.
It looked like Demarest was going to coast home after a three-run bottom of the sixth with Hamlin (3-for-4, 4 RBI, R, SB), who picked up her 100th career hit last week, singling in two runs and McGrath (2-for-4, RBI) knocking in another run to make it 7-1, but Old Tappan made it interesting in its last licks when its four of its first five hitters reached base safely.
Calista Zahos got it started with a single, Kristen Brown pinch hit and drew a walk and, after a fielder's choice, Goodman (2-for-2, BB) drew a walk to load the bases with one out. Clyde (2-for-4, 2 RBI, R, SB) drove in two runs with a well-struck double and Old Tappan was two hitters away from bringing the tying run to the plate with one out, but McGrath got a pop-up and a ground ball in Tredo's direction at second base and she made both plays to close out Demarest's fourth win of the season.
"It feels so good because today I think we finally came together as a team. We lost yesterday and that lit a fire under us and made us want to go out there and win. It made us hungry and I think that is what we really needed," said Tredo. "I think this win and this feeling is really going to get us going for the rest of the season."
Old Tappan (3-1) had been in high gear since the season began and the loss only amplifies what the Knights already knew; that the race for a league title is going to be a tight one with Demarest and upstart Teaneck in the mix.
"Demarest executed. Hats off to them. They ran the bases well and they got a timely hit or two in some key spots and we stranded a few too many runners when we had some chances to put a couple more runs on the board," said Old Tappan head coach Melissa Landeck. "We are not going to let this one game define us and it is time to move on. There is a lot of season left to play and the best we can get out of this game now is to learn from it and hope it helps us get better moving forward."
TO BUY A COLLECTOR'S PRINT OF THIS STORY PLEASE VISIT 4-FeetGrafix.com. FOR MORE PHOTOS FROM THIS GAME PLEASE CLICK HERE