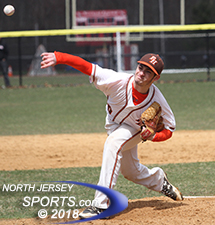 Jack Brodsky allowed just one hit and struck out 10 as Pascack Hills finally got its season started with a 9-1 win in the first game of a double header at Westwood.
WASHINGTON TWP. -- Returning all but three starters from last year's team that won a state sectional championship and with a loaded pitching staff in place, Pascack Hills could not wait for this season to start so that it could resume its hunt for a state championship. Having an extra three days to build adrenaline in what surely has to be the worst ever 'Spring' in the history of North Jersey weather, only made the Cowboys more amped up to finally take the field.
"I have been on varsity for three years and I pitched Opening Day last year, so you learn to be patient. That is part of baseball because you can't do anything about the weather, but it was no fun waiting," said Pascack Hills senior right hander Jack Brodsky. "After all of the delays this is all I have been thinking about. This is all I wanted to do was to come out here and pitch against Westwood."
It was cold and it was windy, but Brodsky brought the heat as he threw five dominant innings of one-one, one-run ball in the first game of a doubleheader and the first game of the Cowboys' season, a 9-1 win over Westwood. Pascack Hills also won the back-half, 9-1, to improve to 2-0 on the day and on the season although the NorthJerseySports.com crew was long gone by then.
Brodsky's effort was no surprise. His fastball had life, he was dropping in his off-speed stuff for both called and swinging strikes and he retired the first 10 hitters he faced, six of them via the strikeout. And he is just the tip of the spear in a pitching staff packed with talent.
"Brodsky is going to Emory [University], Ryan Ramsey is going to [the University of] Maryland, [Brandon] Siegenthaler is going to Villanova, [Paul] Sullivan is going to Iona and [Chris] Lum, the kid who finished up for us today, is going to Montclair State," said Pascack Hills head coach Kevin Kirkby. "That's five and we have two juniors, Chris Curcio and Mike Rodriguez, who are both probably going to pitch in college, but we just don't know where yet. We also have a kid on the JV level, Jason Schulman, a sophomore, who is probably going to pitch in college somewhere, too, we just don't have enough innings up here for him right now."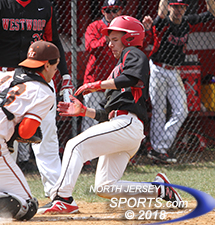 JJ Beites had both of Westwood's hits and scored its lone run.
With that being said, if Pascack Hills can get anything in the way of consistent offensive production then the Cowboys could be in for a special season. So far, they are averaging nine runs per game after the double-header sweep and they got to work in the bottom of the first inning in the opener.
After Westwood starter Joe Lagomarsino got an out against the first hitter he faced, Pascack Hills loaded the bases on a hit-by-pitch, a walk and an infield single legged out by Siegenthaler. The next man up, Rodriguez, then roped a two-run single that put the Cowboys up 2-0 six batters into the game. A wild pitch on ball four taken by Marc Hernandez allowed the carousel to turn on the base paths with both Siegenthaler and Rodriguez scoring to make it 4-0.
Rodriguez and Hernandez also added back-to-back run-scoring singles in the bottom of the third inning to put Pascack Hills up 6-0.
"We just have to keep swinging like we did today. We know we are going to get good pitching every day, so if keep the offense going like this we are going to be in a position to win a lot of games. We have a deep lineup and I don't feel like there is any part of it that can't get up there and get something going," said Rodriguez, who played third base and made the defensive play of the game, a dive to the line and a strong throw across the diamond for the first out of the seventh inning. "The last game of last season (a loss to Whippany Park in the Group 2 semifinals) hurt a lot and we just couldn't wait to get out here and get going again."
Westwood (1-2), which opened its season with a 3-0 win over Lodi on Saturday, got both of its hits from No. 2 hitter JJ Beites, who got the only one allowed by Brodsky with one out in the fourth. Michael Ryan then drew the Cardinals' only walk of the game and when Beites took off for third on a steal attempt, the ball got thrown around and he came around to score Westwood's lone run.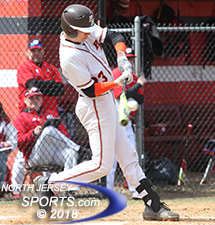 Pascack Hills' Brandon Siegenthaler had two hits, an RBI and scored twice and also threw one inning of scoreless relief.
Brodsky (5 IP, 1 R, 0 ER, H, 10 K, BB) settled back in quickly as he retired the final five hitters he faced, four of them by strikeout. Siegenthaler (1 IP, 0 R, 0 ER, H, K) pitched a clean sixth inning and Lum, a side-winding right hander whose ball moves like a Frisbee, worked a 1-2-3 seventh with two strikeouts to close out the game.
"We got off to a rough start today, a couple of freebies, and it was going to be an uphill battle to start with anyway. We were down 4-0 after one inning and that was not a great place to be against a team like Pascack Hills," said Nick Urbanovich, who is in his first season as Westwood's head coach. "We played a pretty good preseason schedule, we saw some good arms and we tried to get ready, but I was impressed with their kid [Brodsky] today. He was able to throw a variety of pitches for strikes and he had good velocity on his fastball. For us, we needed to compete better in the batter's box and we will, but I am enjoying this. We have a great group of kids, we have great athletes here in Westwood and we were trying to turn those athletes into baseball players during baseball season. We will keep working at it."
With the weather report iffy at best for the next couple of days, Pascack Hills put two wins in its pocket when it had the chance and might have a longer-than-wanted layoff to enjoy them.
"It was good to finally be outside and playing a game. I am tired of throwing batting practice in the cage. It was a good effort and Brodsky threw the ball well for five innings. Siegenthaler gave us a good inning and watching Lum throw the seventh was fun. With that delivery, he is a different kind of weapon that we can use," said Kirkby. "This was a good way to get started and I am excited for the season. No more rain."
TO BUY A COLLECTOR'S PRINT OF THIS STORY PLEASE VISIT 4-FeetGrafix.com. FOR MORE PHOTOS FROM THIS GAME PLEASE CLICK HERE