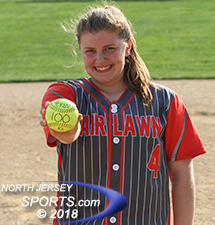 Fair Lawn senior Alyssa Schmidt passed 100 strikeouts for the season during the Cutters' 15-1 win over Emerson on Thursday afternoon.
EMERSON – As the lone Bergen County school playing in a Passaic County league with few common opponents to compare to the rest of field, Fair Lawn is somewhat of a mystery come county tournament seededing time.. Last year the Cutters were the No. 7 seed when they rode a 19-game winning streak to swoop all the way into the Bergen County Tournament semifinals, a magical run that included an upset of Immaculate Heart in the quarterfinal round. This year they are the No. 8 seed and, two days before the tournament is set to begin, Fair Lawn is starting to swoop again.
This week the Cutters played four games and won all four. With a win over Wayne Hills on Wednesday they locked up a solo share of a league title in a division that includes West Milford and Passaic Valley, the top two seeds in the Passaic County Tournament. After a 1-2 start to the season, Fair Lawn has now won 13 of its last 14 games and eight in a row after Thursday's impressive 15-1, five-inning win at Emerson.
"What happened was we started out a little bit shaky because we did not have our defense straight. We struggled in the beginning, we changed positions around and we were not quite set. It took us a week or so at the beginning of the season to get that straightened out," said Fair Lawn head coach Sue Benjamin. "Once we did, we seemed to start playing a little bit better."
The last sentence of that quote has to be in contention for understatement of the year as Fair Lawn has put it all together in a big way over the last month. Their two early losses were to Mahwah and Passaic Valley, two solid programs, and one in the midseason to Midland Park. Other than that, the Cutters have been piling up one quality win after another while excelling in all three phases of the game.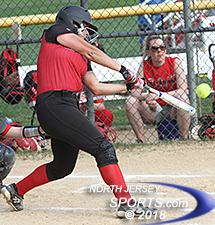 Stephanie Seretis drive in the lone run for Emerson, whcih fell to 8-6 on the season.
The Cutters pounded out 20 hits in the five innings against Emerson, with every spot in the order having at least one. Amanda Luandi (4-for-5, 3 R, 2 RBI) and Alyssa Gauther (4-for-4, 3 R, 2 RBI) each had four-hit games, Bailey Hartman (3-for-4, 3 RBI) and Amanda Kopf (3-for-3, R) each had three hits and Danielle Jurcevic (2-for-3, 2 R, RBI) had two.
"We are on a really good streak right now. I think we are really picking up speed and momentum going into the county tournament. We are excited for it," said Luandi, Fair Lawn's junior third baseman. "This weather is great and it is helping. It is nice being able to feel your fingers when you throw a ball. We are getting back to where we were last year. We can feel it starting to click. Everybody is working together as one team."
Defensively, Fair Lawn made zero errors behind starting pitcher Alyssa Schmidt (5 IP, 1 R, 1 ER, 4 H, 7 K, 0 BB), who passed the 100 strikeout mark for the season with a punch-out for the final out of the fourth inning. Raina Alexander, Fair Lawn's centerfielder, also threw out a runner at home plate for the second straight game.
"The team took the weight off of my shoulders today for sure. We didn't hit in the first inning and I was a little nervous because my pitches weren't working 100 percent, but once we started hitting, I started hitting my spots and it all came together," said Schmidt, a senior right-hander who retired the final 11 hitters she faced. "We got the bats going and it was all good after that."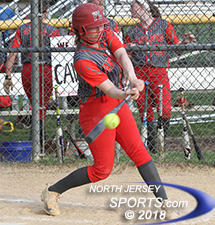 Alyssa Gauther was a perfect 4-for-4 with 2 RBI and 3 runs scored for Fair Lawn, which has now won 8 straight games.
Alexander (1-for-3, 2 RBI, SB), Courtney Kopf (1-for-4, RBI, R) and Kira Meerholz (1-for-3, 2 R) all added base hits and so did Ashlyn McDonald and Caitlin Carney, who each had pinch-hit singles in the top of the fifth.
Emerson's four hits came from Caroline Seretis, Alyssa Mattera, Jenna Cooper and Stephanie Seretis, who drove in the Cavos' run with a one-out double in the second. Emerson, the No. 13 seed in the Bergen County Tournament, fell to 8-6 on the season in advance of its county opener against No. 20 Ridgefield on Saturday.
As the No. 8 seed, Fair Lawn will host No. 25 Pascack Valley in the first round.
"I feel like we have a really good group of girls and we are all really dedicated to what we are doing. Even when we do make mistakes, there is always someone there to pick each other up," said Schmidt. "Hopefully we can keep that up and make another good run [in the county tournament]."
TO BUY A COLLECTOR'S PRINT OF THIS STORY PLEASE VISIT 4-FeetGrafix.com. FOR MORE PHOTOS FROM THIS GAME PLEASE CLICK HERE