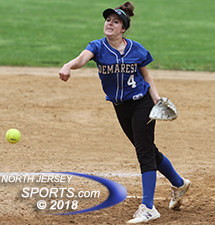 With the tying run at third in the bottom of the seventh inning, NV/Demarest senior Makenzie McGrath made the pitch she needed to close out a 3-2 win over Teaneck in the North 1, Group 3 state sectional tournament opener on Friday.
TEANECK – Northern Valley/Demarest senior Makenzie McGrath has been a varsity starter since her freshman year. She was the winning pitcher in a state final as a sophomore and has struck out over 900 hitters in her high school career. She has played all over the country on the travel circuit and, as a part of the Irish national team setup, she is going to get to throw some pitches in a bunch of different countries as well.
A seasoned veteran at this point, McGrath was probably as calm as could be in the bottom of the seventh inning as Teaneck had the tying run on third base with two outs in the North 1, Group 3 state sectional tournament opener on Friday. Right?
"No. I was so nervous. I get so nervous still, but I try not to let it get to me," said McGrath. "I made an error in the sixth inning that gave them get their second run and I couldn't let something like that happen again. I had to make a pitch and trust my defense, which I always do, but I was definitely still nervous."
With Teaneck's fastest baserunner, Lauren McGriff, at third base and with the Highwaywomen's No. 3 hitter at the plate, McGrath did make a pitch and got the desired result. Shortstop Ellen Hamlin gloved a pop-up on the infield for the final out in Demarest's 3-2 victory that sends the 10th-seeded Norsewomen on to the quarterfinals where it will take the road trip to No. 2 seed Sparta.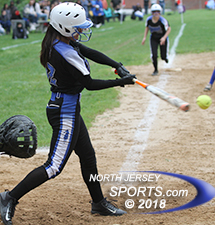 Kayla Ventura connected on this pitch in the bottom of the sixth inning to get Teaneck to within 3-2.
"This is a tough place to play mostly because Teaneck is so good. They can make things happen offensively, they can run, they are tough and they are very dangerous to play," said Demarest head coach Jerry Hill. "We don't score a whole lot of runs, so we knew we were never really safe and I never felt comfortable until we got that last out."
Demarest and Teaneck split their two regular season games with each winning on its own home field. Even through Demarest won the league title, it was Teaneck that had the power point advantage for the state tournament, the No. 7 seed and the advantage of playing the rubber match at home. The Highwaywomen even had the game's first lead.
Teaneck scored both of its runs after two were out, the first one in the bottom of the third inning. Andrea Generalao, batting in the No. 9 slot, led off by drawing one of only two walks that McGrath (7 IP, 2 R, 1 ER, 6 H, 6 K, 2 BB) issued in the game. A one-out sacrifice bunt by Selena Davis set up an RBI chance for Teaneck's Erin Emery, who delivered a single to centerfield to make it 1-0.
That lead did not even last for half-an-inning as Demarest responded in the top of the fourth. Liz Reverend, who finished 3-for-3 on the day with an RBI, led off the bottom of the inning with a scorching groundball to second that turned into a bad-hop base hit. Maddie Tredo bunted her up a base and senior catcher Braden Renke, just back in the lineup after recovering from a broken finger, singled into centerfield and took second on the too-late throw home as Demarest pulled even. Sam O'Donnell get the inning going with a two-out single and Abby Herkert cashed in an RBI chance with a single that scored Angelika Cruz, the courtesy runner for Renke, to put the Norsewomen up 2-1.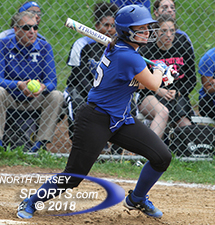 Demarest catcher Braden Renke, just back in the lineup, singled in a run in the top of the fourth inning.
Herkert, a sophomore on a senior-laden team who has been in and out of the batting order all season, had two hits in the game batting out of the No. 8 spot in the lineup.
"After seeing a few pitching come through and after hearing my team cheer for me, I was excited. That put the spark in me because this game really meant a lot to us," said Herkert, who started in leftfield and went 2-for-3 with an RBI. "The seniors are a great group of girls. They have taught us so much about being good softball players, good people and good teammates. We are really going to miss them, so we want to keep this season going so we can keep playing with them for as long as we can."
Reverend provided the insurance run that Demarest really needed in the top of the fifth by pulling a single on the ground through the right side to score Ellen Hamlin, who singled to lead off the frame.
Reverend was Demarest's last baserunner, however, as Teaneck starting pitcher Mika Rivera (7 IP, 3 R, 3 ER, 8 H, 1 K, 0 BB) buckled down to retire the final eight hitters she faced and give her offense a chance to mount a comeback. McGrath worked a 1-2-3 fifth and got the first two outs of the sixth before getting herself in trouble by hitting Teaneck catcher Janiah Luciano with a pitch. Margaux Lesser then singled and Amber Improgo drew a walk to load the bases for Kayla Ventura, who knocked the ball off McGrath, which allowed courtesy runner Moniah Dailey to score to get Teaneck to within 3-2.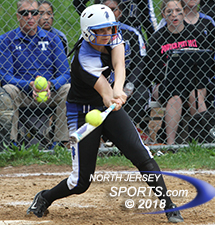 Margaux Lesser had two hits and stole a base for Teaneck, which fell to 17-8 for the season.
McGrath struck out the next hitter to leave the bases loaded and fanned the first hitter in the bottom of the seventh before McGriff, Teaneck's leadoff hitter, beat out an infield single to make things interesting. With two outs, McGriff pulled off straight steals of both second and third base to get to within 60 feet of tying the game.
McGrath had a plan on how she wanted to pitch to the final batter of the game and she stuck to it.
"I knew that I could not throw her anything nice and straight so I alternated curveball, change-up, curveball, change-up and hoped she wouldn't catch on. I knew I could throw her two of the same pitches in a row because she would hit it and she was having a good day at the plate anyway," said McGrath. "I tried to keep it away from her and I was trying to get her to hit a pop-up."
That is exactly what happened as Hamlin grabbed the looper to get Demarest past the stiff test that was a Teaneck (17-8) team that has had a great season.
"You couldn't ask for a better game, you couldn't ask for a better group of kids that did everything I asked them to do and I couldn't ask for a better situation with one of my best hitters at the plate and one of my best base runners at third base," said Teaneck head coach James Lagomarsino. "I would take that situation any day of the week and take my chances. You have to credit [McGrath] for making her pitch. We gave them a good challenge and I couldn't be more proud of the effort this team gave all year long."
TO BUY A COLLECTOR'S PRINT OF THIS STORY PLEASE VISIT 4-FeetGrafix.com. FOR MORE PHOTOS FROM THIS GAME PLEASE CLICK HERE