Brandon Siegenthaler crushed a two-run home run on this swing in the third inning and then pitched the final two innings for the save as Pascack Hills won the Bergen County championship with a 3-1 victory over top-seeded Don Bosco Prep.
DEMAREST – Here is the short version of what happened over the final two innings of Monday's Bergen County Baseball Tournament championship game. Junior Brandon Siegenthaler took over on the mound after a dominant five innings thrown by fellow right-hander Jack Brodsky and picked up the save in a 3-1 victory over Don Bosco Prep that made Pascack Hills the first public school to win a Bergen County title since Pascack Valley did it in 2010.
There is no use going into more detail in a flowery journalistic style because Siegenthaler was so locked in during his time on the mound that he could describe those final innings just about pitch for pitch and in amazing detail. Siegenthaler was named the tournament MVP, so why not use his unique perspective to go deeper?
"Jack [Brodsky] threw his [butt] off and I have the closer's role this year, so I knew it was going to be me in the sixth and seventh inning. I came in and I got a little rattled, honestly. The first two guys got on. I hit one and walked one and I knew I had to go after the next guy. I jammed him for a pop-up and went at the next guy and got strike one. I threw him a curveball, got him to hit the ball into the ground for a double play to get out of it," said Siegenthaler, who was asked to continue. "All right, you want the seventh inning? I knew it was 6-7-8 in their order and I actually knew two of the batters. I had to go at them because I did not want the top of their order to come up again. I got the first guy to strikeout, the second guy to strike out and then the No. 8 hitter is a good friend, a kid I played with my whole life. I fell behind on him 3-0, got the next two strikes and then threw him a high two-seam [fastball] and struck him out. That was it."
That was it and maybe it was as easy as Siegenthaler made it sound, but it did not look that way to anybody else in the ballpark, which was as full, if not more so, than any county final played in recent years at Northern Valley/Demarest High School, the home office of Bergen County baseball. There were so many story lines, so many times that the game could have turned one way or the other.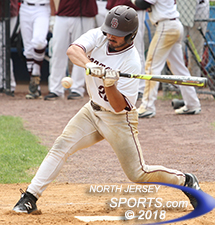 Tommy Courtney drove in Bosco's lone run with a one-out double in the third inning.
Originally this was the year that the tournament was going to spread itself out. It was supposed to be played on four straight Saturdays so that teams, if they chose, could line up their ace and see how far he could take them. Mother Nature had other ideas and the organizers had to scramble repeatedly to just get games in. Therefore, just like in years past, the semifinals and the championship game would be played on the same weekend if not consecutive days, which made pitching depth one again imperative.
Pascack Hills has that in spades as Ryan Ramsey, a junior committed to the University of Maryland, threw complete game gems in the Round of 16 and in the quarterfinals and got the win in a four-inning effort on Saturday against St. Joseph Regional. Ramsey was named the tournament's Outstanding Pitcher, but was relegated to the outfield and the No. 5 spot in the batting order for the championship game.
Brodsky, who will pitch at Emory University next year, is also an ace, but he threw on Thursday in a state tournament win over Vernon. Siegenthaler, a junior committed to Villanova, has taken on the closer's role and was coming off a two-inning stint against SJR. Senior Paul Sullivan, another Division 1 pitcher heading to Iona next year, was on full rest but somebody has to throw in the sectional quarterfinals on Tuesday, so the rotation wheel stopped on Brodsky, who could throw up to 89 pitches according to the state mandated pitch-count rule.
All Brodsky (5 IP, 1 R, 1 ER, 3 H, 9 K, 1 BB, W) did was turn in five innings of three-hit, one-run baseball in which he struck out nine, including the last six hitters he faced. Brodsky entered the fourth inning having thrown 61 pitches, gave up a lead-off single to Danny Helfgott and then whiffed the next three hitters. He entered the fifth inning having thrown 76 pitches and needed just 12 more to fan the next three batters. He left just one pitch shy of his limit with his team leading 3-1.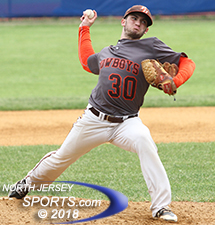 Senior Jack Brodsky struck out 9 in five innings and picked up the win for Pascack Hills.
"I knew coming into the game that I only had 89 pitches to work with, but the goal was still to get from inning one to inning seven and I did the best I could. The first three innings I struggled with the pitch count a little bit, but I found my groove," said Brodsky. "Right after we ended the fourth [head coach Kevin] Kirby called me over and asked if I wanted to finish it. He said I had 13 pitches left, and I was like, 'No doubt, Coach.' I went in there with the mindset of 1-2-3 Ks and that is what happened."
Now it is time to back up and explain what Bosco was facing in terms of its pitching and also to quickly sum up what happened on the offensive side, although there is not that much to tell. Bosco, the No. 1 seed, used its ace, Matt Semon, on Saturday for three innings and 62 pitches against Bergen Catholic in the semifinals. The Ironmen also used Billy O'Brien and Drew Helmstetter in relief against BC, but reversed the order against Pascack Hills with Helmstetter making the start.
Pascack Hills, the No.2 seed, put the pressure on right from the start as only a stellar play by second baseman Anthony Petrosino kept Julian Bulzomi from opening the game with a base hit up the middle. That play probably saved at least one run because Sullivan (2-for-4, R) and Mike Rodriguez (2-for-4, R) hit consecutive one-out singles before Ramsey (1-for-2, RBI) got the Cowboys on the board by pulling a single into leftfield.
While Brodsky faced just one batter over the minimum through the first two innings, Helmstetter (3 IP, 3 R, 3 ER, 5 H, 2 K, 0 BB), a senior lefty, also settled in to retire six straight hitters. He caught the first two hitters of the top of the third inning looking at called strike threes before Rodriguez broke the string with a two-out single. Siegenthaler was the next hitter up and he blasted a two-run homer, a no-doubter well over the left field fence, to make it a 3-0 game. He also remembered that at bat vividly.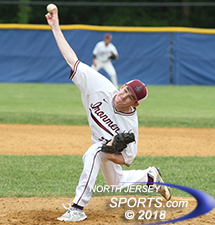 Billy O'Brien threw 3 2/3 innings of scoreless reief to keep Don Bosco Prep in the game.
"[Helmstetter] was living inside. He got the first two hitters of that inning jumping out of there and the blue was calling [the inside strike]. I knew I had to put my toes on the line and try to take advantage of an inside pitch," said Siegenthaler. "He fell behind 1-0 against me and I knew he was going to come with that fastball. He threw it; I took advantage of it and hit a home run."
Bosco got the leadoff hitter on base just twice in the game and the first time was when Armando Alvarez drew the only base on balls that Brodsky issued to start the bottom of the third. Two batters later, Tommy Courtney (1-for-3, RBI) smoked a double to left-center to score Alvarez all the way from first with Bosco's lone run.
O'Brien (3 2/3 IP, 0 R, 0 ER, 3 H, 6 K, 0 BB) entered the game to start the fourth inning and he was outstanding again. After throwing 2 2/3 innings of scoreless relief in the semifinals, the senior right-hander added 3 2/3 more scoreless innings against Pascack Hills to keep the Ironmen in it.
The bottom of the sixth inning was the pivotal one as Siegenthaler (2 IP, 0 R, 0 ER, 0 H, 3 K, 1 BB, S) entered and, maybe a bit too pumped up, walked Petrosino, the first hitter he faced, and then hit Ryan Carr with a pitch to give Bosco two runners on base at the same time for the only time in the game. A pop-up for the first out and then the expertly spun 6-4-3 double play ended the threat.
Bulzomi, Pascack Hills' junior second baseman, explains further.
"I actually told Chris [Curcio, the shortstop] before the kid hit that ball that he was going to get another long hop just like in the semifinals on Saturday. We were fortunate to turn it against [St.] Joe's and we did it again today," said Bulzomi. "I told him that you are going to get a long hop and I want to turn two. We had to get out of that right there and it happened just like that."
And then Siegenthaler struck out the side in the seventh to leave no doubt as Pascack Hills became the first public school champion in eight years, won the third county title in program history and the first since 1987. Kirkby has put his fingerprints all over the Bergen County Tournament. He was the MVP of the 1996 edition as a player on Pascack Valley's championship team, he was an assistant coach on Will Lynch's staff when PV next won it in 2010 and on Monday he became the first ever MVP to come back and win the tournament as a head coach.
"This is so rewarding to come full circle. I saw it as a player because I was lucky enough to be a part of a team that won this tournament in my junior year. I know what it feels like and I know what these kids are going through right now. I am so glad that they get to experience this," said Kirkby. "To be a Group 2 school to come through and beat parochials in the semis and today is unbelievable. This group of juniors did it as freshmen when they won the freshman county tournament and we mixed those guys with some seniors that have a lot of talent. I can't even really put into words what this truly means."
The celebration will be brief, however, as Jefferson will pay a visit to Montvale on Tuesday looking to extend its impressive state tournament run as the No. 13 seed. But if a team is only is good as the next day's starting pitcher, then Pascack Hills, the top seed, should be pretty good again.
"We have a state game tomorrow and we have Paul Sullivan all lined up and ready to go. He is 6-0 with an ERA under a half-a-run. It's not like we have nothing to throw tomorrow. He has been phenomenal at home and we have all the confidence in the world in him," said Kirkby. "We just have to make sure that we don't have a mental letdown because Jefferson is a good team. They just put up 12 runs against High Point the other day and we have to make sure we come ready to play."
TO BUY A COLLECTOR'S PRINT OF THIS STORY PLEASE VISIT 4-FeetGrafix.com. FOR MORE PHOTOS FROM THIS GAME PLEASE CLICK HERE