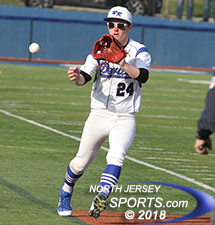 Sophomore Liam Winslow had two hits, scored twice and stole a base for Wood-Ridge, which improved to 2-0 on the season with a 6-2 win over Saddle Brook.
WOOD-RIDGE – Before Stephan Crandall took the mound to start the top of the fourth inning, he was a relatively unknown freshman who had never thrown a single varsity pitch. By the time he walked off the mound having thrown the last of his 56 pitches, he was the owner of his first-ever varsity victory and a brand new nickname.
"The Big Tuna" threw four shutout out innings as Wood-Ridge improved to 2-0 with a 6-2 victory over Saddle Brook.
"I am a big fan of [the television show] Wicked Tuna and I use any nickname that has the word 'Big' in it. I started rattling them off; I went from Big Daddy to Big Dog to Big Tuna and everyone started laughing," said Wood-Ridge head coach Michael Carcich. "The kid is out there throwing, doing a great job for us the first time ever on the mound and has no idea what is going on in the dugout. Next thing you know he has a new nickname and I think it is going to stick."
So, what does Crandall think?
"I walked back into the dugout and all of a sudden I am The Big Tuna. I don't really know what it means and I have to get used to it, but I think I like it. It's all right."
Nickname's aside, Crandall gave the Blue Devils exactly what they needed, control of a fastball, efficiency of pitches and innings. Starting pitcher Anthony D'Amico (3 IP, 2 R, 2 ER, 2 H, 2 K, 4 BB) got touched for two runs in the top of the third inning as Saddle Book pieced together a rally started by back-to-back walks drawn by No. 8 and No. 9 hitters Vinny Traverso and Steve Rocca. Two-out walks to Anthony Marchetto and Nick Cerbo pushed across the game's first run and the Falcons went up 2-0 on an infield single by Shea Hruska.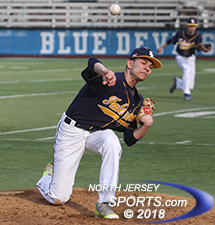 Saddle Brook starter Nick Cerbo struck out 7 in 4 2/3 innings of work.
Centerfield Lucas Leone picked off a slicing line drive to centerfield hit by Joe Baginski with the bases still loaded to limit the damage and Wood-Ridge, which scored 23 runs in its season opening win over Wallington, got its offense going in the bottom of the third.
D'Amico reached on an error leading off in front of Liam Winslow, the Devils' leadoff hitter who smoked a double to left centerfield. It would have been an inside-the-park home run, but the one fence panel that has been removed in behind the football goal post allowed the ball to scoot through for a grounds-rule double that made it 2-1. Drew Packen picked a different spot to clear an outfielder's head as his line drive rolled all the way to the fence and allowed plenty of time to circle the bases for a two-run home run that gave Wood-Ridge the lead for good at 3-2.
Crandall first inning of work was a 1-2-3 shutdown frame in the top of the fourth and Cerbo (4 2/3 IP, 5 R, 2 ER, 6 H, 7 K, 0 BB), the Saddle Brook right-handed starter who was dominant for stretches, matched that in the bottom of the fourth before the top of the Devils' order did more damage in the last half of the fifth. Winslow (2-for-3, RBI, 2 R, SB) reached on an error before Packen (2-for-2, HR, 3B, 3 RBI, 2 R, SAC) cracked his second extra base hit of the game, a triple yanked into right center that made it 4-2. Ryan Connelly (1-for-3 HR, R, 2 RBI) added some insurance two batters later with a home run to left center that made it 6-2.
"I was standing at the plate relaxed and the kid [Cerbo] was throwing at a pretty good speed. I was waiting for a fastball and he gave me one, I just did what I had to do," said Packen, the Devils' junior second baseman, speaking of his third inning home run. "And on the triple I took the same approach. We needed a hit in that spot and the team was cheering me on. I had to pull through from them."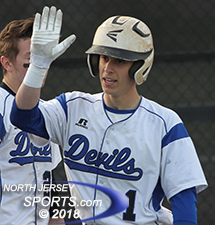 Junior Drew Packen hit a two-run home run and an RBI triple for Wood-Ridge.
Crandall (4 IP, 0 R, 0 ER, 2 H, 5 K, 2 BB) made it stand up as he worked a 1-2-3 sixth and worked around a hit and a walk in the seventh inning to finish off his first varsity win and Wood-Ridge's second in as many games this season. Wood-Ridge is a changed team from the one that won a game in the Bergen County Tournament and reached the North 1, Group 1 state sectional semifinals last year.
Nick Pronti and Shian Tanaka, the top two in the pitching rotation, have graduated, senior Mike Giancaspro is out for the season with a knee injury and senior Jack Barteck is out for at least another week with a shoulder injury. But none of that should preclude the Devils from keeping the winning tradition alive this year as younger players step into more important roles.
"If you would have told me we were going to start out 2-0 I would have signed up for it with all of the arms and bats that we lost from last year. Young kids are stepping up," said Carcich. "We did not have a good preseason at all. There was no energy, we did not pitch well, we did not hit well, we did not play defense well and then, from the minute that first game started against Wallington, the energy picked up in the dugout. Now these kids are fiery, they are competitors and it is entirely different. It carried over from that Wallington game into today against a Saddle Brook team that, with that kid [Cerbo] on the mound, is a tough team to beat in our league."
Friday's game was the first of the year for Saddle Brook, which had been postponed on both Tuesday and Wednesday and then had to give up the home game to play on Wood-Ridge's turf just to get its season underway. The Falcons have some pieces and are going to focus on the small stuff as they try to build a winning season.
"We were very happy to just get a game in and get going and I thought we were very competitive against a tough opponent. You never like a loss on Day 1, but I thought there were a lot of positives to take out of here today," said Saddle Brook head coach Tim Sheldon. "I want to come out and play hard every day; that is the No. 1 goal. I know that sounds cliché, but that is what I am trying to engrain in them. I don't talk about winning a league or getting into the states or county [tournament]. It's a simple philosophy. We are going to try to improve every day, work hard every day and that is the main focus with a fairly young team at the varsity level."
TO BUY A COLLECTOR'S PRINT OF THIS STORY PLEASE VISIT 4-FeetGrafix.com. FOR MORE PHOTOS FROM THIS GAME PLEASE CLICK HERE