Sophomore Abigail Kahn allowed just five hits, one walk and no runs over the final six innings as Old Tappan won for the second straight day, 3-1, over Pascack Valley on Senior Day.
OLD TAPPAN – Entering the week needing just one more win to officially lock up its spot in the North 1, Group 3 state sectional tournament ahead of Thursday's cutoff, Northern Valley/Old Tappan might have started to feel the nerves as its first shot at it ended in defeat against Northern Valley/Demarest on Monday. But by jumping into the void left when River Dell's Tuesday opponent bailed, the Golden Knights were able to take advantage by going on the road and getting a win to lock up its spot in the postseason.
That cleared the deck for Thursday's game which had a little bit more of a festive atmosphere. The two seniors on the Old Tappan roster, Sydnie Weinberger and Lindsey Germano along with their parents, were honored in the pregame for their contributions to the program and some flowers and hugs were exchanged. Then the mood changed quickly.
The first hitter to step into the box, Pascack Valley senior Erin Flanagan, drew a walk and scored all the way from first base when the second hitter of the game, Julia Spadafino, smoked a double to left centerfield. Pascack Valley, which upset eighth-seeded Fair Lawn in the Bergen County Tournament last weekend and tangled with IHA in an independent matchup earlier in the week, continued to show its mettle by taking a lead before it even made an out.
"This was another good test for us," said Old Tappan head coach Melissa Landeck. "We knew Pascack Valley was hot, they just pulled off a big upset in the county tournament and we had to find a way to respond."
Senior Erin Flanagan walked to lead off the game and came around to score Pascack Valley's lone run.
The response came immediately. Old Tappan's first two hitters in the bottom of the first inning, Rebecca Clyde and Sinead Albelli, both reached safely and both came around to put the Golden Knights in front and they stayed there the rest of the way in a cleanly-played, 3-1 victory, Old Tappan's second in as many days that gave it some breathing room above .500 at 10-8 on the season. The defending North 1, Group 3 state sectional champion Knights are building up some steam heading with a week to go in the regular season.
"We are hoping for the best outcome over the next few weeks and we are hoping to take it all the way, just like we did last year," said Weinberger, NV/OT's left fielder. "We have come together very well as a veteran defense and as a team that has 11 returning players from a state sectional [championship] team. We've come together after the [graduation] loss of a very influential player, but as long as we go out there with heart and a true intention to play, we should be all right."
The influential player that Old Tappan lost to graduation is UCLA's Julie Rodriguez, who has gotten on the field as freshman for the current No. 1 team in the country. In her place inside the circle, Old Tappan has used junior Clara Francis, who was the winning pitcher against River Dell on Wednesday, and Abigail Kahn, a sophomore right-hander who was dealing against Pascack Valley.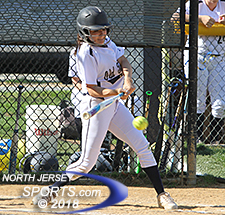 Sydnie Weinberger, one of Old Tappan's two seniors, stole a base and scored a run in the second inning.
After allowing the first three hitters she faced to reach safely, Kahn allowed just three more baserunners the rest of the way. After walking the first hitter she saw, Kahn (7 IP, 1 R, 1 ER, 5 H, 5 K, BB) issued no more free passes and she bore down in that first inning to limit the damage. With Spadafino and Nicole Franklin in scoring position with no outs, Kahn got a pop-up on which Germano, the first baseman made a nice grab in foul territory, and then two strikeouts to end the inning. Four of Kahn's five strikeouts came in the first two innings and she rode her defense thereafter.
Clyde, the junior shortstop, made a nice back-hand pickup and threw a strike across the diamond for the final out of the top of the third inning, centerfielder Megan Weis tracked down a Spadafino drive near the fence in left centerfield for the third out of the fifth inning and Kahn was alert on a two-out bunt attempt in the sixth. With Franklin, who led off with a single and stole second, standing on third, Kahn handled the short one and fired to second baseman Calista Zahos, who hustled over to cover just in time.
"We have been pretty solid on defense all year. It has been a mainstay with a little hiccup here or there. When you play 20-plus games you are going to have days where the ball bounces out of your glove, but overall we have been good defensively," said Landeck. "Today, I thought, was a real strong defensive effort."
Julia Spadafino drove in the lone run for Pascack Valley, which will play Ramsey on Thursday and Paramus Catholic on Saturday in the Bergen County Tournament.
The only run scored after the first inning game in the bottom of the second and it was built by Weinberger, who beat out an infield single with two outs, stole second and scored on an RBI single by Carolyn Goodman. Albelli (2-for-3, R) was the lone Old Tappan hitter to record multiple hits. Cynthia Gordon and Zahos had the first inning RBIs, the first on a sacrifice fly and the second on a bunt that drew the throw to first as Albelli scooted home.
"If we just keep playing the way we are and if we keep playing the way we are right now, then I think we can go really far. We did last year and most of us were on this team," said Germano. "We are really coming together and playing well as a team with everybody contributing."
Franklin (2-for-3, SB) finished with two hits for Pascack Valley. Spadafino (1-for-3, 2B, RBI) hit the ball hard in all three of her plate appearances and McMahon and Madison Gallo had the other two hits for the Indians. McMahon (6 IP, 3 R, 3 ER, 5 H, 0 K, BB) went the distance for PV, which will get a chance to bounce back in a big way against Ramsey, the defending Bergen County champion, in a regular season game on Thursday and then again on Saturday when it looks to keep its county tournament magic happening against Paramus Catholic in the Round of 16.
Pascack Valley is 7-12 on the season, but it has played as tough a schedule as any team in North Jersey and it battles from first pitch to last.
"Our offense can be incredibly powerful when it gets going. Today was not a great example of that, but on days like the one when we played Fair Lawn it was there. They have a great defense, but we just hit the ball up and down the lineup and kept doing it," said PV head coach Lauren Bacsik. "The league is tough and we don't play an easy independent schedule. We played Indian Hills, IHA, Ramsey, Holy Angels and when you play teams like that, win or lose, it can only help you. I am excited that we have played all of these good teams and how it has helped us. That is just extra prep for the county and state tournaments and we will see how far we can go."
TO BUY A COLLECTOR'S PRINT OF THIS STORY PLEASE VISIT 4-FeetGrafix.com. FOR MORE PHOTOS FROM THIS GAME PLEASE CLICK HERE