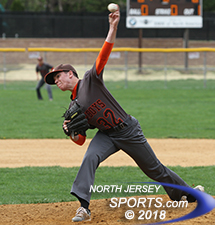 Ryan Ramsey struck out 16 and walked just one in a lights-out effort in Pascack Hills' 7-0 win over Ramapo in the Bergen County Tournament's Round of 16.
MONTVALE -- To "Shove it." It is baseball parlance, a two-word phrase used as a verb and its definition is to repeatedly throw pitches inside the strike zone with great velocity and/or pinpoint accuracy and to do it from the first pitch of the game until said pitcher is removed or the game comes to its natural conclusion. The term is most closely associated with teams with at least a passing association to Joe Gambardella, the former head coach at Ridgefield, a founding partner of the Complete Performance Baseball Academy and now an assistant coach at Pascack Hills.
How did junior left-hander Ryan Ramsey do at his allotted task on Saturday afternoon in the opening round of the Bergen County Tournament against Ramapo?
"He shoved it," said Pascack Hills skipper Kevin Kirkby. "He shoved it all right. He did a heckuva job."
Ramsey, who is already committed to the University of Maryland, was as dominant as could be as he went the route on a one-hitter, struck out 16 and walked just one. Of the 25 hitters that Ramapo sent to the plate only seven of them were able to even put the ball in play against Ramsey, who threw 112 pitches in his masterpiece before dropping the mic in a 7-0 victory.
Pascack Hills, the No. 2 seed, now heads to the quarterfinals where it will play No. 23 Fair Lawn, which pulled a second straight tournament upset on the road by beating No. 7 Paramus, 6-4, three days after knocking out No. 10 Wood-Ridge in the opening round.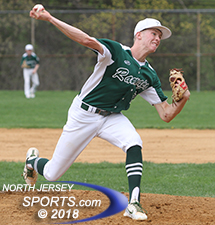 Ramapo's KC Hunt struck out six and allowed just one earned run in his 4 2/3 innings of work.
A pitcher's duel was expected when Ramsey was matched against KC Hunt in a battle of Power 5 Division 1 recruits. The right-handed Hunt, who has committed to Mississippi State University, hit 90-plus on the radar gun a couple of times while Ramsey was consistently in the high 80s with his tailing fastball and on target with his curveball that breaks in the opposite direction.
The pair matched zeroes for a while, but Pascack Hills was clean behind Ramsey all game long while Ramapo faltered as the Cowboys were able to put the ball in play.
"It's pitcher against pitcher for sure, but you need more than that and we played great defense and we have bats," said Ramsey. "As soon as we were able to put some hits together we knew it was going to be our game."
Ramapo (11-7), which rallied from six runs back to beat Don Bosco Prep on Friday, almost found a way to get the jump on the Cowboys in the top of the first inning. After Ramsey retired the first two hitters of the game, AJ Winfield reached on an error, John Whooley was grazed by a pitched ball and Matt Wingfield drew the only walk that Ramsey issued in the game to load the bases.
Ramsey (7 IP, 0 R, 0 ER, 1 H, 16 K, 1 BB) fielded a comebacker to end the threat and then proceeded to retire 19 of the final 20 hitters he faced with the lone exception being AJ Wingfield's clean single with two outs in the sixth.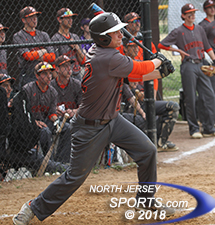 Paul Sullivan opened the scoring with a two-run single in the third inning for Pascack Hills, which will play Fair Lawn in the county quarterfinals.
Hunt (4 2/3 IP, 6 R, 1 ER, 6 H, 6 K, 2 BB) worked around a one-out error in the first and dealt a 1-2-3 second inning, but ran into trouble not of his own making in the third. Jack Brodsky reached on a one-out error to flip the lineup and open the door. Leadoff hitter Julian Bulzomi (2-for-4, 2 R, SB) dropped a single into centerfield before Paul Sullivan delivered a line-drive, two-run single through the middle of the diamond. Two batters later, Brandon Siegenthaler added an RBI single to make it 3-0.
"I played with KC [Hunt] from like when we were 8 to when we were 12, so I knew that he stays calm and composed out there and that I had to do the same. Then I came through in a big spot," said Sullivan, Pascack Hills' first baseman who finished 2-for-3 with 2 RBI, a double and three runs scored. "Ryan [Ramsey] has been great all year, but especially today. Nobody looked like they could even touch him today, so when we put it up those runs we knew we were in good shape."
Pascack Hills then poured it on in the fifth with three more runs that all but put the game out of reach. Bulzomi was the catalyst again as he whacked a lead-off double followed by a Sullivan walk. An error, the last of the four Ramapo made in the game, loaded the bases with no outs. Ramsey got himself an RBI with a sacrifice fly, Chris Lum singled in a run and Chris Curcio doubled in another. Mike Rodriguez run-scoring single in the sixth made it 7-0 and Ramsey struck out the final two hitters of the game to add the exclamation point.
Ramsey improved to 5-1 on the season while Pascack Hills climbed to 15-2. The Cowboys have the kind of pitching depth to handle deep runs in both the county and state tournaments, so even after 17 games with impressive results, things might just be starting to heat up for the Cowboys, the defending North 1, Group 2 state sectional champions.
"We have Fair Lawn next and they are no joke. The kid [Ryan] Rue, their lefty, is good and they are on a roll with two straight upsets. We are not taking them lightly at all, but we are going to enjoy this ride and I will take Ryan Ramsey against anyone right now," said Kirkby. "We were up against a good one today, we put the ball in play and even when we struck out they were usually good at bats. The kids, they embrace every challenge. They saw we were playing Ramapo and they were like, 'We don't care.' They know that if we want to be the best we are going to have to beat the best and they have really embraced it."
TO BUY A COLLECTOR'S PRINT OF THIS STORY PLEASE VISIT 4-FeetGrafix.com. FOR MORE PHOTOS FROM THIS GAME PLEASE CLICK HERE