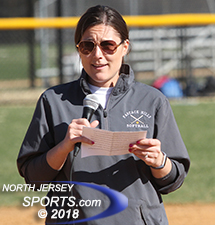 Head coach Erin Curatola speaking during the pregame ceremony to open Pascack Hills' brand new softball field. The Cowgirls are now 1-0 in their new digs after a 15-1 win over Fort Lee.
MONTVALE – The Pascack Hills softball team was playing a regular season game last week against Cliffside Park when its time was up. In its 46-year history as a varsity program, Pascack Hills has played off campus on municipality-owned fields that need to be shared amongst the entire community. So when the Cliffside game ran long, a corporate men's team took the field even though the high schoolers were still standing on it.
Those issues, however, are now a relic of a bygone era for Pascack Hills softball. Administrators in suits, a member of the Board of Education and athletic director Phil Paspalas all delivered eloquent speeches and, three ceremonial first pitches later, the Cowgirls had officially christened their new home field, a brand-spanking new setup occupying a piece of the sprawling Montvale campus. After 46 years and as of Monday, Pascack Hills softball will finally play all of its home games at Pascack Hills High School.
"On Saturday we came up here and I raked the field, my brother put up the speakers and I just stood here thinking, 'No one is going to come up.' This is our field. We get to practice when we want to practice and it was a very strange feeling," said head coach Erin Curatola, who fought back tears as she addressed the assemblage in the pregame ceremony. "This has been a long time coming. It was very emotional."
And also a very detailed project. Softball's new digs stand where the tennis courts used to be, in foul territory deep in left field of the baseball diamond, which remains unchanged. An old Board of Education building was torn down, the tennis courts pushed back and a new parking lot added to the revamped campus. There is still some finishing work to do, but the heavy digging and lifting is over, a relief for Paspalas, who has been intimately involved in the project since the ceremonial groundbreaking shovels were put in the ground last year.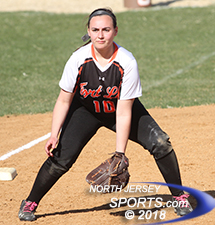 Fort Lee's Amanda Hooten scored the first-ever run on the new field at Pascack Hills/
"Getting to this point has been really difficult because all of the roadblocks and not just the roadblocks to getting the project started. Finding an oil tank where there wasn't supposed to be one, finding a 30,000 gallon sewage distribution tank where there wasn't supposed to be one and then the way the weather was from November until the crazy end to the winter, it was really hard getting to this point," said Paspalas. "This was hard, but I am glad that we are at this point. Having coached softball here for a number of years, this is pretty satisfying."
There have been six different head coaches in the history of Pascack Hills softball and three of them – Al Taliaferro, Scott Ernest and Curatola -- were on hand to throw out the ceremonial first pitches. The first pitch thrown in anger was by Tori Favorito, a screwball over the inside corner and it was a strike against Fort Lee lead-off hitter Amanda Hooten.
"It was amazing. I was so happy that it was a strike, too. That just made it even better and it was nice to christen the field that way," said Favorito, a senior right-hander. "It's a huge deal to us just because, especially my freshman year, it was such a bigger effort just to get to a practice or to a game. This just makes it so much more special that we can just walk up here, practice any time we want and get in extra reps. It's so nice."
The celebration lasted for five innings as Pascack Hills is now undefeated on its official home field after a 15-1 victory, the Cowgirls second in a row that pushed them over the .500 mark for the season at 6-5.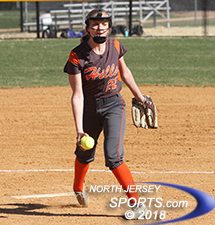 Pascack Hills' Tori Favorito throwing the first pitch on the new field, a screwball that was in for a strike.
Here are some facts to be saved for posterity: Favorito threw the first ever pitch, Hooten was the first player to ever reach base on the Pascack Hills field as she reached on an error leading off the top of the first inning and Hooten scored the first-ever run when she slid home on a wild pitch to give the Bridgewomen a 1-0 lead. Pascack Hills turned the first ever double play, a 6-3-2 combination from Meg Gallucci to Jadyn Sullivan to catcher Julia DeBello that ended the top of the first inning.
The first ever hit was credited to LoBello (4-for-4) and the first RBI went to Sullivan (3-for-4, 4 RBI, 3 R), whose two-run single scored courtesy runner Olivia Chin and Taylor Harris and put Pascack Hills in front for good. The Cowgirls sent nine hitters to the plate in the first inning, scored five times and added three more runs in the second inning to break the game open. Sullivan added a two-run triple in that second inning and Pascack Hills broke through the 10-run barrier in the bottom of the fourth by sending 11 hitters to the plate and scoring seven times. Emily Palfrey caught the final out of the first game and the first win at the new park in left field to end the top of the fifth.
Netting is still to be installed between the telephone poles already anchored behind the temporary outfield fencing that needs to be made permanent. Locations for on-deck circles still must be decided, the scoreboard needs power and there are some other odds and ends to be cleaned up, but the new softball field at Pascack Hills High School is officially open for business.
"What this does is give Pascack Hills an opportunity to make softball more attractive than it is right now and it gives the program an opportunity to flourish. It puts the softball program on an even plain with the other sports that are played on campus," said Paspalas. "It reduces our dependence on Montvale and using their fields and it is just big all around. Phys ed will get use out of the field and the expanded space and it is going to help in a lot of ways."
TO BUY A COLLECTOR'S PRINT OF THIS STORY PLEASE VISIT 4-FeetGrafix.com. FOR MORE PHOTOS FROM THIS GAME PLEASE CLICK HERE