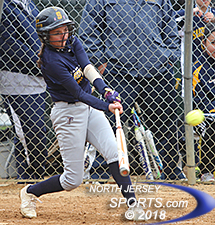 Alexis LoBue had two doubles, scored twice and drive in a run during Saddle Brook's 16-6 win over Wood-Ridge on Monday.
SADDLE BROOK – It is not so much that Wood-Ridge's softball team declined an invitation to the Bergen County Softball Tournament, but more like the Blue Devils decided to start its postseason a couple of days earlier than everybody else. Wood-Ridge was 6-6 and could have taken a weather-related delay of Monday's road game at Saddle Brook, pushed the game to Tuesday and past the county cutoff and got in with the requisite .500 record needed for automatic qualification. Instead, the Blue Devils, a young team with just one senior on the roster, chose to take a shot of winning their way in win on another cold day under a steady drizzle.
"I wanted to play. If we were going to make it into the counties I wanted us to earn it," said Wood-Ridge head coach Andrea Marino. "We had an opportunity to play our way in today and I wanted that for our team."
Saddle Brook, which had already secured its spot in the county tournament for the 23rd straight year, was the gate-keeper and refused to let Wood-Ridge through. The Falcons pounded out 12 hits, including nine in a 10-run second inning in which they sent 14 hitters to the plate on the way to a 16-6 victory at Smith Elementary School. Jillian Berardo's two-out RBI single brought the game and Wood-Ridge's county tournament hopes to a conclusion in the bottom of the fifth inning.
"I would have preferred to have played [on Tuesday] when it is supposed to be 75 and sunny, but they wanted to get the game in. Once it started you have to do what you have to do to get the win," said Saddle Brook head coach Darren White. "Wood-Ridge is scrappy. The last time we played them we were up big, they came back and it was a wild game on Opening Day."
Wood-Ridge sophomore Samantha Perez had two hits, scored twice and reached base in all three of her plate appearances.
Monday's game followed a similar pattern for a while as Saddle Brook took the lead in the bottom of the first inning on a bunt single by Alexis Georgevich that scored her sister, Ashley, who led off with a single, went to second on Gianna Leone's sacrifice bunt and stole third.
Wood-Ridge responded in the top of the second and took a 2-1 lead when Victoria Nieves, a freshman making her first varsity start, dropped a two-run single over the second base bag to score freshman Brooke Biamonte and sophomore catcher Samantha Perez, who make up the Devils' youthful battery.
That lead lasted for just a total of two hitters in the bottom of the second inning as Nicole Streffone led off with a single and scored on Dana Tommas' double. Jillian Berardo (3-for-4, 3 RBI) then gave Saddle Brook the lead for good with a single that drove in the second of the 10 runs that the Falcons scored in the frame to break the game wide open. Alexis LoBue (2-for-3, 2 2B, 2 R, RBI) doubled in front of Arianna Aquino, who smoked a home run over the fence in centerfield to make in 9-2 before the Falcons added three more unearned runs to take an 11-2 lead.
Wood-Ridge nearly made it interesting again in the top of the third when it plated four runs highlighted by a two-run single by Casey Schultz, the lone senior in the lineup, to draw to within 11-6, but Saddle Brook ran away courtesy of three more unearned runs in the bottom of the inning. The last five runs scored against Biamonte were of the unearned variety. Two errors allowed Ashley Georgevich to score in the bottom of the fourth and, with the bases empty and two outs in the bottom of the fifth, an error extended the inning long enough for Berardo to stroke the walk-off single to right.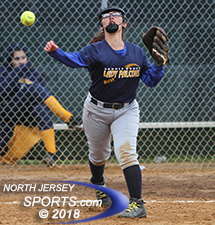 Arianna Aquino crushed a two-run homer during Saddle Brook's 10-run second inning.
The loss dropped Wood-Ridge out of contention for the county tournament, but does not erase the strides it has made this season. The Blue Devils finished 5-16 last year, so they have already surpassed that win total before the calendar even switched to May.
"We have our moments. Sometimes, like in the second inning, we attack, but with a young team we don't always do that," said Marino, whose team fell to 6-7. "We are hesitant sometimes. We are still learning the game. We have done a lot better than we did last season and that is great, but I see so much more potential."
Any win is significant in a high school softball season, but this one was big for Saddle Brook as it came in its 15th game of the season, the last one that counts toward state tournament seeding.
"This was our 15th game, so it was still a power-point game for us for the states and hopefully we will get a home game in the first round," said White. "With a very young team that has been taking it one game at a time trying to get better, this was good for us. One of the goals was just to be better the second time through the league than we were the first time and so far, so good on that."
TO BUY A COLLECTOR'S PRINT OF THIS STORY PLEASE VISIT 4-FeetGrafix.com. FOR MORE PHOTOS FROM THIS GAME PLEASE CLICK HERE