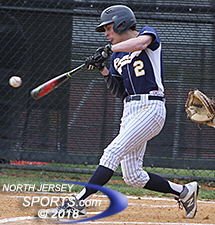 Ben Bibergal had two hits, including this run-scoring, go-ahead single for Ramsey, which improved to 4-0 on the season with a 3-1 win at River Dell on Monday.
ORADELL – Most of the participants and all of the spectators were dressed in the style called 'Northeast Baseball Chic.' Hoods, gloves, wool hats and team logo-embroidered blankets were all in display in the stands and dugouts in Oradell on Monday afternoon as the wind chill dipped into the upper 30s.
The exception?
Ramsey junior right-hander Mike Ghiorsi who took the mound for his first varsity start in the short sleeves of his uniform top that was hardly even tucked in.
"Nope. No sleeves. I hate pitching with long sleeves and I was pretty pumped up for this start. I didn't even really notice [the temperature]," said Ghiorsi. "At least not until I had to go over and play first base."
By the time Ghiorsi felt the sting of Mother Nature, he had turned in a sterling effort over 5 1/3 innings on the mound. Using his heavy fastball as the hammer and his tightly spun curveball as the occasional chisel, Ghiorsi reached his pitch limit with one out in the sixth inning having allowed just four hits and two walks while striking out eight.
The first hitter Ghiorsi faced in the game walked and came around to score, but no other River Dell runner touched home plate the rest of the way as Ramsey improved to 4-0 on the season with a 3-1 victory on Monday afternoon in Oradell.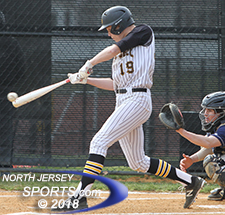 Aidan Tucker put River Dell in front early with a run-scoring single on this swing in the bottom of the first inning.
"Mike did a great job. He wanted the ball today and he has been throwing it well all spring," said Ramsey head coach Bill Chesney. "His first appearance this year was in relief, he did well there and he is doing a wonderful job. He is one of the guys that is going to have to carry us as we move along here."
The lone blemish against Ghiorsi's line came in the bottom of the first inning when River Dell senior shortstop Dave Estevez drew a leadoff walk and stole second. With one out, Aidan Tucker pulled a single into left field to score Estevez and put the home team up 1-0. Ghiorsi struck out the next two hitters to minimize the damage.
River Dell junior Charley O'Mealey was also making his first varsity start and he retired the side in order in the first inning before running into trouble not of his own making in the top of the second. Ramsey was gifted a leadoff base runner when Ben Bibergal's pop-up was dropped and he moved into scoring position courtesy of a passed ball. He scored on Dean Sample's double into the right-centerfield gap.
O'Mealy (5 IP, 3 R, 2 ER, 4 H, 4 K, 4 BB) was effective in the tough conditions as he moved the ball around the strike zone, but half of his walk total came against the first two Ramsey hitters in the top of the second inning and both came around to score. John Creegan and Matt Pesco drew the walks that set up the rally and Brian Davidio reached on an error to load the bases with no outs. John Winterhalter lifted a sacrifice fly that out the Rams in front for good even though a base running error on the back side cost them an extra out and Bibergal stroked a clean two-out single to make it 3-1.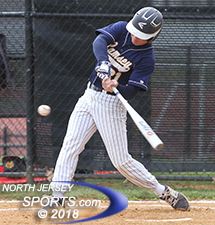 Dean Sample had the game's lone extra base hit, a run-scoring double in the top of the second that got Ramsey even at 1.
Ghiorsi made the lead stick by working around an infield single in the bottom of the third, working a 1-2-3 fourth and stranding two runners on base in the fifth. He struck out the last hitter he faced leading off the bottom of the fifth before switching positions with Dan Cantor, who started at first base for the Rams.
"It was really just about trying to keep my pitch count low and in the middle of the game they started to get pieces of the ball, pieces of the fastball," said Ghiorsi. "I started mixing the curveball in and there were a couple of batters I used the change up to get them out in front and get a couple of strikes. It was really just about trying to keep the hitters on their toes."
Both programs are perennial winners and both are in similar stages of retooling after graduation losses changed the makeup of both squads. The weather has made it tough for every North Jersey team to get up to full speed and River Dell has been further hampered by a couple of injuries. Ted Loquet, who was slated to make the start, was a late scratch and River Dell skipper Brandon Flanagan was still adjusting his lineup card right up until handing one off to the umpires in the pregame meeting at home plate. Catcher Nick Covo was ruled out just before first pitch.
"I had to change all of the lineup cards, but it is what it is. You can't make excuses and we got a well- pitched game from Charley and Matt [McHale] threw a couple of good innings on a tough day. Those guys could barely feel their fingers," said Flanagan. "Ramsey played a good game and we made some mistakes with some errors and just not getting runners in. That has been our thing; we have scored 17 runs in four games, but 13 of them came in one game and we have to do a little better job of producing some runs. We are a work in progress right now."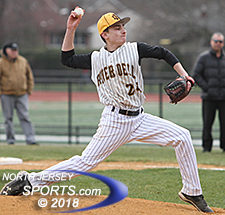 In his first varsity start, River Dell junior Charley O'Mealy turned in five solid innings on the mound.
McHale allowed just one hit and one walk in two innings of relief for River Dell and freshman Christian Hay, who has started all four games behind the plate this season in Covo's absence, was steady behind the plate and also had one of the Hawks' four hits. Jack Racine (1-for-3), Tucker (1-for-3, RBI), and O'Mealy (1-for-3) had the other hits, all singles, for River Dell, which fell to 2-2 on the season.
Bibergal (2-for-4, RBI, R) was the only player for either team to have a multi-hit game. Winterhalter (1-for-4, RBI) and Jack Radigan (1-for-3) had a hit apiece and Sample (1-for-4, RBI) connected for the game's lone extra base it with the wind howling in from left field.
The 4-0 start is a nice bonus for Chesney, who is still trying to figure out exactly what he has as the natural evaluation process has been stunted by weeks of rain.
"We lost a lot of  guys [to graduation] and the guys coming up have all played, just not at this level so you were not really sure how they would respond. It's been good so far," said Chesney. "With the spring we have had it has been hard to figure out all the pieces and where they go. I knew we were athletic; it was just a matter of how and where everybody would fit. We are still piece-mealing it, putting different guys in different places in different games and everybody seems to be contributing."
TO BUY A COLLECTOR'S PRINT OF THIS STORY PLEASE VISIT 4-FeetGrafix.com. FOR MORE PHOTOS FROM THIS GAME PLEASE CLICK HERE