NJS.com WORLD HEADQUARTERS -- The 2017-18 high school sports year is in the books, so it is time to take a look back and hand out some awards. The week-long extravaganza that is the Barton's Best Awards continues as we recognize our Coaches of the Year and have some fun with our Miscellaneous Awards.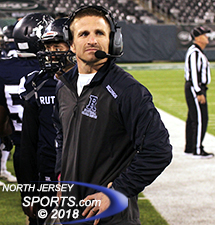 ANDY HOWELL
Boys' Sports Coach of the Year:
Andy Howell, Rutherford Football
Coming into the 2017 season, Rutherford was not as big as some of its opponents or as fast as others, but under Howell the Bulldogs have thrived when they have something to prove. After not scoring in the fourth quarter and falling in both the NJIC playoff semifinals then again in the North 1, Group 2 playoffs in 2016, Howell knew that conditioning would be paramount to whether Rutherford could finally get over the hump and become a championship team.
With a senior-laden unit and a proven system, the Bulldogs won a close one against Glen Rock to open the season before hitting their stride.
Rutherford allowed just 16 points over their next five games to win the NJIC-Colonial Division and earn a berth in the NJIC playoffs. Down by two scores in the fourth quarter of the NJIC tournament semifinals, Howell went up-tempo and his team adapted by scoring 28 unanswered points to beat New Milford, 42-27, before winning a 14-7 overtime thriller over Hasbrouck Heights in the championship game.
Although it was already technically a championship season, Howell and the Bulldogs had bigger things in mind. They kept the train rolling right through the state playoffs, beating Hackettstown in the North 2, Group 2 section final to cap off an undefeated season and win the school's first state football title in 51 years.
Runner-Up:
Marc Pollaro, Passaic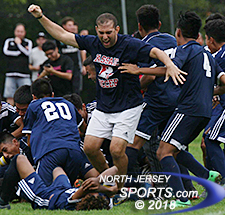 MARC POLLARO
When Marc Pollaro took over as head coach of the Passaic boys' soccer before the 2017 season he knew what he was up against. Not only had Passaic won just four games the year before, but averaged scoring less than a goal per game. Despite what the numbers told him, he felt the talent was there to have a successful season. His players just had to buy into his system and put the pride back into the Indians; boys soccer program.
That started with being competitive within their own division. The Indians tied for last in the six-team Big North-Liberty Division in 2016 and were outscored 16-1, all losses, against Clifton, Bergen Tech, and Passaic County Tech. This year, Pollaro convinced his players that they could compete with those top teams and make a serious run in the Passaic County Tournament. It seemed unrealistic on paper but his players hung on his every word and positive results quickly followed.
Against those same three teams within the division Passaic scored 10 goals and went 3-2-1 to finish in second place for the season. What was even more memorable though was the Indians' upset-laden run through the Passaic County Tournament.
After needing penalty kicks to knock off top-seeded Passaic Valley in the quarterfinals, the Indians had more magic up their sleeves in the semifinals. They scored three goals over the final eight minutes of regulation to upset eventual Group 1 state champion Pompton Lakes to earn a spot in the Passaic County Tournament final for the first time since 1987, ending the season with an 11-8-2 record.
Honorable Mention:
Kevin Kirkby, Pascack Hills Baseball
Brian Dunn, NV/Old Tappan Football
Dan Egorow, Cresskill Basketball
Stan Lembryk, Clifton Soccer
Rob Edgar, Pompton Lakes Soccer
Pat Longo, Bayonne Volleyball
Stan Woods, Emerson/Park Ridge Wrestling
Evan Baumgarten, Ramapo Soccer
Tom Gallione, Pascack Valley Wrestling
Girls' Sports Coach of the Year:
Eric Pfiefer, Westwood Soccer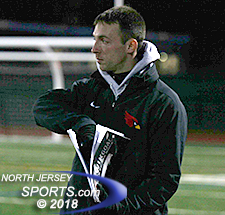 ERIC PFIEFER
To build a successful program sometimes you just have to take your lumps. With the Cardinals starting several freshmen in the 2014 season they lost every one of their league games and scored just one goal over their final six games of the season, all losses.
The Cardinals steadily improved to be competitive in league play over the next two years but still had a ways to go in order to be considered a team capable of making runs in either county or state tournament play. What stood out during the building process was Cardinals' willingness to go hard after every ball and never stopped believing that they could win even when the scoreboard told a different story.
With those freshman now seniors in the fall of 2017 Pfiefer felt it was their time to shine. The Cardinals turned some heads by scoring goals in the final 10 minutes of regulation or in overtime of eight games during the regular season to pull out close wins en route to winning the program's first-ever Big North-Patriot Division title.
That momentum carried over into the state tournament where Westwood won four straight games to grab a section title for the first time in school history and reach the Group 2 state final. Even in defeat to one of the state's best teams, Wall, the Cardinals showed their grit by battling back from a two-goal deficit to take the lead before eventually falling in the final minute of regulation and finishing with an 18-2-3 record.
Runner-Up:
Mollie Kearns, NV/Demarest Field Hockey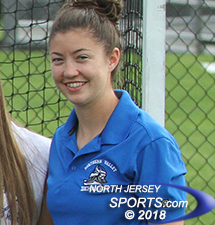 MOLLIE KEARNS
Similar to Pfiefer, Kearns knew that building a program started with changing the culture of the program. She brought a positive outlook and a work ethic that her players fed off of. That is exactly what the Norsewomen needed after a rough stretch, including a winless season when this current crop of seniors were freshmen.
Kearns focused on keeping the strength of the team up the middle of the field and using her team's speed to its advantage. The Norsewomen learned how to shut down opponents by leaning on captain Braden Renke and playing as a unit. Once they got that aspect down, clutch goal-scoring soon followed.
Orcin Akman's double-overtime goal to beat Westwood lifted the Norsewomen into the Bergen County final for the first time in nine years. It was déjà vu in the county final as Akman scored another double OT goal to lift Demarest to an upset of top-seeded Ramsey to become Bergen County champions and snap a 16-year drought.
Honorable Mention:
Danny Brown, Saddle River Day Basketball
Chris Caserta, Ramsey Softball
Jason Carcich, Wayne Valley Volleyball
Brian Dunn, Old Tappan Basketball
Jeff Jasper, Pascack Valley Basketball
Jeff Horohonich, Immaculate Conception Softball
Lindsay Runge, Pascack Hills Volleyball
Karla Mixon, Ridgewood Lacrosse
Chris Broking, Northern Highlands Tennis
Dianne Furusawa, River Dell Volleyball
Miscellaneous Awards
CHRIS GASKIN
Coach most complimentary of other coaches:
Chris Gaskin Ridgefield Park Boys Basketball/
The Ballgame! Co-host
Got to give credit where credit is due, Gaskin is not only a good coach but a great addition to our basketball show, The Ballgame! on northjerseysports.com. That said, if I hear one more time how he has 'tremendous respect for another program or the job the said coach has done with his kids, I may puke on-air.
He says it about every single coach. Has there ever been an average basketball coach in Bergen County? A boad one? Get it together Gaskin.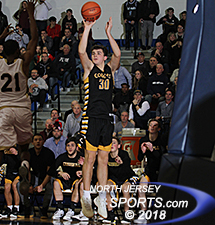 LUKA RADOVICH
Best Play of the Year (Male):
Luka Radovich/George Sikoryak, Cresskill Basketball
With time winding down in overtime of the Bergen County Jamboree quarterfinals against favored Hackensack, Sikoryak drew two defenders then dished to Radovich, who knocked down a game-winning three-pointer with five seconds left to pull off a 57-56 victory.
With that win, the Cougars become the first Group 1 team in 18 years to reach the Jambo semifinals. They also rode that momentum into the state tournament where they breezed to the North 1, Group 1 state sectional title and beat Bloomfield Tech in the Group 1 semifinals, a game that made our list of the Top 25 Games of the Year.
Cresskill reached the Group 1 state final at Rutgers and all five of its starters will play a sport at the collegiate level.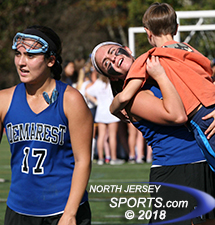 ORCIN AKMAN (LEFT) & BRADEN RENKE
Best Play of the Year (Female):
Orcin Akman &
Braden Renke
Northern Valley/Demarest Field Hockey
Locked in a scoreless duel in double overtime with top seed and defending champion Ramsey in the Bergen County final, Renke blocked a shot and sent a long pass out to Akman at midfield.
Akman did the rest by cutting and weaving through the entire Ramsey defense before whipping a reverse-stick shot off the right post and in to give the Norsewomen a 1-0 upset and their first county title since 2001.
JACK BARTECK
Best podcast guest:
(Tie) Phil Simms/Jack Barteck
Simms is well known as a legendary Super Bowl winning quarterback for the New York Giants. Who knew that deep down he's a Bergen County basketball junkie at heart? Guy is a class act and a total pro.
Barteck, a recently graduated senior at Wood-Ridge High School, turned out to not only be a great co-host on our Talkin' Baseball show, but also wrote a fantastic article about his experiences of playing high school sports and how it has shaped him into the man he has become.
Simms added sorely-needed legitimacy to The Ballgame! while Barteck, who will further his education at Montclair State University, added a breath of fresh air, and a much-needed one considering the Barton's best Award we are about to hand out next.
Cresskill reached the Group 1 state final at Rutgers and all five of its starters will play a sport at the collegiate level.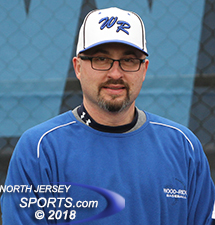 JOEY 'NO SHOW' SUTERA
Worst Show Co-host/Guest
Joey 'No Show' Sutera
Barteck is the pride of Wood-Ridge, Joe Sutera? Eh. Sutera is a good friend of the site and the Principal of Wood-Ridge High School. Good news is that he was a great coach and is earning his stripes as an administrator. Bad news is that The Pope is easier to get on the phone than Joey 'First Base Coach' Sutera is, which makes it difficult to schedule podcasts effectively.
A dedicated administrator/first base coach/little league helicopter parent hould have better organizational skills. Anybody hear the season finale of Talkin' Baseball? Us either...still waiting for the call from Joey "anger Management' Sutera.

Worst Dressed Male Coach (tie):
Pascack Hills' baseball coaches Kevin Kirkby and Joe Gambardella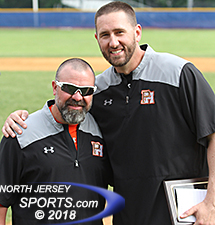 GAMBS & KIRKBY
This is an award that can only be given to people with a good sense of humor. Kirkby and Gambs are entertaining in and out of the dugout, they're our guys and they can handle it.
The all-orange smock-like garb that Kirkby prefers to sport in the third base coach's box gets him his share of this award, while Gambs kept his wardrobe hidden in the dugout where he was a first-team All-County bench jockey.
Who decided to make brown and orange the school colors anyway? Horrible.
Best Place to Shoot a Baseball Game:
Memorial Field in Rutherford
Perfect sight lines and unobstructed views everywhere. Even makes a guy like Richie Ballgame seem like he knows what he's doing out there.
Worst Place to Shoot a Baseball Game:
Memorial Field in Rutherford
Oh yeah, forgot to say that you also take your life in your hands with every pitch. Despite once being the greatest athlete known to man, I can't get out of the way of a foul ball so easily anymore with my bum wheel.
Last five old school Hip-Hop songs I've listened to:
Small Time Hustler – Dismasters
Mass Appeal – Gang Starr
All For One – Brand Nubian
Come Clean – Jeru The Damaja
Potholes In My Lawn – De La Soul
Best Northjerseysports.com sports writer:
Richie Ballgame
Although I was not back full-time and still getting back into the swing of things after a long bout with cancer, I'll be the first the admit that my stories was flat out amazing and Doviak's stories stunk. Hopefully my health will continue to improve so I can bring more hard-hitting, award-winning stories to you on a full-time basis coming this fall. With that I say God Bless You, God Bless America, and God Bless Richie Ballgame!
TO BUY A COLLECTOR'S PRINT OF THIS STORY PLEASE VISIT 4-FeetGrafix.com.