NJS.com WORLD HEADQUARTERS -- The 2017-18 high school sports year is in the books, so it is time to take a look back and hand out some awards. The week-long extravaganza that is the Barton's Best Awards continues as the best from the Spring 2018 season are recognized.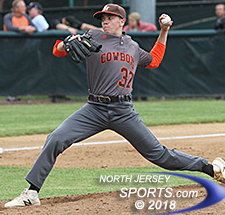 RYAN RAMSEY
Male Athlete of the Season:
Ryan Ramsey, Pascack Hills Baseball
Ramsey came into his junior season with the potential to have a great season, but the hard-throwing southpaw far surpassed anybody's reasonable expectations with as dominant a season as Bergen County has seen in recent memory. He was Rob Kaminsky kind of good/
Ramsey started with a three-hit shutout of Westwood on opening day where he notched 13 strikeouts. Remarkably, that would be his third highest strikeout total of the season. He notched a career-high 18 Ks in a win over River Dell and 16 more in a shutout of Ramapo in the Bergen County Tournament.
He also played centerfield when he was not pitching and hit in the middle of the Cowboys' lineup, batting .295 with 23 runs scored and 19 RBIs. Ramsey's lone HR of the year was a big one, a two-run shot in the first inning of the Cowboys' win over St. Joe's (Montvale) in the semifinals of the Bergen County Tournament.
The Maryland commit was lights out on the hill. He finished the season with a 9-1 record, a sparkling 0.45 ERA with 120 strikeouts in 60 1/3 innings.
Runner-Up:
Brandon Siegenthaler, Pascack Hills Baseball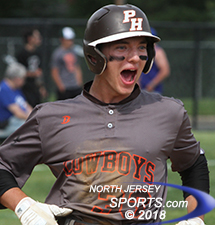 BRANDON SIEGENTHALER
Siegenthaler played dual roles as both the Cowboys' biggest run producer and also a strong arm out of the bullpen to close out games.
At the plate, the junior drove in a team-high 30 runs and had a .333 batting average and a .913 OPS. As solid as the junior was all season it was in the Bergen County Tournament where Siegenthaler had to pull out all the stops.
After inducing a fly ball with the tying run at the plate to pick up the save against St. Joe's (Montvale) in the BCT semis, he came up even bigger in the championship game. Along with clouting a long two-run homer, he came on to pitch the final two innings and earn his North Jersey-leading sixth save of the season. The Villanova commit would earn tournament MVP honors as Pascack Hills won its first county title since 1987.
Honorable Mention:
Jack Brodsky, Pascack Hills Baseball
Chikaya Soto, Cresskill Tennis
Luis Peralta, Passaic Track
Jack Carey, St. Peter's Prep Baseball
Justyn Henry-Malloy, St. Joe's (Mont.) Baseball
Arbert Cipion, Passaic County Tech Baseball
Dan Sedaka, Fair Lawn Volleyball
Shane Paradine, Bayonne Baseball
Daniel Nuhzny, Dwight-Englewood Tennis
Joe Angrick, Northern Highlands Lacrosse
Matt Karsian, Ramapo Lacrosse
Kobe Ellenbogen, Ridgewood Tennis
Connor Field, Lakeland Volleyball
Ryan Lee, Northern Valley/Old Tappan Golf
Female Athlete of the Season:
Tiffany Bautista, Paramus Catholic Track
Facing off against the best of the best in various events is a daunting task for any athlete, even the elite ones. After being a talented but raw track athlete in her first two years, Bautista blossomed in her junior year to put one of the best individual performances in the history of the Meet of Champions.
After finishing no higher than 10th in any event at the M of C as a sophomore, she qualified for four events as a junior and won three of them. She took down the defending state champ in the high jump, jumped over 40 feet in the triple jump, ran a 47.17 split in the 4X100 relay, and took the bronze in the long jump finishing just three inches back of the leader.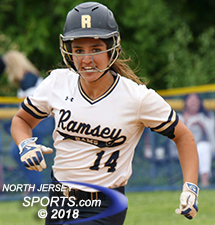 VICTORIA SEBASTIAN
Runner-Up:
Victoria Sebastian, Ramsey Softball
After returning from an injury-plagued freshman season to post eye-popping numbers as a sophomore in 2017, Sebastian made a point to become an even better player for her junior year.
Opposing pitchers did whatever they could do get the sweet-swinging lefty out but very few succeeded. She led North Jersey with a .629 batting average with 27 of her 61 hits going for extra-bases. Sebastian led the team in runs scored and drove in 34 RBIs.
Sebastian worked in the off-season was becoming a better pitcher and saw that work pay off. In 161 innings, she struck out 226 batters and walked just 37 giving up less than an earned per game with 15 shutouts on the season.
She was at her best in the Bergen County final against top-seeded Indian Hills. Her leadoff homer set the tone on her way to going 3-4 with three runs scored along with complete game five-hitter to pick up the win as Ramsey retained their Bergen County crown.
Honorable Mention:
Kelly Sim, Holy Angels Golf
Lillie Kloak, Ridgewood Lacrosse
Ryan Henry, Ramsey Softball
Michaela McMahon, Saddle River Day Lacrosse
Ryleigh White, IHA Softball
Monica Hebner, Northern Highlands Track
Molly Dunphey, Ridgewood Lacrosse
Isabel Hebner, Northern Highlands Track
Lexi Edmonds, IHA Lacrosse
Sarah Stocker, Indian Hills Softball
Nicole Macolino, Ridgewood Lacrosse
Meg Halloran, Indian Hills Softball
Taylor Hill, Passaic Valley Softball
Angela Saric, Indian Hills Softball
Makenzie McGrath, Demarest Softball
Lauren Naveo, Dumont Softball
Devin Thompson, Indian Hills Lacrosse
Gianna Sarlo, Bergen Tech Softball
Jackie Wolak, Ridgewood Lacrosse
Boys' Team of the Season:
Pascack Hills Baseball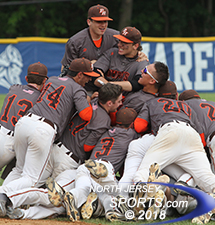 PASCACK HILLS BASEBALL
One day after the Saddle River Day girls' basketball became the first team to sweep the Barton's Best season awards, the Pascack Hills baseball team has done the same.
Just one week into the season the Cowboys might have been wondering if their lofty pre-season goals were a bit too robust. A split of two straight games with rival Mahwah followed a one-run win against Dwight Morrow, but as the weather warmed up the Cowboys heated up right with it.
Over the final 27 games of the season, the Cowboys showed why they had by far the best pitching staff in New Jersey. They allowed more than two runs in a game just twice and lost just once over that span.
Ryan Ramsey, Brandon Siegenthaler, Jack Brodsky, and Paul Sullivan made up arguably the best pitching staff by a public school ever in Bergen County history. The Cowboys shutout half of their 32 opponents and finished with video game-like numbers of 0.88 ERA and a 0.73 WHIP (walks + hits per inning).
That is not to say that the Cowboys could not hit. As a whole, the team batted .326, led by Mike Rodriguez's .380 along with a team-high 18 stolen bases. Chris Lum also had a solid year at the plate batting .366 and Chris Curcio was close behind at .355 with a team-leading 17 extra-base hits.
That combination along with steady defensive play led the Cowboys to become the first Bergen County public school champion since 2010 before adding a Group 2 state title to their resume.
Runner-Up:
Northern Highlands Lacrosse
The Highlanders figured this could be a year where they finally break through and become a championship team. But after a crushing 6-5 upset at the hands of eventual champion Ramapo, their only hope at what they considered a successful season would come in the state tournament.
The Ramapo loss proved to be well in the rear-view mirror as the Highlanders outscored their first three state tourney opponents by a combined score of 40-10 to reach the North 1 Group 3 section final.
After losing in the section final both in 2014 and 2016, the Highlanders made sure the third time was the charm by breaking open a close game against Mount Olive at halftime with a 4-0 showing in the third quarter en route to the program's first section title in school history. They followed the same blueprint in the Group 3 state final against Moorestown with a 5-0 third-quarter blitzing to break open a close game and become Group 3 state champs with a 10-6 win.
Honorable Mention:
Don Bosco Prep Baseball
Dwight-Englewood Tennis
Fair Lawn Volleyball
Glen Rock Tennis
Bayonne Volleyball
Ramapo Lacrosse
Bergen Catholic Golf
Ridgewood Baseball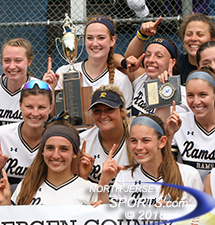 RAMSEY SOFTBALL
Girls' Team of the Season:
Ramsey Softball
After an early loss at the hands of Bergen Tech, the Rams could have questioned whether they had what it takes to repeat as Bergen County and North 1 Group 2 section champs. Instead, that loss only seemed to reignite the fire burning inside them to have another championship campaign.
Over their next 20 games, Ramsey followed the lead of their battery, Victoria Sebastian and Ryan Henry to dominant the opposition. Ramsey allowed just nine runs total and scored at least ten runs in a game 12 times. Even when the competition ramped up a notch late in county and state tournament play the Rams just kept on hitting.
Victories over Immaculate Conception in the semifinals and Indian Hills in the finals gave the Rams back-to-back county titles. They kept it going in the states with another section title by shutting out Lenape Valley before beating Hanover Park via the mercy rule as Dani Dougherty and Kaitlin Houser each drove in a career-high five RBIs. The Rams finished with the season with a 27-2 mark.
Runner-Up:
Ridgewood Lacrosse
RIDGEWOOD GIRLS LACROSSE
As always the expectations for the Ridgewood girls' lacrosse program very high coming into the 2018 season. But with players returning from injury, a key transfer inserted into the lineup mid-season and some younger players making a push for playing time, how would head coach Karla Mixon handle it all?
Turns out she handled it quite well as the Maroons made it all the way until the final game of the high school season. Virginia-bound standout Lillie Kloak, USC commit Nicole Macolino and Stanford signee Cat Roxas fueled a high-powered attack. Add standout junior transfer Jackie Wolak from Saddle River Day and the emergence of Marley Scala as a true scoring threat made them nearly impossible to match up with.
As well-round as the Maroons' offense was this season, their defense was equally as suffocating. Led by all-state goalie Kara Rahaim, and backs Molly Dunphey and Remy Ricciardi, Ridgewood had all the pieces together to make a run at an elusive Tournament of Champions crown.
After falling in the Group 4 final in 2017, Ridgewood regained the state title with a win over upstart Clearview. Then the Maroons beat perennial state power Oak Knoll, 12-6, in the Tournament of Champions semifinals before falling to Moorestown, 14-9, in the Tournament of Champions final to finish with a 22-4 record.
Honorable Mention:
Immaculate Conception Softball
Indian Hills Softball
IHA Lacrosse
IHA Softball
Northern Highlands Lacrosse
Holy Angels Softball
TO BUY A COLLECTOR'S PRINT OF THIS STORY PLEASE VISIT 4-FeetGrafix.com.