NJS.com WORLD HEADQUARTERS -- The 2017-18 high school sports year is in the books, so it is time to take a look back and hand out some awards. The week-long extravaganza that is the Barton's Best Awards continues as the best from the Winter 2017-18 season are recognized.
JAHVON QUINERLY
Male Athlete of the Season:
Jahvon Quinerly, Hudson Catholic Basketball
Quinerly earned his fair share of accolades after winning the Gatorade New Jersey Player of the Year award for the second consecutive year along with being chosen to participate in the McDonald's All-American game.
The Hawks played some of the best teams in the country and the 6-foot-1 senior point guard measured up against top competition, highlighted by a 37-point, 7-assist effort in a win over New York City powerhouse Archbishop Molloy.
Quinerly kept the hot hand throughout the Hudson County Tournament with a 24-point performance against St. Peter's Prep in the title game as he led the Hawks to yet another HCT crown. For the 2017-2018 season he averaged 18.5 points per game, 5.8 assists, 3.4 rebounds, and 1.7 steals per game. He will continue playing next year for defending NCAA champion Villanova.
Runner-Up:
Marcellus Earlington, Don Bosco Prep Basketball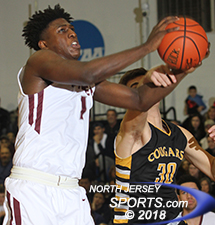 MARCELLUS EARLINGTON
The St. John's-bound Earlington was dominant in the paint all season as a double-double machine for the Ironmen. He scored at least 15 points in all but four of their 31 games and averaged over 10 rebounds per game.
In the Non-Public A state title game against Camden Catholic, Earlington consistently ripped through double teams and his outside touch on point. The Ironmen led throughout but things got dicey when their 14-point lead was cut to two. Earlington came up down the stretch with a three-point play to ice a second straight state title, finishing the game with game-highs of 24 points, 12 rebounds, and four blocks.
That performance carried over into the Tournament of Champions semifinals. He led all players with 16 rebounds to go with his 14 points in a 49-39 win over Shawnee.
Honorable Mention:
Mickey O'Malley, Hasbrouck Heights Wrestling
Shane Griffith, Bergen Catholic Wrestling
Mickey Burns, Don Bosco Prep Hockey
Ricky Cabanillas, DePaul Wrestling
BJ Saliba, Hackensack Basketball
Luka Radovich, Cresskill Basketball
Peter Acciardi, Don Bosco Prep Wrestling
Robert Howard, Bergen Catholic Wrestling
Joey Belli, Wayne Hills Basketball
Sean Vlasich, Northern Highlands Hockey
Brendan Thiele, St. Peter's Prep Basketball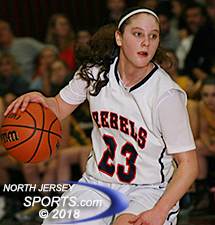 MICHELLE SIDOR
Female Athlete of the Season:
Michelle Sidor, Saddle River Day
Sidor burst onto the scene as a freshman and has continued her record-setting scoring pace right through this, her junior season. She netted at least 24 points in 15 games before remarkably raising her game to another level when the games mattered most.
That started with a virtuoso performance in the Bergen County final against one of the state's best teams, Pascack Valley. Sidor hit an NBA-range three-pointer followed by a tough layup on the fast break to give Saddle River Day a halftime lead that it would not relinquish. She finished with 35 points as the Rebels won a third straight Bergen County title.
That started an absolutely torrid scoring outburst over the final nine games of the season. The University of Michigan commit averaged 29.5 points per game over her final nine games to lead the Rebels to its first-ever Non-Public B state title and a berth in the Tournament of Champions final.
With a senior season still left to play and already having scored 2,442 career points, Sidor stands just 143 points from breaking the all-time scoring record in Bergen County held by the late, great Anne Donovan of Paramus Catholic.
Runner-Up:
Jaida Patrick, Saddle River Day Basketball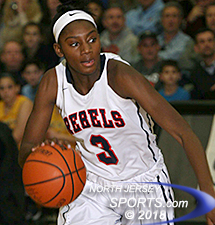 JAIDA PATRICK
For the first time in the history of the Barton's Best awards, both the athlete of a season and runner-up have come from the same program.
Patrick transferred into Saddle River Day for her junior season and immediately made a huge impact. The 5-foot-10 junior guard could put her stamp on a game in a variety of ways. Whether it was scoring, rebounding, or guarding any position on the floor, Patrick could do it all.
She caught fire at the turn of the calendar year with an incredible run of seven triple-doubles in an 11-game stretch. In that run, Patrick notched a quadruple-double against Emerson and was one assist and two blocks away from an unthinkable quintuple-double in a win over Holy Angels.
However, her most impressive performance came in the Tournament of Champions semifinals against an athletic University squad. She finished with 21 points, a career-high 16 assists, 12 rebounds, four blocks, and three steals. On the season, the Duke commit averaged 14.8 points, 11 rebounds, 5.6 assists, 4.6 steals, and 3 blocks per game.
Honorable Mention:
Brianna Wong, Pascack Valley Basketball
Daniya Darby, Lincoln Basketball
Lindsey Mack, Secaucus Basketball
Kate Sheridan, IHA Swimming
Jackie Kelly, Old Tappan Basketball
Meagan McClelland, Kearny Basketball
Brianna Smith, Pascack Valley Basketball
Cassandra Lee, Wayne Hills Swimming
Keira Marks, Lakeland Basketball
Elena Pulanco, Holy Angels Basketball
Alex George, Old Tappan Basketball
Jordan McLemore, Immaculate Conception Basketball
Rachel Bussanich, Westwood Basketball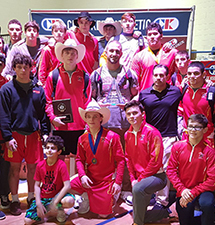 BERGEN CATHOLIC WRESTLING
Boys' Team of the Season:
Bergen Catholic Wrestling
Bergen Catholic has churned out some of the most talented individual wrestlers in the history of scholastic wrestling in New Jersey. But of all the great Crusader teams over the years, none of them had the depth top to bottom as the 2017-2018 squad did.
That showed throughout a grueling regular season against the best teams in the country. The Crusaders notched a landmark win over Blair Academy, becoming the first New Jersey school to beat Blair in 25 years. That vaulted them to No. 1 in the country. Although they suffered their only loss (32-30) to Montini Catholic of Illinois to drop them from the top spot, after winning another Non-Public A state title BC's No. 2 national ranking was the highest ever in the program's illustrious history.
That carried over into the state wrestling finals where seven wrestlers finished as medalists, led by state champions Shane Griffith and Robert Howard, to cap off the greatest single wrestling season by a team in state history.
Runner-Up:
Don Bosco Prep Basketball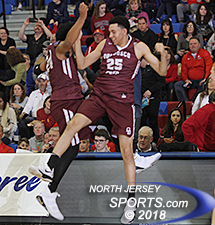 DON BOSCO PREP HOOPS
Coming off of a Tournament of Champions finals appearance, there were questions on whether they could repeat that late-run magic that they had a season ago.
Bosco got off to a hot start and never looked back. Behind Marcellus Earlington, Ronald Harper Jr., Matt Herasme, and heady point guard Michael Concannon, the Ironmen suffocated opposing teams. That was no more evident than in the Bergen County Tournament. None of their opponents during the tournament stayed within 16 points of them capped by a 54-38 drubbing of Bergen Catholic to avenge a regular season loss a month prior.
That late-season magic returned in the Non-Public A section final against St. Peter's Prep. Herasme played the role of hero twice in a wild double-overtime game. He hit a three-pointer with three seconds left in regulation to send it into overtime then hit a pair of free-throws with less than a second remaining to give the Ironmen a thrilling 60-59 win. Bosco made another trip to the T of C final before losing to national power Roselle Catholic, 61-54, and finishing the season at 28-3.
Honorable Mention:
Cresskill Basketball
Don Bosco Prep Hockey
Emerson/Park Ridge Wrestling
Northern Highlands Hockey
Northern Valley/Demarest Swimming
Pascack Valley Wrestling
Demarest Basketball
Wayne Hills Basketball
Glen Rock Hockey
Hudson Catholic Basketball
St. Peter's Prep Basketball
Passaic County Tech Swimming
Ramapo Basketball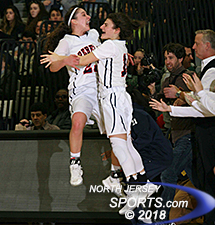 SADDLE RIVER DAY HOOPS
Girls' Team of the Season:
Saddle River Day Basketball
For the first time in the illustrious history of the Barton's Best awards a team has swept all three major awards for a season. Rightfully so in this instance as the Rebels had the best season in school history punctuated by their first state title in any sport.
Head coach Danny Brown likes to force the pace and his players pride themselves on outworking their opponents. Not only has his team bought into that philosophy but he has the personnel to make that up-tempo style effective.
With the state's premier scorer in Michelle Sidor, a do-everything wing Jaida Patrick, and Division 1-bound rebounding machine who developed her mid-range game in Jenna Jordan. That trio is enough to take a team a long way. Add in Queen of Peace transfer Sydney Watkins as a sniper from the outside and defensive stopper Carolyn Carrera and the Rebels had all the pieces in their starting five to be a championship team.
The Rebels took on the best competition from the tri-state area all season long. That resulted in some tough losses but it also seasoned them for a run through county and state tournament play.
Saddle River Day won a third straight Bergen County title by beating Pascack Valley, 60-55, in the final before setting its sights on a state title. The Rebels played their best two games of the season down in Toms River with dominant performances wins over Rutgers Prep in the Non-Public B state final and University in the first round of the Tournament of Champions. With the latter win, the Rebels became just the second team ever from Bergen County to win a game in the T of C and the first since Ridgewood did it in 1991.
Runner-Up:
Northern Valley/Old Tappan Basketball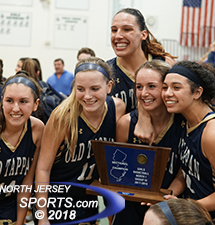 NV/OLD TAPPN HOOPS
After upsetting Pascack Valley in the Bergen County Tournament and then scoring three road wins to reach the North 1 Group 3 section final in the 2016-2017 season, Northern Valley/Old Tappan was a team on the rise. But after a blowout loss to that same Pascack Valley team in the section final, the Golden Knights were left with a bad taste in their collective mouths. So heading into this season with essentially the same cast plus adding 6'1" center Alex George after suffering a season-ending knee injury a year prior, they were not going to be satisfied with just a good season; it had to be a championship season.
After a loss to IHA in the Joe Poli Tournament, the Golden Knights were sitting at 3-3 before righting the ship with narrow wins over Holy Angels and Hackensack. That created a spark, which turned into a raging inferno as they ripped through the remainder of the regular season winning 25 of their final 27 games. Only three of those wins came by less than ten points, but two of them came in the biggest games of the season with some last-minute heroics
Junior guard Jackie Kelly drilled a pair of free-throws with 35 seconds remaining to help secure a 35-32 triumph over Pascack Valley in the section final and George converted a three-point play in the final minute as the Golden Knights won the Group 3 state title, 46-45, over Ewing before losing to eventual finalist Franklin in the Tournament of Champions. Old Tappan finished 28-5 on the season.
Honorable Mention:
Pascack Valley Basketball
Lincoln Basketball
IHA Swimming
IHA Basketball
Immaculate Conception Basketball
Secaucus Basketball
Cresskill Basketball
TO BUY A COLLECTOR'S PRINT OF THIS STORY PLEASE VISIT 4-FeetGrafix.com.